It's Wanderfood Wednesday! What does this mean? 1) Below, you'll find a recipe from this week's feature country, Japan (click here for the original post), and 2) If you click this link, you'll go to Wanderfood's page, and there you will find a tasty post and links to other delicious reading material.
Today's recipe is for Yakisoba, and it's from the Japan Food Addict website (which, by the way, is an awesome site if you're looking for easy, authentic Japanese recipes).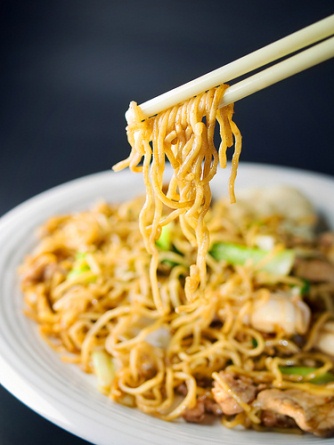 Yakisoba
Original Recipe from Japan Food Addict
Serves 2

Ingredients:
6 teaspoons oyster sauce
6 teaspoons reduced-sodium soy sauce
1 teaspoon sea salt
1 teaspoon sugar
Dash of white pepper
2 individual packages of yakisoba noodles (or 2 servings)
½ medium onion, thinly sliced, or 2 green onions, sliced
1 ½ cups chopped cabbage
½ teaspoon sesame oil
1 clove of garlic, minced
2.5 ounces sliced pork
12 pieces of peeled, deveined shrimp
Instructions:
1) In a small bowl, combine the first five ingredients (oyster sauce thru pepper).
2) Separate yakisoba noodles; run them under hot water if necessary.
3) Bring a medium pot of water to a boil. Cook onion and cabbage for four minutes, drain, and set aside.
4) Heat the sesame oil in a large frying pan or wok over medium-high heat and cook the garlic for one minute, stirring often.
5) Add the pork, and cook through. Stir in the shrimp, cooked onion and cabbage, and cook for five minutes, or until shrimp are pink and opaque.
6) Stir in the yakisoba noodles and stir fry for 3 minutes. Stir in the sauce (from step 1) and serve immediately.
Next up on Food Freeway: the delicious cuisine of Finland! Have you ever been to Finland? If so, what did you think of the food?
Photo Credit: Worapol Sittiphaet