This week's recipe hails from the Baltic nation of Latvia, a country that is not yet paved on the tourist path, but certainly will be soon. Its scenery is beautiful, its history is fascinating, and, of course, its cuisine is mouth-watering. Find out first-hand by trying out this recipe for Pīrāgi, adapted from the Latvian Institute website.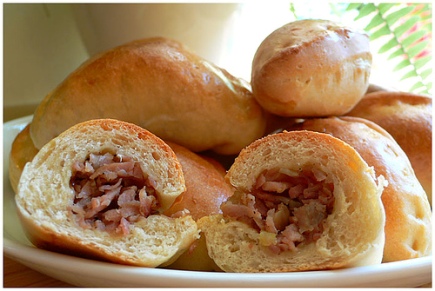 Pīrāgi
Adapted from the Latvian Institute
Makes 30
Ingredients:
DOUGH
3 ½ – 4 cups all purpose flour
1 ¼ cup warm water
6 teaspoons granulated sugar
1 teaspoon salt
1 ½ tablespoons active dry yeast
1/3 cup butter, melted
1 large egg
Additional melted butter, for brushing
FILLING
350 grams smoked bacon, diced
1 small yellow onion, diced
1/8 teaspoon black pepper
Instructions:
1. Sift the flour and set aside.
2. In a large bowl, mix water, sugar, and salt, and then sprinkle yeast over top. Let stand for 5 – 10 minutes, or until the mixture becomes foamy.
3. Add the flour and butter and stir with a wooden spoon until most of the flour has been incorporated. Turn out onto a lightly floured surface and knead until dough is smooth and elastic, about 5 minutes. Alternately, use a dough hook fitted to an electric stand mixer.
4. Shape the dough into a ball and place in a well-oiled large bowl. Cover the bowl with plastic wrap and place it in a warm, draft free spot (like the oven with the door closed and the light on) to rise until the dough has doubled in size, about one hour. Punch down the dough, cover, and let rise for an additional hour.
5. Divide the dough into 30 equal-sized pieces and roll each piece into a ball. Place them on a pan or a cutting board for 10-15 minutes.
6. Meanwhile, sauté the bacon, onion, and black pepper until the onion is soft and translucent. Set aside.
7. Flatten the balls of dough, drop spoonfuls of the bacon/onion mixture in the middle, and then fold and press the edges of the dough together. Roll between your hands to create a crescent shape, place on a greased cookie sheet, and let them sit for 15 minutes.
8. Whisk the egg and then brush it onto the prepared Pīrāgi. Bake at 400 degrees F for 10 minutes, or until they are a dark golden colour and then brush with melted butter. Serve immediately.
Next up on Food Freeway: Fiji! Have you ever been? If so, what was your favourite dish?
If you're in the mood for more foodie goodness, you're in luck – it's Wanderfood Wednesday! Check out more delicious reads here!
* Note: Today's photo is by hfb – check out the full photostream on flickr!