Welcome to Barbados! I hope you all had a wonderful holiday, and are ready for some more tasty reading material.
Barbados is a relatively small island (just over 160 square miles) that is surrounded by the Atlantic Ocean (to the north east) and the Caribbean Sea (to the south west), and is located east of St. Vincent and the Grenadines. It was originally inhabited by the Amerindians, then by the Caribs, and then by the Portuguese. The British arrived in the first half of the 17th century, and maintained rule until 1966 when Barbados became independent. It is still, however, a member of the Commonwealth of Nations.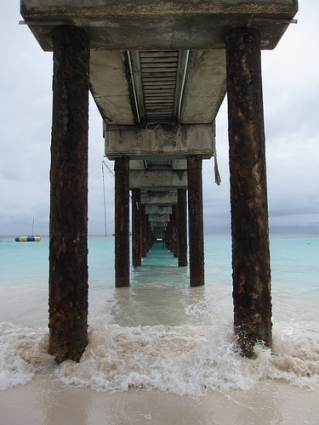 The island is surrounded in crystal clear blue water that is rich with life. The climate and land vary, despite the small area, and is ideal for growing an assortment of plants, notably sugar. Though sugar production has decreased in recent years, the cultivation of this crop plays a huge part in Barbados' history. In fact, the majority of Barbadians are of African descent, as plantation slavery began in the mid 17th century and was not abolished until 1834.
With the majority of people in Barbados being of African origin, there is a significant impact on the culture and therefore, the food. Other cultures/countries that contribute to the melting pot that is Barbados include: Guyana, India, and Europe (namely British).
Fruit (such as mango, guava, pineapple, breadfruit, citrus fruit, kiwi, and papaya), seafood (like salt fish, flying fish, snapper, shark, tuna, cod, shrimp, lobster, and crab), an assortment of meat (think pork, chicken, duck, lamb, and beef), and cornmeal or rice make up the ingredients of most meals. The national dish is Cou Cou (a cornmeal and okra blend) with flying fish. Other popular dishes include rice and peas, macaroni pie, black pudding, fish cakes, and souse.
Though some dishes are, indeed, spicy (as in many Caribbean nations), there is more of an emphasis on flavour than heat. Seasonings used in Barbadian cooking include, but are certainly not limited to, garlic, thyme, scallions, lime, marjoram, cloves, and parsley.
Have you ever been to Barbados? If so, what did you think of the food? What was your favourite Barbadian dish?
Stay tuned… coming up on Wednesday: the Recipe of the Week!
Note: Today's photos are by ComSec (market photo) and palestrina55 (pier photo). Be sure to check out their whole photostreams on Flickr!