The British Virgin Islands are not only a hotspot for beach bums and shoppers, but also for people looking for tasty Caribbean dishes.
Today's recipe is something that you can certainly make at home, and enjoy a taste of the Caribbean in your own kitchen. Your Recipe of the Week is Crabcakes with Cilantro Aioli!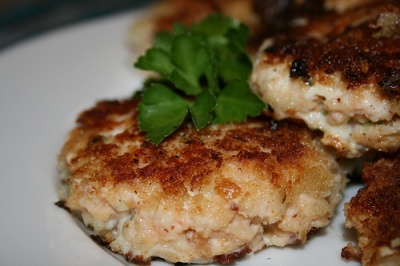 Crabcakes
Adapted from Caribbean Choice
Serves 6

Ingredients:
1 pound cooked crab meat
2 large eggs
4 tablespoons melted butter
½ teaspoon each salt and coarse ground pepper
½ teaspoon hot red pepper flakes
3 tablespoons finely chopped cilantro
½ cup bread crumbs
¼ cup oil
Instructions:
In a large bowl, combine crab meat, eggs, butter, salt and pepper, pepper flakes, and cilantro. Mix well with your hands, and divide into six even portions. With each portion, create a ball and then flatten with your hands to create a cake. Put the bread crumbs on a small plate and press each cake onto the crumbs to coat. Heat oil in a large frying pan over medium high heat. When oil is bubbling, place the crabcakes in the pan, cook for 3-4 minutes, and flip. When both sides are done, remove crab cakes from the pan with a slotted spatula and place on paper towel to drain oil. Serve with Cilantro Aioli, recipe follows.
Cilantro Aioli
Adapted from Recipe Island
Serves 6
Ingredients:
1 bunch cilantro
Juice and zest of 1 lime
Juice and zest of 1 lemon
1 tablespoon olive oil
1 cup mayonnaise
Instructions:
Using a blender, puree all ingredients (except for mayonnaise) until smooth. Place in a small bowl and stir in mayonnaise.
Coming up next on Food Freeway: the US Virgin Islands! Have you ever been there? If so, what was your favourite dish? In need of more foodie goodness? Head over to Wanderfood and get your fix!
* Note: Today's photo is by talkoftomatoes – check out the whole photostream here!