It's time for the Recipe of the Week, featuring food from Saint Vincent and the Grenadines! There are so many delicious dishes from this country; they're full of flavour, are hot and spicy, and are created with a bevy of fresh, local ingredients.
One of Food Freeway's readers, Nicole, mentioned earlier this week that she loves callaloo soup. Though I don't have access to dasheen leaves, here's a link to a recipe for those who can get their hands on some.
Domplin, however, is something we can make. They are tasty little dumplings that are both cooked in and served with soup (think callaloo soup, stew chicken, or pigeon pea soup).
Below is a basic Domplin recipe – feel free to use it with other types of soup like I did with turkey soup (as it was Thanksgiving this past weekend in Canada!).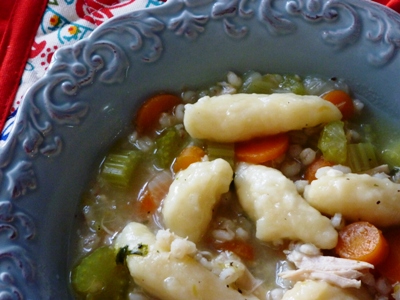 Domplin
Makes enough dumplings for one pot of soup
Ingredients:
1 ½ cups all purpose flour
1 teaspoon baking powder
½ teaspoon salt
¾ to 1 cup water
Instructions:
Prepare soup, and about 20 minutes before it is ready to serve, make the domplin.
In a medium bowl, whisk the flour, baking powder, and salt together. Add ¾ cup water, and stir well with a wooden spoon. Add more water, 1 tablespoon at a time, stirring well between each addition, until the dough is free of clumps, and somewhat hard but still pliable. Cover with a moist tea towel and let sit in a warm place for 10-15 minutes.
Bring soup to a boil, and divide the dough up into small balls (roughly half the size of a walnut). Either flatten the balls or roll them into an oblong shape, and set the pieces of dough aside. When all are completed, gently drop the pieces into the soup, press down on them lightly to immerse them into the broth, and let cook for about 5 minutes, or until all domplin have risen to the top of the soup or stew. Stir the domplin around slowly for another couple of minutes, just to ensure they're cooked through, and serve immediately.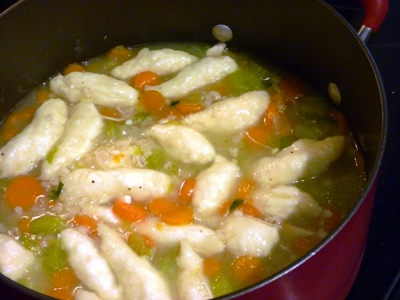 Need more foodie reading material? Check out Wanderfood Wednesday! Coming up next on Food Freeway: Antigua and Barbuda! Have you ever been? If so, how was the grub?