Welcome to the next stop on our tasty tour: Saint Vincent and the Grenadines! It's a country made up of several beautiful islands in the Lesser Antilles chain in the Caribbean/Atlantic, and is a Commonwealth nation.
Saint Vincent and the Grenadines was originally inhabited by Caribs, and then many Africans who were enslaved on nearby islands fled there to seek refuge; more were taken there later to work at plantations. As with many of these neighbouring nations, Saint Vincent and the Grenadines was under both British and French control for many years – the cultural influence of both countries is evident today.  
The official language of Saint Vincent and the Grenadines is English, but the locals typically speak a dialect called Vincy English – a type of Creole variation of common English. It's not just the language and culture that has that little extra kick – the food is hot, spicy, and full of flavour.  
Almost all of the ingredients used in cooking on the islands are locally grown or caught. Seafood is, of course, a staple of the Vincentian diet: conch, snapper, kingfish, lobster, blackfish, mahi mahi, tuna, and flying fish are just a few of the species most commonly consumed.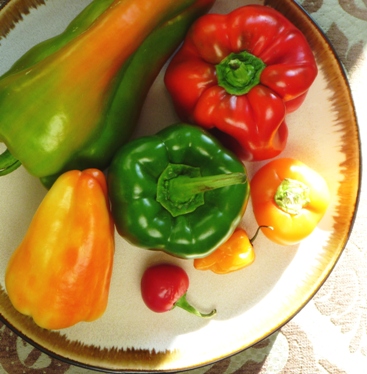 As for produce, sweet potatoes, eddoes (similar to taro), chayote, cabbage, tomatoes, hot (and sweet!) peppers, yams, breadfruit, guavas, coconuts, passion fruits, and pineapples are used on a regular basis.  
Now for the good stuff! The dishes of Saint Vincent and the Grenadines are tasty, tasty, tasty (and spicy, spicy, spicy)! Pilau (similar to the rice and pigeon peas of Anguilla) is a major part in many meals, and is often accompanied by meat or fish to create a main dish.  Callaloo (a stew made with dasheen leaves), souse, roast breadfruit with fried jackfish (the national dish), pigeon pea soup, curried goat, and meat stew are characteristic dishes of the country. Finish it off with a local beer, called Hairoun, or a rum based drink, and you'll have an authentic Vincentian meal.
Have you ever been to Saint Vincent and the Grenadines? If so, what was your favourite dish? Coming up next on Food Freeway: the Recipe of the Week!