Puerto Rican food evokes the spicy, rich flavour of the Caribbean; heavy, hearty seasoning, savory meat dishes, and sinfully sweet tropical fruit. The cuisine of Puerto Rico represents all of the different cultures that make up the people: Spanish, Caribbean, African, North and South American, and Indigenous.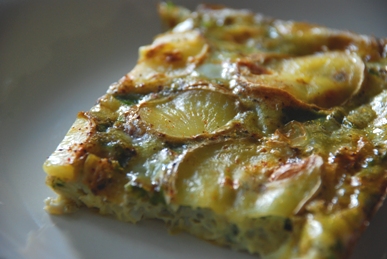 Though there is a huge variety of food, there are many ingredients used in Puerto Rican cooking that are simply not available in many places. That's why this week's recipe is not only quick and easy, but the ingredients are more than accessible – you probably have them sitting in your kitchen as you read this. So for a quick dinner and a little taste of Puerto Rico, Food Freeway's recipe of the week is Tortilla de Patatas, a Puerto Rican Potato Omelette.
Tortilla de Patatas
Serves 4
The Veggies (creating the flavour)
1 tablespoon extra virgin olive oil
1 tablespoon butter
1/3 small yellow onion, minced
1 large garlic clove, smashed and minced
1 jalapeno, seeded and minced (don't seed if you want it extra spicy)
2 teaspoons fresh, minced cilantro
Heat the oil and butter in a skillet over medium heat. Add the onion, garlic, jalapeno and cilantro, cook for about 5 minutes, stirring frequently, until onion is transparent. Scatter the vegetable mix evenly on the skillet.
The Eggs (creating the base)
5 large eggs, beaten
¼ teaspoon salt
¼ teaspoon fresh ground black pepper
Mix the eggs, salt, and pepper together, pour over the vegetable mixture.
The Patatas (top it off)
1 medium potato (or small new potatoes), boiled, cooled, and thinly sliced
½ teaspoon abodo seasoning (make sure it's Puerto Rican abodo seasoning, as the variations differ quite a bit)
Distribute the potato slices along the top of the egg mixture, and then sprinkle the abodo seasoning over top. Place in a preheated 350 degree Fahrenheit oven and cook for about 20 minutes, or until the middle is set. Cut into 4, serve hot.
Stay tuned to Food Freeway:  on Saturday, the Turks and Caicos will be in the culinary spotlight. To hold your stomach over, check out more delicious reads at Wanderfood Wednesday.