Though it boasts some strange dishes (Iguana? Yikes!), Nicaragua is a country with some seriously delicious food. Generous use of coconut, fresh fruits and vegetables, and a beautiful selection of seafood make this country a culinary dream. Last Saturday we discovered the cultural influences in Nicaraguan food, as well as a couple of typical, traditional dishes, including the national dish, gallo pinto.
For this week's recipe, I wanted to feature something fun and fruity. Something that will be easy to make no matter where in the world you are, and for those of us in chillier parts of the globe, a nice treat that will transport us to a sunny, hot beach. What better to do this than Nicaragua's national drink?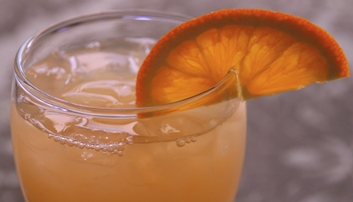 El Macuá, aptly named after the macaw, has been Nicaragua's national drink since 2006. It's a lovely cocktail using rum, guava juice, and a couple other ingredients. See the recipe below, try it out, and enjoy!
El Macuá
Serves 1
Ingredients
Ice
2 ounces white rum
2 ounces guava juice
Juice of 1 lemon (1/2 – 1 ounce)
¼ ounce simple syrup
Orange slice, for garnish (optional)
Directions
Fill shaker halfway with ice, pour the remainder of the ingredients in (except for the orange, it's garnish!), cover, and shake. Shake for about 30 seconds (shake it, shake it, shake it girl!), then strain into a glass filled with ice. Garnish with the orange slice (and an umbrella, if you feel like going all out!).
Next up: Costa Rica! Be sure to head over to Wanderfood Wednesday and get access to a ton of great foodie blogs!