Last Saturday we discovered the tasty treats that Honduras has to offer. It's one thing to talk about food, read about it, admire a photograph of it – but it's another to actually experience and taste it for yourself. This week we're going to give Honduran baleadas a try. They're authentically Honduran, easy to make, and very, very tasty.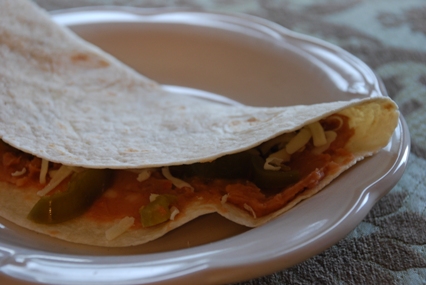 But what are they? It's simple: flour tortillas topped with refried beans. There are many different variations and in addition to the beans several other toppings can be used. Suggested additions include: grated queso duro (Honduran white cheese ), avocado slices, queso crema (a thin, sour cream-like substance. Store bought crème fraiche may be the closest that you'll find), scrambled egg, pickled onions and hot peppers, chorizo, chicken, or ground meat.
Baleadas are available all over Honduras in small restaurants and at street food stands; they're technically fast food and are eaten at any time of the day (in the middle of the night, or even for breakfast!).
To make them yourself, give this recipe for tortillas a try. If you'd rather not make them, store-bought tortillas work just fine.

Tortillas for Baleadas
Makes 6-12 tortillas
2 cups all purpose flour
1 cup water
1 egg
½ teaspoon salt
½ cup vegetable oil
Place all ingredients in a large bowl and mix with your hands until fully combined. Turn out onto a lightly floured surface and knead until dough is smooth and clump-free. Divide into 6-12 portions (depending on how large you want the tortillas to be), roll into balls, and put on a plate. Cover them with a towel and let sit for half an hour.
Using one piece at a time (keeping remaining pieces covered by the towel), place the balls on a flat surface and press down with the palm of your hand to flatten. From there, either stretch the dough with your hands by pushing outward with your fingers, or use a rolling pin. Try to get the tortilla as thin as possible without making holes. Set aside flattened tortillas and cover with a damp, warm towel until ready to use.
Preheat large pan over medium-high heat. One tortilla at a time, cook about 2-3 minutes on each side, or until slightly darkened and "freckled" looking. Place on plate and cover with dry towel until all tortillas are cooked and ready to use.
To assemble baleadas, cover warm tortillas with refried beans. If using store-bought tortillas, heat in a pan for about 30 seconds, or until warmed through before assembling. Add any number of toppings, as mentioned at the beginning of this article. Fold in half, and enjoy!

Interested in going to Honduras? Check out Lonely Planet's Honduras and the Bay Islands (Country Guide), and get all the info you'll need to start planning a trip.
On Saturday we're headed to El Salvador! Do you have any favourite Salvadoran foods? Please feel free to share them in the comments section below. And, of course, for more foodie goodness check out Wanderfood Wednesday!
¡Adiós