Chrissann – the creator and Editor in Chief of the humorous island life website, Women Who Live on Rocks which celebrates the eccentricities unique to island living- on designing her best life, creating a home, and laughter over insanity.
1) "It is better to live your own destiny imperfectly than to live an imitation of somebody else's life with perfection." – This quote from the Bhagavad Gita has helped me have faith in my own unique path and given me the confidence to design the best life for me – without stressing about if it works for anyone else or not. I was unhappy "settling"
and living the status quo in the states, so I moved to an island and found my true love. I've never wanted kids, so I have three toucans instead. Being stuck doing just one thing for work bores the hell out of me, so I do a hodge podge of things I'm passionate about in lieu of a traditional career. I learned early on that life is too short and you can't find happiness trying to please others – the only person you should worry about people-pleasing is yourself.
2) Your home is your sanctuary – put love into it, no matter how long (or short) you plan on living there – I've moved a lot over the last 10 years, island hopping as a renter. Many people don't see value in personalizing a place they do not own, but for me, even though I may be renting, I consider each place my personal oasis for as long as I'm there. Having some of your own belongings does make moving a bit more work, but once you set up a new place with familiar things you love – a favorite Moroccan rug, your writerly desk, trinkets from your travels – it is a haven you can feel at peace in and retreat to, no matter where you are in the world.
3) Don't take anything personally – This is my favorite lesson in The Four Agreements and a concept that is a constant source of focus for me. I try to remind myself that people's lives are far more complicated than they appear from the outside, so I should be generous in cutting people slack and resisting the urge to judge. Everyone is the star of their own movie. If I keep this in mind, the world is a happier place and I can be a more empathetic person by not living under the false impression that everything is about me.
4) The most valuable time you can spend in your day is time spent reflecting on your day – At the end of each day, I spend a few moments adding a couple notes to my gratitude jar, writing in my 5 Minute Journal, and making a short list called "Today Was a Success Because…" As a driven, self-employed person, I do not have a boss to give me gold stars when I need/deserve them. By acknowledging the things in my life that I am appreciative of, I create a foundation for greater abundance, and foster a life of growth and learning.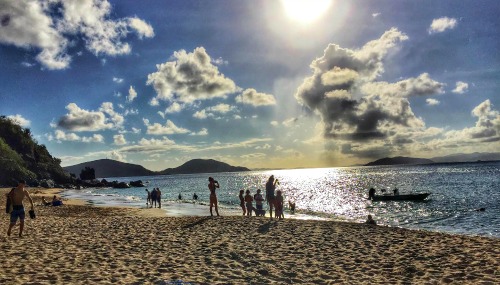 5) You can find the humor in just about everything that happens to you. It's worth looking for. – Life (island life, especially) is filled with things that can drive you insane if you allow them to. Minor irritations can turn into pits of discontent if you consistently focus on them through a negative lens. Rather than complaining about the absurdities that surround you, laugh at them and reframe the experiences into stories that can bring laughter to others as well. If you look at life like a comedienne who is always in search of new fodder, life is naturally a lot more fun.
You can connect with Chrissann on her personal website, or, if you'd like to get a glimpse of her everyday life on a little island in the Caribbean (with toucans!), link up with her on Instagram.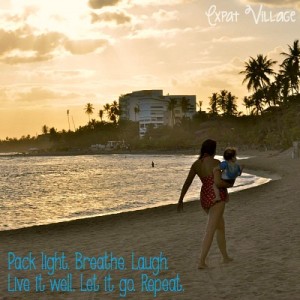 Photo Credits:
Chrissann Nickel