It's easy when you're out of your home country for a while to lose touch with the inner workings of your friends' and family's lives. Imagine how much easier still it is to lose touch with things like pop culture (music, film, TV, books, apparel, apps) if you aren't really invested in that sort of thing. Lucky for you, I love all things pop culture. So while I can't help you with what your cousin Betty named her newborn son (you should really give her a call), I can help keep you in the loop of great poppy recommendations that will ease, aid, or ramp up your traveling days.
* * * * *
IN THIS

NOVEMBER

ISSUE YOU'll FIND:
– great listening tunes
– a useful (and quite frankly super cool) app
– a cold recipe that will kick the cold right out of you.
* * * * *
MUSIC: Time to Run – Lord Huron
Lord Huron's music has a worldy sound; it has Eastern musicality with an earthy feel but isn't campy in that hold hands and sing around the fire way. Somebody described one of their songs ("We Went Wild") as a song they'd "listen to on a long road trip in another country…Best Road Trip. Ever." So far I'd say that "Time to Run" is my favorite; not only does it have a perfect title for people like us who are always on the run but it's definitely catchy. The video is… interesting (insert slightly sarcastic tone).
APP: Sound Hound

Imagine, traveling anywhere in the world and being able to remember the whole soundtrack to your travels. As a music lover, there is not much that is worse than hearing a song I like and losing it forever because I don't know the title or artist and by the time I've gotten home I've also forgotten the lyrics so I can't google it. A week ago, this almost happened but instead I pulled over, downloaded the Sound Hound app which immediately recognized the song and artist and saved it in my recent searches. It was magical, like little elves at work in your phone. (Thank you, Ed Sheeran's Thinking Out Loud.) There are a ton of other features (discover new artists, share to social media, link to iTunes) that other apps like this one have but Sound Hound is the only one to also have singing and humming recognition so your chances of losing a song to the abyss of forever are slim. I also LOVE that it offers up lyrics with the music… hello singing along! I'm not at all surprisesed that this was considered one of the Top 10 Must-Have iPhone Apps by New York Times' Bob Tedeschi. Check out more about Sound Hound here in the iTunes store. Best part… it's free! If you like this idea but are looking for a more basic music recognition app, Recognize is a good option – also free.
RECIPE: Chinola (Passion Fruit) Tea
Traveling has a way of knocking the health right out of you. It's probably the combination of public transportation, little sleep, shared cabin air, lowered immune system, and too much fun that smacks health across the face and leaves you sick, tired, and raw-nosed. Most of the time I can ride out a cold but this past cold I had clung on like barnacles. It started with a sore throat that came from a nasal drip which then turned into the sniffles that grew into a headache that triggered some major sneezing and watery eyes and a red, chapped, Rudolph nose. Barnacles. Every day I got worse so when a Dominican friend suggested I try a Dominican-Wives-Tale-type chinola and onion tea – after I made a grossed out face – I agreed to try anything. I don't know if it was a coincidence or if it was some enchanting healing power of chinola and onion but I felt better the very next morning. And you could leave your skeptical, grossed out face at the curb – it was delicious too. So if on your travels you feel a cold coming…
You'll need:
3 chinolas (washed well)
½ red onion
1 cinnamon stick (we didn't have a cinnamon stick so we used cinnamon powder)
4 cups of water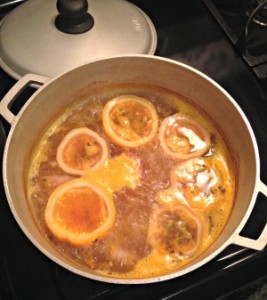 Directions:
Pour 4 cups of water into pot.
Chop 3 chinolas in half and put into the pot.
Put ½ onion into pot.
Put cinnamon stick (or desired powder) into pot.
Boil for 20 minutes.
Strain.
Add honey or sugar to taste, if desired.
(Side note: Husband has also played with this a bit and added ginger into a batch and cayenne pepper into another batch. The chinola flavor is so robust you don't taste anything but the delicious flavor of the fruit.)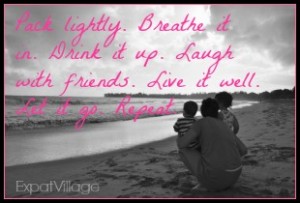 None of the items above are sponsored reviews. Furthermore, the views and opinions expressed on Expat Village are 100% my own. This means you can guarantee that sponsored or not, I always give my honest opinion on products, services, websites, etc.