Who would have ever told me that some of life's greatest, little luxuries could be found on a phone? Turns out, apps are the new-age form of bath bubbles: you don't need them but they sure do make life a little nicer. For a long-term traveller or an expat abroad, apps are a luxury that could be a lifeline, a saving device, or a form of entertainment. Of the many apps I sorted through, these are the best free apps for expats in my opinion. Who doesn't like a little luxury in their life… especially ones that are free.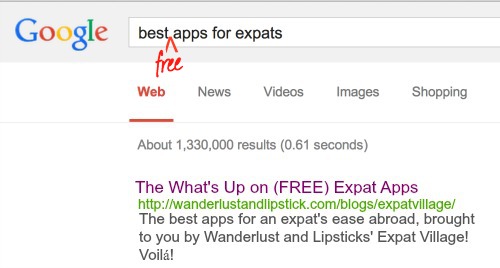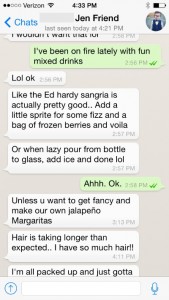 1. Whatsapp
– I use whatsapp sooooo often that I forget it is an app. While this list is in no particular order, there is a reason that this app is on the top of my list. It is ah-maze to put it very, very lightly! It is single handedly the most useful, fast way for me to stay in touch with friends back home. SKYPE (also awesome) is great for keeping in touch but takes a bit of planning and is for lengthier chats. A lot of the time I aso just want to send my bestie a quick
 What up!
 when I'm thinking of her and Whatsapp lets me do that without planning what time we will both be available. Unlike texting that costs $$$ overseas and sometimes doesn't work between certain countries, Whatsapp is 
FREE
 and always works.
2. Uber 
(FREE) – This taxi/car finding service is pretty awesome. Using your phone's GPS to request a ride, Uber will connect you to the nearest available driver. The driver's name and info will appear on your screen letting you know that they will be arriving in minutes. 
DOWNSIDE:
 Uber is not available in all cities. Check out 
this lis
t to find if it is available in yours.
3. Banking Apps
(FREE) – I am not one to do much banking online. I check my account. I sometimes transfer money. I never needed a mobile banking app. Correction: I never 
knew I
 needed a mobile banking app. Besides the typical being-at-a-grocery-store-and-trying-to-figure out-if-we-had-enough-in-one-account-to-buy-all-of-our-groceries scenario, in the last few years, we were mailed or given a check that needed to be deposited. I am stand offish when it comes to a lot of technology so I would hold on to the checks and wait until we came back home to New Jersey – sometimes up to 6 months – to deposit them (and of course always with the worry that I'd forget to pack them). But with mobile banking apps there's no need for such frustration. The hardest part was downloading our 
Bank of America's mobile banking app
 which wasn't hard at all. Now I could check my account from anywhere – including the supermarket – and when I receive a check, I simply take a picture of it and it is deposited into the account. No extra steps. It is that easy. Check out your bank's available mobile banking apps.
4. Foodspotting
 (FREE) – Delicioso! This app is "a visual guide to good food and where to find it." Also a website by the same name, 
Foodspotting
, allows you to find the best dishes and specific cravings  – not just restaurants – in your area. Type the name of a restaurant or location and Foodspotting will find you recommended dishes. Have a food suggestion? Snap your own pictures of delicious eats and review them for others to check out. 
DOWNSIDE
: While I quite like Pizza Hut pizza, I wouldn't snap a photo of it as a recommended slice in my area but, keep in mind, other people might. Since suggestions are made by people just like us, some of the results may be just
 ehhh
.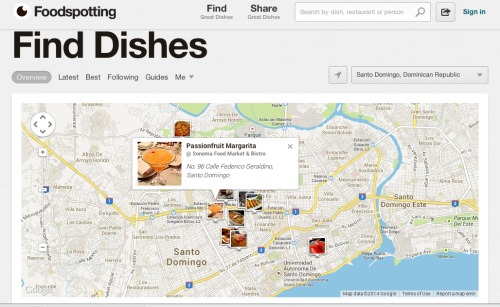 5. HiConverter 
(FREE) – One word: Timesaver. I can't tell you how many times our first year abroad I had to look up oven temperature conversion, currency conversions, and tips. At times, I still do. This all in one conversion app helps you with these conversions and more. Boring, I know, but useful when you have no idea what 170 degrees Celsius means and you have friends coming over for dinner.
6. Forget Me Not
 (FREE) – Living in Dominican Republic I get
two Mother's Days
: one on the Dominican calendar and one on the U.S calendar. But celebrating holidays abroad can have a downside; one of them being that you forget holidays when you are not in the zone. No, literally, you are not in the right time zone. Keep track of holidays, birthdays, anniversaries, and other special dates through this app that will send you a reminder so you don't forget. Because it is brought to you, by Flora Queen, an international floral delivery service, you can also order flowers through the app for delivery, although I think a phone call with SKYPE or a thoughtful picture message through Whatsapp would suffice.
7. Postcards
– Postcards are a fantastic way of staying in touch for those of us with crazy grandmothers that want to know our daily whereabouts. A 
great postcard app is 
Postagram Postcards
. Postagram is 
free
 to download. You can select any picture, write your message and then actually send it anywhere within the U.S. for only $0.99 or outside the U.S. for $1.99. The best part is that the picture POPS out of the postcard, making it something your recipient could save. I love that! And I have a feeling that grandmas out there would love it too! It is also a great tool for sending birthday cards, thank you cards, or just thinking about you cards which I've tried to do in the last 3 years but could never figure out how. 
Postale
 is another great(!) postcard tool that doesn't send out a physical card but that sends to Facebook, Twitter or email (picture above). There is a one time charge to purchase the app of $1.99 but the rest is free. Select a layout and photo, write a message, and choose a retro-stamp (or your own picture) and post it for your friends and family. One thing I really like about this postcard app is that you could save it to your gallery and then take a look at your travels through your built-in map. It's a cool way to see all the places you've been!
8. Flipagram
– Oh. My. God. Chandler Bing. This app is soooo much fun not to mention handy. So here's the story, as I see it. Flipagram is Instagram's older, showier, jock brother making Instagram the artsy, sensitive, younger brother…but no worries, they work together so you don't have to choose which one you'd rather date. Instagram is a place to beautifully filterize, edit and share pictures. At Flipagram you can create beautiful short videos using those pictures (or your Facebook and camera roll pics too) and set them to music you love showcasing your travels, your summer, your year, whatever. You can narrate your voice, set the timing and speed, and choose music from your library, FREE 30 second song previews, or buy full songs. Then you could share it to Instagram, Facebook, Twitter, YouTube, Vine, Tumblr… should I go on? Ok. Pinterest, Whatsapp, or email. Whew! For me this is a HUGE time saver. Known for spending h-o-u-r-s on an iMovie, Flipagram was easy to learn and not so serious so I plopped in a few photos, chose a free preview and saved it. Check out my preview here: 
Flipagram Summer Sweethearts
~ Pack lightly. Live well. Move often. Repeat. ~