Has this ever happened to you? You are making a drive to a destination you've never actually been to but fully believe you know how to get there. Oh, yeah, I know how to get there. I've been to that "area" before – you tell yourself. Only when you're driving you realize that wasn't the place at all and, in fact, you actually have zero clue where you are or where you thought you were going. That's kind of what happens when you move abroad too. When I was moving from New Jersey to the Dominican Republic, I had a a very clear idea (albeit in my mind) of where I was going and imagined that island life would be easy for me, after all, I was born to Cuban parents. I knew the language, the culture, the music, etc. so the island blood should be in my veins, right? Hmmm… turns out it's not that tan and sea-foam blue. Steering life (abroad or not) is not exactly easy, even a life I was "prepared" for in many ways. Wrong turns will be made no matter how well you know the road but knowing what mistakes to avoid after moving abroad might be nice. Here are 7 mistakes new expats make in the first 7 days. Try to steer around some.
Mistake 1: Don't picture perfect your life
Before actually moving to Santo Domingo, I daydreamed about the fantastical adventure my life would become once I lived on a tropical island. Packing my suitcases turned into just another way I could fantasize about all of the Pinteresty-nautical-islandy Tommy Bahama styles (that's an adjective, right?) I would parade while living in a state of perma-vacation. My perfectly beach-wavy hair would surely fall into place effortlessly like a model with a fan blowing her way and my sun-kissed tan glow would make J.Lo proud or jealous… either way, I was happy. I snuggled romantically with my ideas of what island life would be like. Why wouldn't I? I was moving to a place most people vacation to for holiday. I had painted my life so exactly that I left no smudge room and inevitably there's always a little smudge.
Mistake 2: Don't assume living abroad will be like a vacation… just… longer.
It's not. We have doctor appointments and traffic jams and Sunday food shopping with receipts that make me scratch my head in wonderment of what we just spent our money on. Sound familiar? Of course it does because no matter where you live, you deal with "daily grind" problems. I have less social commitments to baby showers, birthday parties, and weddings as I would if I were living back "home" but abroad life, as adventure-full as it sounds, is not a vacation. A vacation is time away from your real life and living abroad is, well, real life. Monotonous routines included.
Mistake 3: Assess what you need…
I spent a month neatly packing our whole life into 6 suitcases and it took me under two hours to unpack it all. I looked around expecting to feel that look-what-I-accomplished feeling that comes with unpacking and settling in but instead I got crickets. With all of the unpacking I had done, our apartment was still bare bones like an insane asylum only with less padding on the walls and far, far more white. The overhead lights were terrible, vibrating in that bright white – you guessed it – insane asylum way but we had no lamps so those were the only lights available to me for now. For me, lighting is e-v-e-r-y-t-h-i-n-g so "lamps" was the first item that I scribbled and underlined on my checklist titled: NEED TO BUY. Slowly I added more to the list: throw pillows, picture frames, slip cover (or blanket to hide ugly couch), slotted spoon, bowl for keys, flower vase, curtains, more lamps for bedrooms, bath mat, etc.
…but wait to buy it.
This is sooo huge. Your first reaction is to take your NEED TO BUY list and buy, buy, buy but I'm telling you… WAIT. Plan.
Think. I imagined a cozy page out of Pottery Barn but what I got was a page out of Busted College Dorm Living and some of that was my fault. Short of trashing all of the bamboo-esque, outdated, 80's furniture that was provided and the couches covered in the ugliest brown checkered material that you could ever have the honor of burning, there wasn't much I could do with the actual furniture but how I decorated everything else was completely up to me and that's where I made my mistake. I wanted so badly to make my white-walled, empty apartment feel like home that I rushed out and bought without planning. These lamps aren't too bad. Put them in the shopping cart. This comforter isn't horrible. Put it in shopping cart. So to recap, within, the first week I bought lamps that weren't too bad and a comforter that wasn't horrible and was later shocked to find an apartment pasted together of hodgepodge dinky crap that I hated. Eventually, we ended up re-buying a lot of the stuff we initially bought because we hadn't planned better.
There is an exception of course. Sticker price can be overwhelming. How much for a microwave?! But here's the thing, if you know you are going to use it, don't make your life harder and prolong the inevitable. Buy the darn microwave.
(Update: After living in DR for three years, although we still with the same busted bamboo furniture, with more thought and planning of our space we have since created an apartment we LOVE living in.)
Mistake 4: In fact, just WAIT altogether.
Moving abroad allows for you to experience life in so many enriching ways: a change in the foods you eat, the language you speak, the places you see, the people you meet, the way you see life, the way you drive, the manners you know, the streets you drive down, the way you interact with others, the weather you face daily… should I go on? At some point, maybe the aforementioned list turned from exciting to plain scary sounding. How many things will you have to change to live abroad? Well, everything – some with greater degrees than others but still everything changes. You will feel totally out of place. You will feel scared. You will feel homesick, and alone, and sad. Don't run for the hills yet. All routine, at some point, came from change, and like all change, you have to give it time to feel normal. So, wait. Just wait…
Mistake 5: Money ain't a thang… wait, yes it is.
Both Husband and I are financial morons. We are terrible with money and Suze Orman would have a brutal lashing with us if she were our financial advisor. Years back I had to use credit cards to pay tuition; it took years for me to get out of credit hell and at the end of it I hated credit cards as much as I could hate anything so these days Husband and I don't have them. It's good in some ways but here is why it is bad abroad. We use our Bank of America debit card for all of our purchases but because it isn't an international card and the purchases are made internationally there is a 5% transaction fee for every purchase we make with it. Major bummer! Here are a couple of remedies to avoid getting knocked out by transaction fees:
If you are going abroad with only your debit card (like us) don't use it for all of your purchases. Each week, we take a lump sum of cash out of the ATM to purchase the smaller items: coffee, loaf of bread, a few beers at the colmado, etc. There is a 3% transaction fee for the ATM but it is a one time fee as opposed to 5% transaction fees every single time you'd use your card out.
If you have credit cards, are they international credit cards? Not all cards are, so if you use your non-international credit card abroad, they too will charge you transaction fees. There are some really good international credit cards out there that won't charge you transaction fees and offer a few more benefits so look into getting one.
Mistake 6: Listen to what people say but don't let it consume you.
There I stood. Forehead pressed against the metal bars of our new apartment's balcony, trying to squeeze my head through the bars to get a better look of where Husband was with the dogs. Why? Well, because I didn't want anyone to kill him. Ok, maybe not kill him but hurt him, rob him, etc. It is the same reason that I did not bring my camera sightseeing in Barthelona and so have close to no pictures of my visit to Spain. It might sound incredibly dramatic but for someone who is on a regularly scheduled crazy train of dramatic thought, listening to people tell you about crime and gypsies and muggings pushes you to the edge.
This same advice works on a smaller scale. There are many people who gave us their advice on the Dominican Republic but who had spent only a week's (or less) time there limited to the boundaries of an all-inclusive resort. We heard about everything from the awful food to terrible customer service to the horrible crime (although they never left the hotel so the crime they speak of was based on what they were told.)
I'm not saying their advice isn't valuable; it is important to listen to people who know about the place that you are traveling to but don't let it consume you. You have to be careful when you go anywhere because as my mother used to say, "There are bad people everywhere." But if you assume that there is someone out to get you at every corner you will spend a lot of your first few weeks looking over your shoulder.
I found that the best remedy for this is to get out. Get out of your apartment and check out your surroundings. Do it in a way that makes you feel safe but do it. Do it slowly if that's what works for you but remember that the quicker you start to get to know your neighbors the more neighborly your neighborhood becomes.
Mistake 7: Don't expect. Accept.
It's a funny thing when you find yourself around other cultures… even those who believe themselves to be "culturally aware," find themselves thinking that the way "we" do things is the proper way of doing it. NOT SO. I admit, I've done it. I do it. Why in the world would that bozo think it was ok to cut me in line? Well, if you ask Bozo, he didn't actually "cut me." He saw a big enough amount of space and thought I wasn't in line, so he got in line, it just so happened to be in front of me. Vice versa, when I ask for iced coffee in a country where coffee is serious business, some Dominicans look at me like I'm loca. Why in the world would this crazy lady ask for coffee with ice in it? Ice ruins coffee. When we expect for people to have the same common sense or values as us we find ourselves in big, BIG trouble. See, common sense and values comes from our experiences and experiences come from cultural context. So if we don't share the same cultural background our ideas of what is common sense might be skewed. Try to learn to accept some of the ways other cultures do things instead of expecting that what you hold true is what everyone holds true.
Also extend this idea to your physical living situation. Don't compare where you are right now with where you were before. Of course, they're different. They're different places, duh. Don't expect it to be the same, accept that they're not and look for the beauty that all places offer in their own way.
~ Pack lightly. Live well. Move often. Repeat. ~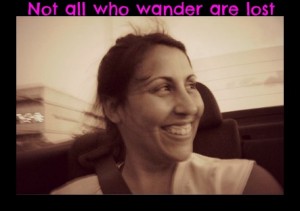 Photo Credits:
Worth the Wait –
Neveen
Credit Card –
Images Money
Neighborhood –
Andrew Butitta