Last Suitcase
In the last week we've packed our first two suitcases with clothes, our next two with electronics and technology gadgets, and our 5th with some first day comforts which just leaves us with the 6th suitcase to pack. The good news for you is that when Husband and I were packing for our overseas move we were 7 months pregnant so a whole suitcase (and parts of others) was devoted to baby clothes, blankets, sheets, etc. Unless you too are having a baby abroad, this means that you either have an open suitcase to pack what you'd like or save the $40 fee and leave the 6th piece of luggage.
I'm the kind of person who unpacks at a hotel – even if I'm staying one night just to feel "at home" – so for me I would use up this space to bring comforts of home such as picture frames or decor. I know it sounds unnecessary and excessive – at least that's what I thought when I was moving. There was a liberating freedom with leaving "it" all behind, but within a few weeks the white, bare walls of our apartment made me sad and homesick and I would have given anything for a few things that reminded me of home because the truth is that moving abroad is exciting but also hard and while it is about starting new it helps to hold on to a few old memories.
With the 6th suitcase packed up or left behind, I move on to a few extra tips that might be helpful.
Extra, Extra (Tips)!
Shipping Services
We just talked about your options if you don't need all 6 suitcases but what about if you need more than that? 
When we were moving to DR from NJ my mom learned about a shipping company that ships boxes – regardless of weight – to Dominican Republic for $75-$90. At about 3feet tall we have stuffed these cardboard, heavenly boxes full of everything from car seats to shoes to kitchen towels to Target shelving units. First we considered, the price. Like I mentioned in Phase 2, some DR prices could be costly so did it make more sense to purchase items in the states and ship them over rather than purchasing them overseas? For us, it did.
Extra bonus: La Plaza, this shipping company, picks up the package at my mom's house and delivers it straight to our apartment door. No dealing with customs or paperwork! They have reserved their own special place in heaven from me. Not a bonus: Not all areas offer such a great deal. We live in the NJ/NY area that has a high Hispanic population thus making this delivery service available in our area. Check your area to see if similar services are available.
(If you are in the NJ/NY area and moving to DR please leave a comment if you'd like more information on La Plaza's shipping service or check out their Facebook page.)
CPS / EPS Boxes:
Many places offer services similar to P.O. Boxes. After you set up an account, you can purchase something online in the U.S. and have it sent to your CPS / EPS box your current country. We do not have a CPS account but for friends that do we have heard mixed reviews. Your school or company would have information on this but keep in mind that these services often ship by weight and can get expensive fast. Most people we know use it occasionally and ship smaller items.
The Next Time Suitcase
Not sure about some of the clothes or items you are packing? Sit on it. There's no harm in waiting to see what you will actually need. Here's a tip for the person who wants to overpack: pack a "next time" suitcase.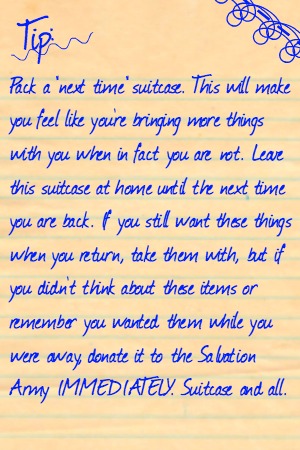 Mark as Fragile:
Although I recommend having a hardback suitcase no matter what, marking your suitcase with a "Fragile" sticker can affect the way your luggage is treated. Extra Bonus: Since your suitcase is marked "Fragile" the baggage handlers will most likely save your suitcase for the end so that it isn't squashed under all of the other suitcases which means that your suitcase will come out first on the conveyor belt. Score!
Lock it up. No, you lock it up!
Why not lock your baggage? Luggage locks are cheap and serve as a hindrance to someone looking to get lucky with your things. If I was planning to steal belongings from a suitcase, I'd go for the baggage without the lock instead of the one with the lock. Why hassle with a locked suitcase? You can buy your own locks although if the security officers need to get inside know that they will cut the locks. Another option is buying TSA locks. These locks have master keys so that a security agent needing to search your suitcase can easily open it without cutting your locks.
Do you have any tips for packing for an overseas or large move? I'd LOVE to hear them!
Stop by next week to find out the

5 Mistakes to Avoid in your First 5 Days

 
~ Pack light. Live well. Move often. Repeat ~
Photo Credits:
elitatt –  
Suitcase
 (adapted by Expat Village) Mike –
Ready to Ship