The summer for me signals barbecues, sun, and (as of late) lots and lots of Cider Beer but a few summers ago the lax days of summer were anything but. For me, as for others who will be moving abroad in the fall, the summer can signal packing, notarizing, and check lists. So fear not world traveler, I'm here to help with some of your questions with today's focus on packing. Unfortunately, I cannot come to your house and pack for you but I can do the next best thing and give you some moving abroad packing tips – what you need to know to prepare packing for such a huge move and a few basics of what you might want to bring with you.
The first thing to remember is that this is your chance to break free of your closets – your stuff – and start fresh: minimize, revamp, change, start over. Look at this experience as that kind of opportunity.
Let's start.
PREPARATION
Before You Pack… KNOW
This kind of packing isn't like vacation packing so the first thing you need to do is know how much you can actually bring with you. When we were making our move, I called the airline and spoke to a representative about how many suitcases we could bring with us – regardless of cost. I always record the information of who I spoke to for my own record in case I run across any problems later on. According to the representative, Husband and I were allowed 6 suitcases: two that were included with our ticket and 4 additional bags at an extra cost.
Compare Your Options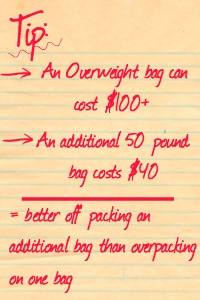 After speaking to the airline representative we knew how many suitcases we were able to bring and realized that bringing an extra suitcase was a cheaper cost than bringing a suitcase that was even a few pounds overweight. With that in mind, I bought 4 suitcases at Marshall's (inexpensive and good quality) on top of the two we already had and began to prepare our 6 suitcases.
Almost Ready to Pack
The first 2-3 suitcases I began to prepare were clothes. It would take up a good percentage of suitcase space and would require the most concentration (at least for this girl).
–> Men – continue on. You need no help in this stage.
–> Ladies – LISTEN to me – pack smart which really means PACK LIGHTLY or as light as you could possibly manage. You won't need more than 25% of your wardrobe, and if you're moving from a place with four seasons to a place with one, you'll need even less than that. Don't pack that cozy flannel sweatshirt you've had since college if you're moving to a tropical island – you won't need it. Nope, not even on cool evenings… at the beach… in January – you won't need it.
Bottomline: try to steer clear of clothing you have an emotional attachment to. Only take it if you know you will wear it and not just hope you will wear it otherwise consider taking a page from "Frozen" and let it go. Let.It.Go.
It seems hard but find help (and inspiration) with this 10 Piece Wardrobe Challenge (excluding shoes) for the next few days or weeks. Pick 12 items – 5 tops, 5 bottoms, 2 pairs of shoes – and check out alllllll of the outfits you could create with just 10 pieces and then reconsider how much you really need. You could also check out this fashionista's page on Polyvore for great ways to combine and wear different pieces and then use those ideas to thin out your closet before packing.
Want to really try slimming down your wardrobe after that? Follow these well laid out steps to building a wardrobe.
Bottomline: Pull back before you pack.
BEGIN PACKING: THE FIRST TWO SUITCASES 
In my search to help you pack what you need, here are some clothing items I've found that are essential to your move.
WHITE TEE
There's a reason that a white tee has been around as long as the LBD… because it goes with everything and looks crisp and clean no matter how you wear it. You could wear it on its own or layer it and the best part is that it only takes up one spot in your suitcase. Check out this ~ GREAT~ resource to help style and put together your white tee!
LBD

I'm not much of a little black dress kinda gal but I do think it's important to have a "go to" dress. At the moment my LBD is actually peach and that one dress is really all I need. With that said, I love options so if you are like me and like mixing it up and feel like one dress won't cut it, consider changing your hairstyle and accessories to change up your look.
Bottomline: your LBD doesn't have to be any specific color but you do need something to dress up in for those rare occasions.
JEANS
My favorite article of clothing is jeans. There is nothing more satisfyin then when you find that pair that fits just right and makes your booty look bootiful. But if I had to pick one style that I would bring with me around the world, it would be a pair of skinny jeans. Before I tried on a pair, I thought skinny jeans meant they were for skinny people or people sans curves which meant they were not for me. I've got hips to spare and a size 12 booty. Turns out, though, that skinny jeans are not just for skinny minnies. They look good on all body types and (bonus!) look good with a large variety of tops and shoes!
LAYERING SWEATER
Who doesn't love something that could be worn in more than one way? Exactly. I don't need a heavy sweater on an island but most places have the AC on full blast so bringing along a light cardigan sweater is helpful, not to mention, an instastyle changer. Layering it over a tank top (or that white tee) is always – ALWAYS – one of my go to styles. Let's just say if I was on Let's Make a Deal and they asked for someone with a cardigan in their purse, I'd be a winner! For a great color selection at a great price check out Old Navy.
SHOES
Must Have:
(For me) flip flops. Not only do I wear them with shorts, jeans and skirts but I wear them around the house.
a pair or two of Toms-like shoes. They are lightweight and versatile and super comfortable. They also make them with wool lining for cooler climates.
 a nicer pair of shoes (maybe two but be picky) . You have two options:
Option 1. Go with a pair of nude or black shoes that will be more versatile.
Option 2. If you wear a lot of neutral colors and have a funkier pair of shoes that will add flair bring them.Bottomline: Unless your job requires black tie attire often, you will really only need one pair. (Check it out – my neutral toned dress up shoes are so versatile – and comfortable – I danced in them all night at an 80's Themed Party)
Possibly:

Sneakers. I don't wear them often – if ever – so I didn't pack a pair of sneakers in our first move. This is the perfect "think through" item. Don't just bring sneakers because you think you will wear them. Will you actually wear them??? Yes? Pack a pair.
Specialty shoes: Are you a hiking aficionado and moving to the mountains? Pack your hiking boots. Are you a salsa dancer? Pack your ballroom shoes. These things are an exception. Don't pack so light that you leave behind something you'd really use.
~ Pack light. Live well. Move often. Repeat. ~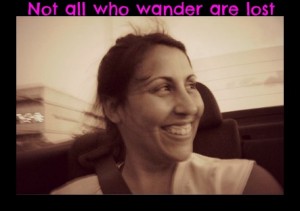 Make sure to visit on Monday, July 21 for Phase 2: After the Clothes…