Photo: The lunch buffet at Yantra.
My friend, Anu, recently introduced me to Yantra, a fine dining restaurant specializing in North Indian cuisine.  Located in Tanglin Mall, this splendid dining room was deceptively large – and empty the night we went.  Our waiter handed us a lengthy menu which included photos and too many yummy things from which to choose.  We were eating light and ordered an appetizer plate for four plus one chicken kebab to share among the group.
When our food arrived, I immediately feel in love with the beautiful presentation and aromatic blend of traditional spices.  The taste was delicious and unique to anything I had experienced in an Indian restaurant previously.  I vied to come back often – until the check arrived.  Eight dollars for one piece of naan? Fifty dollars each for our two dishes and 4 glasses of wine (there's no break if you order the bottle).  Expensive to be sure, but still, I couldn't get this meal out of my head.
I was pleased when Anu suggested I try the lunch buffet.  At $25 (plus tax) for 25 dishes, this sounded like a more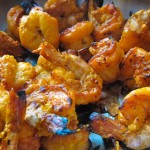 reasonableoption for my budget.  I was not disappointed.  The quality did not suffer; nor did the lovely presentation.  I took a bit of several favorites, feasting on tandoori shrimp, dhabewali dahl, murgh reshmi [chicken] kebab, and tandoori mushrooms.  Unfortunately, I didn't have room for the aloo chutneywala (potatoes), fish curry, or the dessert table.
At $25, the lunch is good value and I will definitely return.  As for the naan, the waiter brought us two pieces, which were included in the price of the buffet.
Yantra, 163 Tanglin Road  Tanglin Mall, Singapore 247933
tel. 6836 3088
Read about other food adventures at Wanderfood Wednesday.