NOTE: This has absolutely nothing to do with living in Asia, but Elisa enjoyed the activity so much, I decided to share it.
At Elisa's American school in Singapore, the kids were asked to bring in Valentines for each child in the class, just as happens in the US.  This year, she wanted to do something different than her usual handmade cards, so we decided to make edible ones using Valentine-themed cookie cutters, food markers, and a cut out cookie recipe.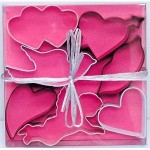 Elisa's grandmother had given her these cute Valentine cookie cutters several years ago, which feature linked hearts, a heart with an arrow piercing it, cupid, a dove, and other Valentine themes in pink, red, and white.  They are sturdy and easy to use.  Elisa, 7 years old, was able to cut out the cookies  and place them on a greased baking sheet by herself.
*****
While home last summer, we bought a pack of the Wilton Food Markers, which work the same as those used on paper.   Elisa wrote the name of each recipient on each cookie, signed her name and still had room for a decoration or two using the five basic colors provided: red, green, blue, yellow, and black. The markers hold up pretty well and after 24 cookies, we put them away to be used again the future.
*****
We placed each cookie inside small plastic bag and used a silver-colored twist around the top.
Here's our favorite cut out cookie recipe my neighbor in Hong Kong, Rochelle, gave me:
Ingredients:
3 1/4 c. flour
1/2 t. baking soda
1/4 t. salt
3/4 c. butter
1 1/2 c. sugar
2 large eggs
1/4 c. sour cream
1 1/2 t. vanilla
Cream butter and sugar. Add eggs, vanilla and sour cream. Beat well.  Add dry ingredients. Mix.  Divide into thirds.  Shape each third into a disc, wrap in saran wrap, and refridgerate.  Roll out dough, cut into shapes, and bake at 350 degrees (180 Celsius) for 8 – 10 minutes.
Read about other food adventures at Wanderfood Wednesday.