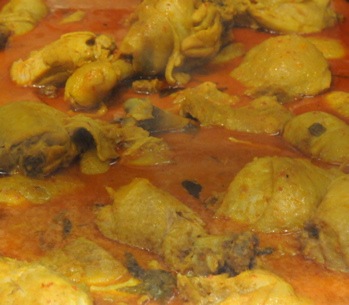 Photos: You can pretty much find any style of curry in Singapore, be it Indian, Japanese, Thai, Vietnamese or Malay.
The local Indian community has declared today, Sunday, "National Cook Curry Day" in Singapore.   It all started seven years ago, when a family of recent arrivals from China objected to their Indian neighbors cooking curry every day.  Curry is a staple of the Indian diet, but for those of you who have never had the pleasure of tasting – or cooking – this popular dish, it is accompanied by a pungent aroma, which the Chinese family found objectionable.  The two families were unable to resolve their disagreement.    In the US, who knows where this dispute may have led.  Fortunately, here in Singapore, every neighborhood has a government mediator for just such occasions.
Singapore is probably the most multi-cultural place I have ever lived, and with one of the highest per capita incomes in the region, a success story in Asia.  This country of 4.7 million boasts four official languages: Mandarin Chinese, Tamil (an Indian language), English and Malay. The government works hard to ensure unity among its diverse population, which is – roughly – 75% Chinese, 13% Malay, 9% Indian, and 3% other nationalities.
Singapore's Community Mediation Centers were set up to resolve nonviolent, social disputes and support the government's goal of ethnic harmony in its neighborhoods.  The role of the mediator is to hear both sides of a disagreement and then come up with a solution that is acceptable to all parties involved.
In the case of the curry dispute seven years ago, the mediator did just that.  Her solution that the Indian family could only cook curry when the Chinese family was not at home, included a provision that the Chinese family, upon its return, would have to taste each curry its neighbors prepared in an effort to get them to appreciate this unique dish.  Both families agreed to this outcome, and the case was closed amicably.
This story was not considered newsworthy when it happened seven years ago.  The recent uproar occurred only when the same mediator who had managed the conflict used it as an example of success via alternative dispute resolution.  The Indian community picked up on the old slight to its curry and began to promote "National Cook Curry Day" across Singapore.  The campaign went viral and several supporting Facebook pages were created – as well as a song which retold the story of seven years past.  The song, "Curry Night," is sung to the tune of Don McLean's Vincent, better known from its opening line,  Starry, Starry Night.
As the campaign spread, there was fear that it might split the country's Indian and Chinese populations.  It also unearthed some anti PRC sentiment.  Fortunately, it seems most locals of all ethnic backgrounds support the right to cook curry.  We dined last night with Singaporean friends of Chinese descent who said it best, "People should be able to cook whatever they want, whenever they want it."  And while there was no mention of the conflict in the local paper today, there was an article on tips for cooking a good curry.