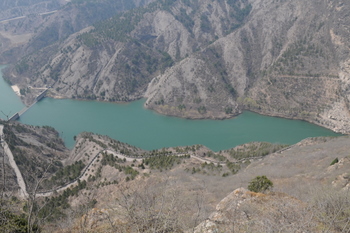 Ever since I visited Badaling, the most popular spot for viewing the Great Wall, I have wanted to explore other pieces of China's star attraction. In March, we visited the Wall at Mutianyu, which receives significantly less tourists and consequently makes for a lovely place to wander.  An additional benefit to Mutianyu is The Schoolhouse, where one may enjoy a delicious meal in the shadow of this great monument to China's history. My family subsequently made several trips to Mutianyu as friends and relatives came to visit.  On our last excursion, we noticed signs for the Great Wall at Simatai and decided that this would our next destination.
Two weeks later we set out.  The Simatai Great Wall, located in Gubeikou, northeast of Beijing, is noted for its stunning views – and steep slopes.  The Wall can be seen from far below as it follows a series of mountain ridges rising over three thousand feet above sea level.  It is divided into two pieces by a deep valley and lovely emerald colored lake.  Unlike Badaling or Mutianyu, there is not cable car to ferry one to the top.  The Wall's dramatic beauty leaves no question as to why it is featured on UNESCO's list of World Heritage Sites.
An additional benefit to this site is its lack of vendors chasing after you – though this may soon change.  The government has closed this particular Great Wall viewing site for "renovations."  I'm not sure what they are doing, but I hope the enhancement does not include additional stalls for hawkers.
Though Simatai's unique beauty quickly made it our favorite Wall viewing spot so far, it was definitely the least desirable in terms of child safety.  The features that make it so stunning – its precipitous drops – make it a bit of a nail biter when visiting with little ones.  Our five-year-old daughter, fortunately, seemed to appreciate this and used the appropriate amount of caution as she climbed (and lots of hand holding from a nervous mother).
For the adventurous, who can't be bothered with the hike back down from the Wall, there is a T-bar like contraption tethered to a cable on which one may ride- about 80 feet above the lake – back to the bottom.   Despite my daughter's entreaties, we opted to complete our visit by foot.  With this trip to my third Wall location, I still have not had my fill.  In fact, it is just the opposite.  Upon our return home, we immediately began planning our next trip.