I enjoy buying little trinkets when I travel. Small enough to fit in a backpack, without adding a lot of weight. Even when I used mochila transport services on the Camino de Santiago. These small chachkies are great ways for me to keep the memories alive as I display them around my house.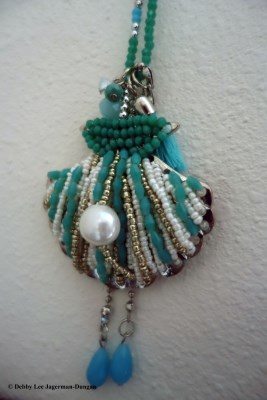 On the Camino de Santiago, the scallop shell is a significant symbol. They say that the contours and features of the scallop shell represent the converging of people from all over the world, bound for a common destination, the cathedral in Santiago de Compostela. Used as one of the directional symbols to aid in navigation, people also wear the scallop shell, usually hanging from a backpack, to symbolize that we are pilgrims.
These are the scallop shells that I wore on my two Camino journeys on my backpack: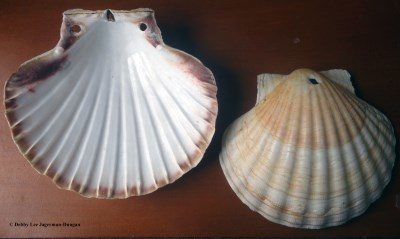 In the two pictures at the beginning of this blog, I was quite pleased when I found decorative scallop shells. One painted with beautiful roses, and one in a necklace with beautiful beadwork. I also bought a few bracelets with tiny scallop shells charms: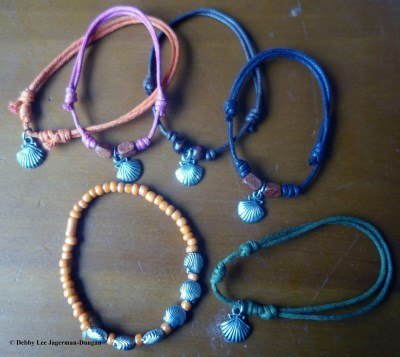 A woman I met hand-makes greeting cards with the scallop shell woven in string: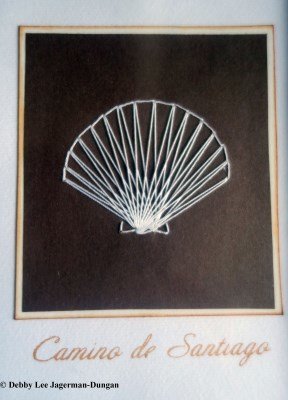 For my husband I bought a pack of cards with inspirational sayings and pictures: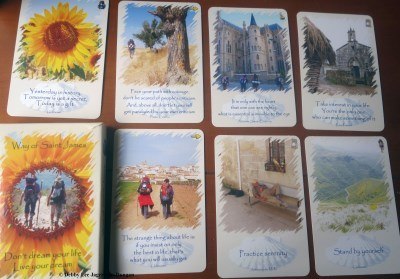 As part of a donation, I received this tiny rock with the yellow arrow painted on it, the other significant directional symbol of the Camino de Santiago:
I have all my souvenirs of the Camino de Santiago either hanging on my walls, or on shelves for display, enjoyment, and memories.
Sweet Travels!
For more blogs about my 502-mile, 47-day journey across northern Spain and up the Atlantic Coast, please visit my Camino de Santiago category.
Want to stay up-to-date on all my departures? Follow me on Facebook, Pinterest, and/or RSS/email.