They say that the contours and features of the scallop shell represent the converging of people from all over the world, bound for a common destination, the cathedral in Santiago de Compostela. Shaped like a cup for drinking water, or a bowl for eating out of, they say that the scallop shell was used by pilgrims of long ago for these functional purposes. Today's pilgrim wears the scallop shell, usually hanging from a backpack, to symbolize that we are pilgrims. And the scallop shell is one of the directional symbols that aid in navigation along the Camino de Santiago.
Yellow arrows are symbols placed on the sides of homes, buildings, and walls; on sidewalks and roads; on rocks and stones; on trees and lamp posts; on electrical poles, sign posts, and railings; and on cement markers. They could basically be anywhere, pointing you in the right direction. In Spanish, these yellow arrows are called flechas amarillas, and they are another directional symbol that aids in navigation along the Camino de Santiago.
Both symbols appear in a variety of forms and locations. The ones that I thought were the most fun to see were the yellow arrows made out of scallop shells, such as in the two pictures above.
Some scallop shells are placed in tiles and are older and worn out as in these two pictures: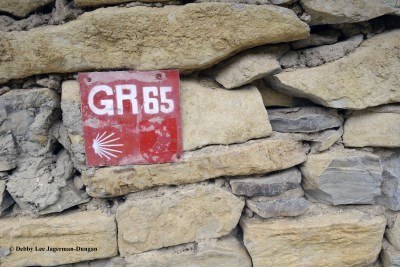 Some scallop shells are raised impressions on the ground, and make for artistic photographs when taken close up: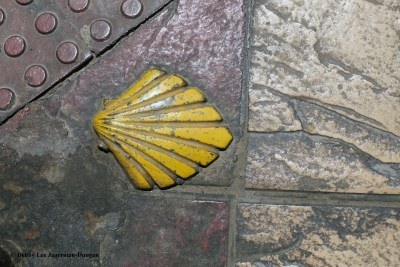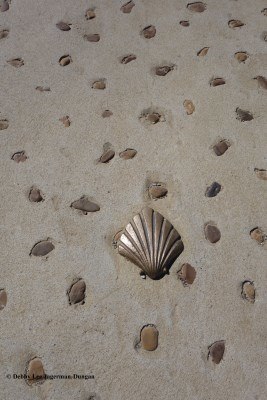 Yellow arrows also appear on the ground, either painted or in tiles: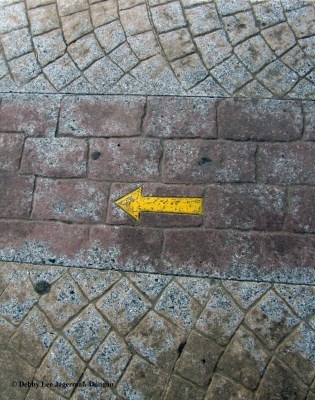 Children created a wall filled with artistic scallop shells:
Sometimes you will see scallop shells and yellow arrows of the Camino de Santiago along with images of Santiago himself, and/or with tiles that show bicycle routes:
You may see scallop shells and yellow arrows together: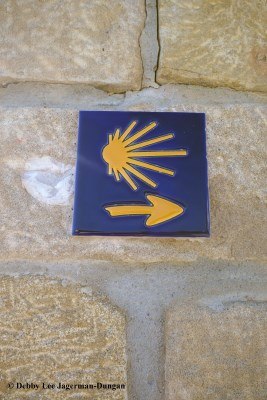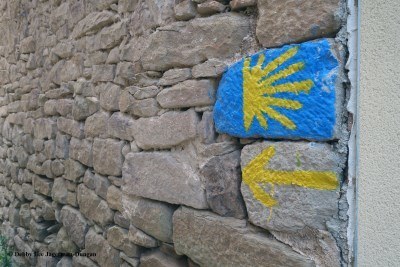 A map might be available along with the scallop shell: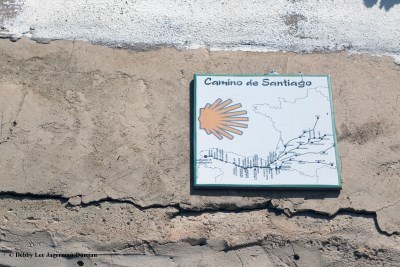 I thought seeing yellow arrows painted on rocks and trees were fun:
And here are a few more artistic scallop shell photos on walls or on the ground: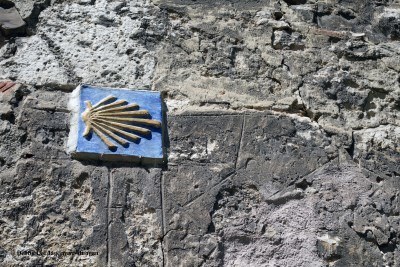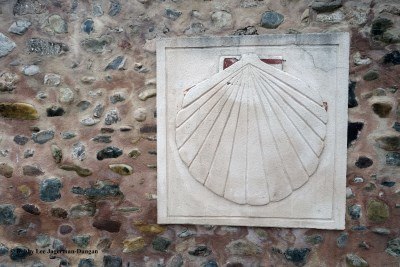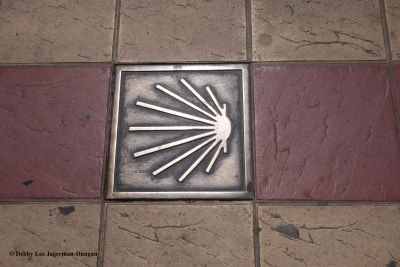 Sweet Travels!
For more blogs about my 502-mile, 47-day journey across northern Spain and up the Atlantic Coast, please visit my Camino de Santiago category.
Want to stay up-to-date on all my departures? Follow me on Facebook, Pinterest, and/or RSS/email.