"Our plan is to create a not for profit establishment where pilgrims can take refuge under shady oaks from the scorching summer sun. A place where they can relax in hammocks alongside the stream that flows through the garden or sleep out under the stars at night." – Neill and Catherine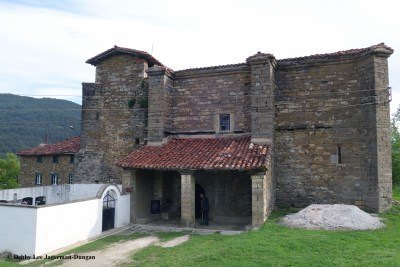 I noticed The Abbey/La Abadia of Eskirotz and Ilarratz on my fourth day of my journey walking the 482-mile Camino Francés. The road I was walking on passed right alongside the building. As it was my liking to stop at every cathedral and church along the way, and any interesting and welcoming building, I stopped at this one. The first thing I read was this sign: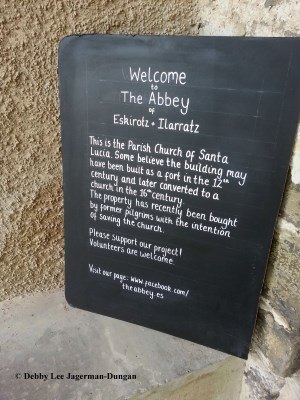 Hmmm…volunteers.
Just then, Neill, one of the new property owners, who happened to be sweeping as I took my first picture above, came up to me, introduced himself, and showed me around the inside of the church. Cracks on the walls and ceilings and floors. Definitely in a state of disrepair. But, nonetheless, the beauty still showed through – the sculpted ceiling, the original painted altar, old wooden candlesticks, the sense of history and spirituality. The Abbey/La Abadia is one of some 1800 listed on the Unesco World Heritage Site and is also registered as a "Spanish Property of Cultural Interest." The building dates from the Middle Ages, although it is officially listed as a 16th century church.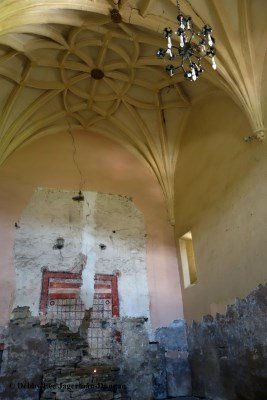 I spent some time talking to Neill, and then on a whim, decided to volunteer. I had all day to walk the rest of the miles I wanted to walk that day, so a few hours of my time would work for me, and I could help out with what I though was such an intriguing project.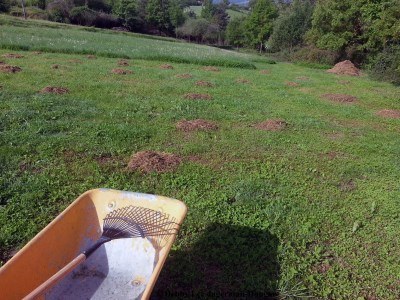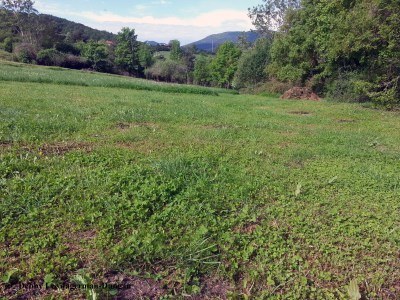 During my three hours of moving small piles of mowed grass with a wheelbarrow into a larger pile, Neill and I talked further. He told me of the story of how he met his partner, Catherine, and how they came to own The Abbey/La Abadia, including their struggles, along with their dreams. With Neill's recent help in editing this portion of my blog, as I could not write down everything we talked about during my hours of volunteering at The Abbey/La Abadia on the Camino de Santiago, here is Neill and Catherine's story:
Neill is originally from South Africa, and Catherine from Britain. Catherine and Neill met at the Madrid airport. Neill's Spanish was so poor that when he went to Spain to walk his own Camino, the man at the airline's desk at the Madrid airport sold him a ticket to Palermo in Sicily, Italy instead of Pamplona, Spain. As a result Neill spent five days in Italy. On returning to the Madrid airport, Neill's Spanish had not improved. Neill then saw Catherine standing in a line with her British passport in her hand. Asking if she spoke English, he discovered that she lived in Pamplona, and he asked her for help. The rest, as they say, is history!!

Catherine and Neill began to live in Catherine's apartment in Pamplona. During the course of their relationship, they had a conversation about having children, and agreed that they would need a house with a yard. Remembering that during his Camino walk Neill had passed a lot of abandoned buildings in the villages he had walked through, Catherine and Neill decided to walk the Camino together from Roncesvalles to Pamplona looking for a home. They took their time doing so, three days in all. It was on this walk that they rediscovered the church, The Abbey/La Abadia.

It was a two year battle for Catherine and Neill to purchase the buildings and the land of The Abbey/ La Abadia. It was tremendously frustrating for them in dealing with the staff of the Archdiocese of Pamplona. The priest whose church it was refused to meet with them saying that he would rather let the building fall down than sell. They held thirteen meetings with the Catholic Church during the first year. After that time they received an email from the Archbishop's architect (with whom they had had four meetings) telling them that if they hadn't heard from the Archbishop's office by the following week, that they should just get on with their lives. It was at that stage where Neill told them that they were going to write to the Vatican. That got them a meeting with the Archbishop, with a lovely man who agreed to sell. Unfortunately that wasn't the end of the matter as the Archbishop's staff took a further year and a half to make the sale a reality.
Nonetheless it finally became a reality! The building offers many challenges but ultimately it will be their "Dream Home."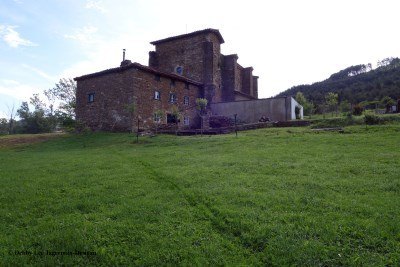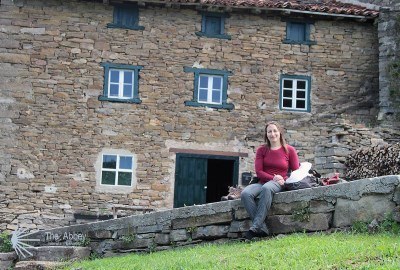 Neill also added:
"We recently had the church's hand-painted altar dated as being from the mid-13th century (which was exposed after the church's 16th century altar was stolen during the time it stood abandoned). The altar is apparently unique for the fact that it contains both Christian and Pagan symbols. It has a central cross set inside a triangle that is itself crossed diagonally. The altar displays two sun symbols and has a grid of 84 squares filled with finger painted dots. The dots apparently represent people. While there are some churches with painted altars theirs is apparently one of the very few that reflect the period of transition when the Catholic Church was trying to bring the Pagans into church."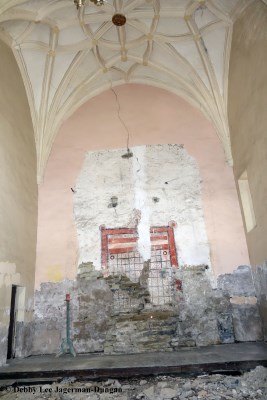 Now Catherine and Neill have a lot of visitors and volunteers helping them with the restoration. They have had volunteers from Holland, France, Germany, South Africa, Taiwan, and the USA. Many volunteer during their Camino walk, as I did, for a few hours, or even a few days, at a time. Some volunteers come back after they finish their Camino to help out.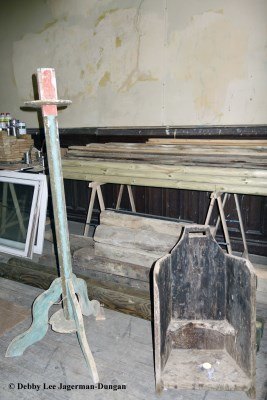 If you find yourself walking the Camino Francés between Zubriri and Larrasoana, on your way to Pamplona, please be sure to stop by The Abbey/La Abadia of Eskirotz and Ilarratz, and perhaps volunteer for an hour or a day. Or take refuge under their shady oak, relax on a hammock, or sleep out under the stars. Neill and Catherine are not only making The Abbey/La Abadia their Dream Home, but a Home for passing pilgrims as well.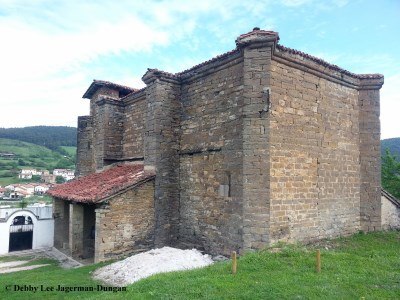 Oh…And they just told me that Catherine is pregnant! Congratulations!!
Sweet Travels!
Photo Credit: The photo of me sitting by The Abbey/La Abadia eating my lunch after my volunteer hours was taken by Neill.
Some information for this blog, plus more, including information about Santa Lucia, is available on the Facebook page for The Abbey/La Abadia.
For more blogs about my 502-mile, 47-day journey across northern Spain and up the Atlantic Coast, please visit my Camino de Santiago category.
Want to stay up-to-date on all my departures? Follow me on Facebook, Pinterest, and/or RSS/email.