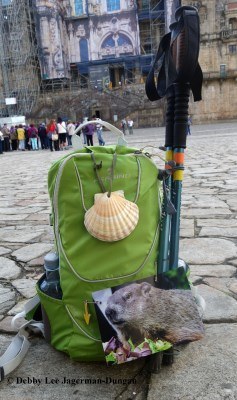 I did not walk the 482-mile Camino de Santiago alone. In addition to meeting people from all over the world, I brought a cute furry friend along. You see my birthday is on February 2nd, Groundhog's Day, so I brought a photograph of Punxsutawney Phil with me on my journey. You know, the infamous groundhog, "the Seer of Seers, the Sage of Sages, the Prognosticator of Prognosticators, the Weather Prophet Extraordinaire." The star of the movie along with Bill Murray and Andie MacDowell. A bit strange to bring a picture of a groundhog on a pilgrimage across northern Spain, you might be thinking. However, there was a reason behind this. It was so that I could enter the "Worldwide Adventures of Punxsutawney Phil" photography contest.
The premise of this contest is that the Groundhog Club provides contestants with a picture of Punxsutawney Phil to take with us on adventures at home and abroad. So included in my 14-pound backpack, and then my day pack, I took the picture, and thus Punxsutawney Phil "walked" the Camino de Santiago!
When we arrived at the Cathedral in Santiago de Compostela after about six weeks of walking, I took his photograph several times, pinned to my day pack, along with my hiking poles, symbolic scallop shell, and small yellow arrow. I chose this picture to enter the photography contest: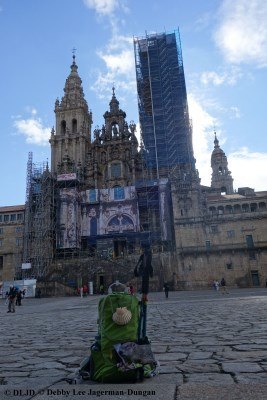 While our efforts of walking the 482-mile journey were grand, alas we did not win first, second, or third place in the photography contest. We were however, one of three Honorable Mentions!! And I think it was quite honorable that Punxsutawney Phil "walked" the Camino de Santiago!
By the way, I did win First Place in the International Category of the same contest last year when Punxsutawney Phil accompanied me and my husband during our 12-day 100-mile walking travels in the Cotswolds.
Sweet Travels!
For more blogs about my 502-mile, 47-day journey across northern Spain and up the Atlantic Coast, please visit my Camino de Santiago category.
Want to stay up-to-date on all my departures? Follow me on Facebook, Pinterest, and/or RSS/email.