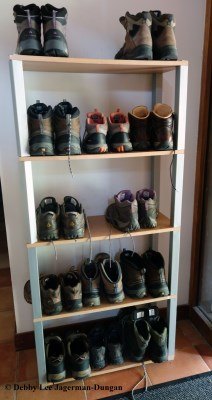 I thought I had the perfect hiking boots for the Camino de Santiago. I thought I would be immune to a common problem on the Camino – blisters. They were hiking boots that I had worn plenty of times before on local hikes, on training hikes, without any issues. They were well worn and broken in. They were waterproof and comfortable. I thought I was going to get away with a blister-free Camino.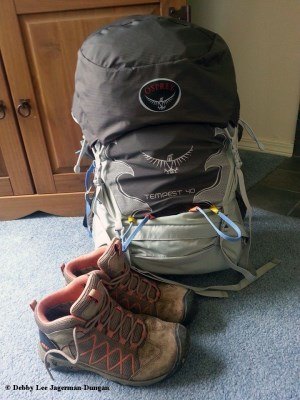 But no. I guess even I was not immune. After a couple of weeks of walking into my 482-mile journey across northern Spain, even I got blisters. Two of them. One on the back of each heal. And they hurt. With. Every. Step. From the rubbing of the boot on the back of my heals. I'm not sure what really caused them. Was it that my boots weren't as well-worn and broken in as I thought? Maybe it was the socks. Maybe it was the heat, as it was around 90 degrees for days on end. Maybe it was the fact that on the Camino you walk mile after mile, day after day. Maybe it was some combination of the above.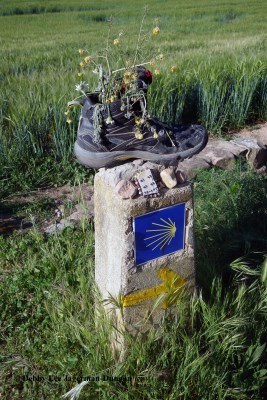 I also thought I did everything else right in keeping my feet clean and dry. They suggest that each time you stop to take a break throughout the day, you take off your socks and shoes to let your feet air out. Which I did. They say to really air them out and dry them in the evenings. Which I did. Some say to shower in the evenings, not in the mornings, to keep your feet as dry as possible at the start of each day. I usually showered first thing at the end of my walking day. Some say to moisturize your feet only after a shower. Which I did. I wore flip flops in the evenings, and bare feet to sleep. Some say to use products to make your feet more slippery during the day, others say to use powder during the day, others say to use nothing at all during the day. I used nothing at all. I took care of my feet. I really did. As best as I could. But I still got blisters.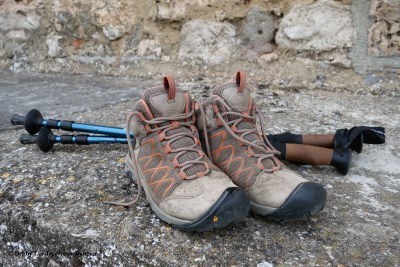 There is a lot of information out there on how to take care of blisters once you get them, but I'm not going to get into any advice here because truly I don't know the best advice to give. But here is what worked for me…
I switched shoes! I actually took a rest day off from walking to go shoe shopping, and bought a pair of Teva sandals. With openings in the back of the heal right where my blisters were. And that worked well. The next day I was able to start walking again because the Tevas did not rub on the back of my heals. I also took care of the blisters to keep them clean and covered during the day so they would not get infected, and let them air dry at night. (Ok, maybe that is some blister advice, but it worked for me, it may not for you.)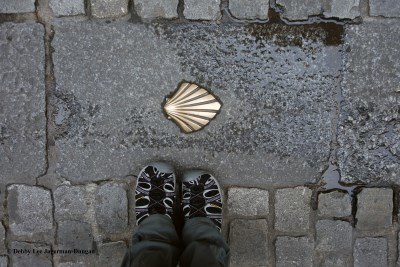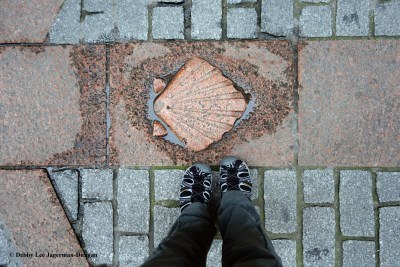 For about a week, I continued my walk in my Tevas as the blisters healed up. It was the perfect solution for me. After the blisters healed though, I was nervous about putting my hiking boots back on. Now it wasn't as hot out, and I had other socks to try, but I did not want to risk getting blisters again.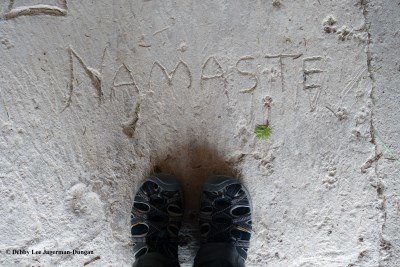 So I went shoe shopping again. I didn't have to take another day off to do this, but during an evening, I tried on several pairs of sneaker-type shoes in one town. Keep in mind that only the bigger towns and cities really have shoe stores, so I had to wait till I found a shoe store in this town, Sahagún, and the one had I bought my Tevas in, Burgos. I found two pairs of sneakers that seemed like they would be good for walking. So I bought the two pairs. Nike and Adidas. An orange pair and a purple pair. Fun colors!
Now how was I going to carry in my backpack all these extra shoes as well as my original boots, you might ask? That would put extra weight in my already quite light backpack. Well, first I ditched my hiking boots. Yes, that's right. I left them behind at one of the accommodations I had, thinking that perhaps someone else might be able to use them, and they would be perfect for their feet. After all, that is part of the essence of the Camino – to lighten up your own load, and to help others out.
By now, I had also discovered mochila transport services. I could put any extra shoes I wasn't wearing that day in the bag that was being transported for me to my next destination. So I tried out each of my sneakers on different days to see which one worked best. The orange ones: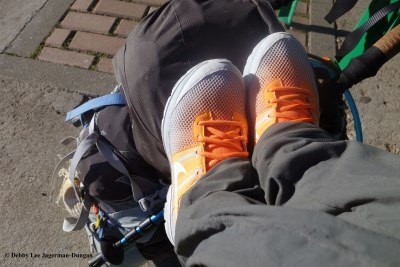 Or the purple ones: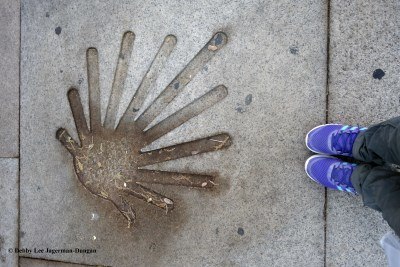 It turned out to be the purple pair (the Adidas) that worked best, so these shoes allowed me to walk the rest of my Camino blister free!! All the way to the Cathedral de Santiago!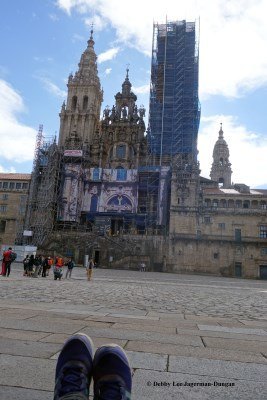 These sneakers weren't waterproof, though, and I no longer owned my waterproof hiking boots, so if it rained, I would have either had to use the orange sneakers or the Tevas. Somehow, I completely lucked out on my Camino, and the only times it down-poured rain I was already settled in my accommodations for the evening, or it was early on when it drizzled a bit when I was wearing my hiking boots.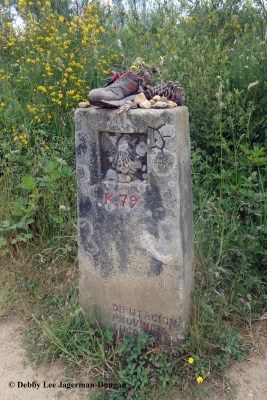 I don't know what to recommend really for you as far as shoes go if you walk the Camino. Hiking boots, sandals, or sneakers on the Camino de Santiago? Shoes are probably the most important item to carefully consider when planning and packing for the Camino. I know I definitely preferred the sneakers. But then again, I also didn't have days of rain. I have actually heard of people who walk the entire Camino in sandals, like Tevas. And others use hiking boots or hiking shoes with no problems. Some sources recommend to only bringing one pair of shoes to save the weight of carrying extra shoes. But if you use a mochila transport service, I suppose you can bring as many pairs as you like.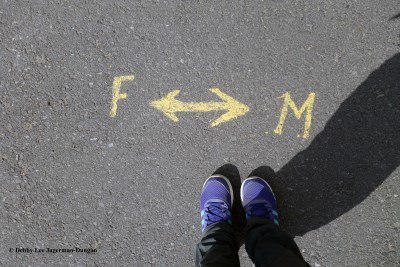 For the evenings though, or at beaches if you continue your walk to Finisterre, I recommend a great pair of flip flops. I actually had two pairs of flip flops with me the entire time. A comfortable pair for the evenings and beaches, and a pair of extremely light waterproof flip flops for the showers.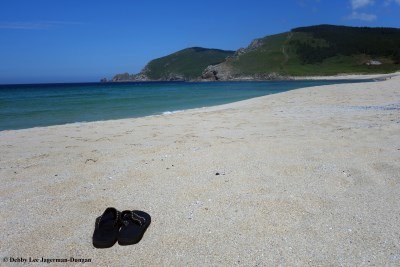 I hope that no matter what shoes you wear though, they won't end up looking like these: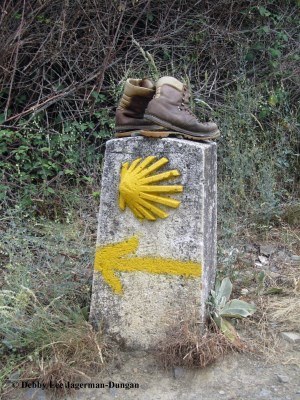 Sweet Travels!
For more blogs about my 502-mile, 47-day journey across northern Spain and up the Atlantic Coast, please visit my Camino de Santiago category.
Want to stay up-to-date on all my departures? Follow me on Facebook, Pinterest, and/or RSS/email.