Best! Money belt! Ever! For women.
I was provided with a prototype of the The Wanderbelt & The Mini Wallet from Wanderwave, two women who met during their Industrial Design studies, and who love to travel. I took this awesome recently designed money belt with me to wear during my 47-day, 482-mile walk across northern Spain on the Camino de Santiago pilgrimage route. And I tell you, this money belt made my travels all that much better!
This money belt is designed for women, as its location on your body is not in the places the conventional money belts are – around your neck, or around your waist. This money belt instead utilizes the side of a bra strap and sits mainly under your arm. When I first heard of this concept, I liked it from the get-go, as I never really liked having my money belt around my neck or waist.
The money belt is clipped onto the bra strap, and also has an elastic band that wraps around your torso to hold it in place. It has three separate convenient main pockets – one for your passport, one for your money, and one for your credit cards. This made it easy to retrieve just one necessary item at a time. It is discreetly hidden under your shirt, and is flat enough that I don't think anyone knew that I was wearing it. I felt that my very important items were safe and secure.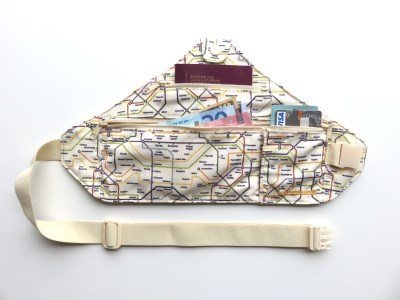 When I needed to get something out of The Wanderbelt money belt, if I was in a public place, I would find a bathroom, lift my shirt up to the money belt, unzip a pocket, and easily pull out what I needed. With the money belt still on! I loved that I didn't need to take the money belt off to get anything out of it. And it wasn't awkward to reach to any pocket either!
Occasionally there was a time or two that I couldn't find a bathroom but needed to get something out of The Wanderbelt anyway. So I actually stood next to a wall, faced the wall so no one would see me, and was still able to discreetly lift my shirt a bit, and retrieve whatever I needed.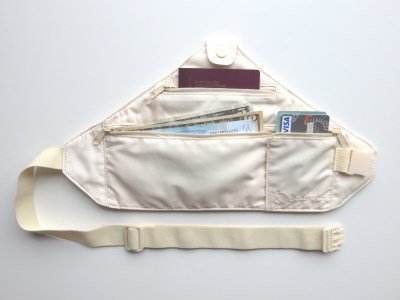 I wore The Wanderbelt money belt practically every day, walking an average of 10 miles per day, and I didn't even know I was wearing the money belt, as the fabrics were soft, and the fit was very comfortable!
The only downside to my prototype was I did not have a waterproof version of The Wanderbelt, so I needed to wrap all my items in plastic baggies. But that didn't matter. My stuff kept dry anyway, and the final version of The Wanderbelt will be made with a sweat-proof liner.
And the only downside in general was that even though my items stayed dry, because it was hot many times when I walked, and I sweated, the material of the money belt actually became moist (as did my bra and clothes). I didn't notice it while I was wearing it however. I only noticed it at the end of a day when I took the money belt off and felt it. But it dried over night.
The Wanderbelt money belt also included The Mini Wallet, which I used for daily spending money. It could also hold a credit card if needed, and a key. The Mini Wallet has several ways of attaching, either to The Wanderbelt itself, or to your regular pants belt and clothes for safety.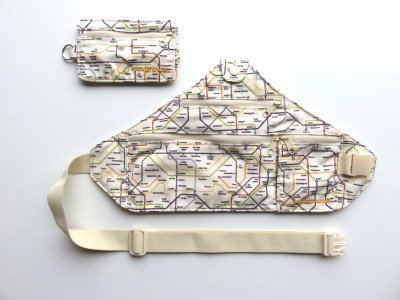 I will never go back to a neck or waist money belt after trying The Wanderbelt & The Mini Wallet! This is the best money belt ever for women, and I highly recommend it!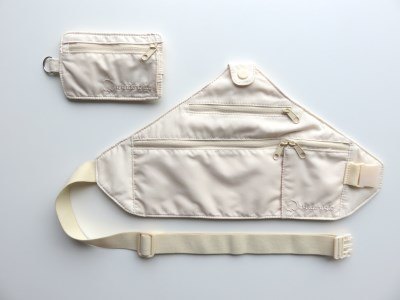 The Wanderbelt & The Mini Wallet will be available near the end of November 2015 for 35 Euros in a "printed" version with their own special travel map print, or in a fully skin colored "plain" version, with free worldwide shipping if you pre-order on Wanderwave's website. There is also a short video on this weabsite showing all its features. (Note that the yellow version with the camera print was the prototype I was provided with, and I don't think it will be available.)
Sweet Travels!
Disclaimer: I was provided a prototype of The Wanderbelt & The Mini Wallet free of charge from the women of Wanderwave. The opinions in this blog are my own. The photographs in this blog were also provided by Wanderwave, except for the yellow version with the camera print prototype.
Second Disclaimer: "Wanderlust and Lipstick," and "Wanderwave" and "The Wanderbelt," are not affiliated with each other. The similarity in their names is merely a coincidence.
For more blogs about my 502-mile, 47-day journey across northern Spain and up the Atlantic Coast, please visit my Camino de Santiago category.
Want to stay up-to-date on all my departures? Follow me on Facebook, Pinterest, and/or RSS/email.