My gut told me there was something wrong – that we probably got off our designated path – when my husband and I were walking directly towards a herd of cows. And cows with horns. Oh wait, cows with horns – aren't those bulls?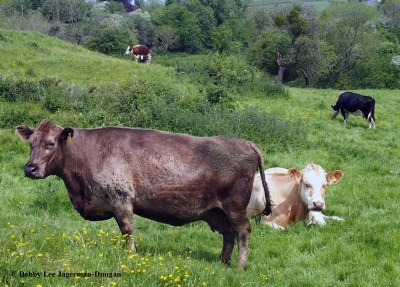 Now mind you, throughout the Cotswolds, there are clearly marked paths and trails and roads that one walks on when crossing the countryside. Written instructions, guidebooks, maps, and directional arrows and signs help guide the way. We had been following our way quite carefully that day. And yes, you are allowed to literally walk through a pasture, whether it be of sheep, or of even cows and bulls. But when you are walking right towards the herd, not on the opposite side of the pasture, yup, something just didn't seem quite right.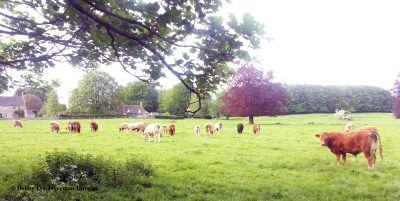 I immediately said to my husband, "Stop! We can't go this way. This is just not right. Where are we supposed to be? Those cows have horns!" In fact, I panicked. My husband, unhelpful, replied, "Don't have a cow!"
And then my panic turned into terror when the herd of cows, and bulls, started walking. Right. Towards. Us. "Holy cow!" I exclaimed. "Run!" Now I don't think you are supposed to run when you are being chased by a bear. Are you supposed to run when being chased by cows or bulls? Well, I guess they do in Pamplona.
I decided that we were going to "take the bull by the horns." We picked up our pace and started walking back to where we think we got off track. Walking faster, and faster. Looking behind us. They were still coming in our direction.
Finally, my husband, now being helpful, noticed a gate. With a directional arrow. That we were supposed to go through the gate, and be safely on the other side of the fence. "Whew!" I thought. I practically jumped over the fence to the other side. Kind of like the cow jumping over the moon, I suppose.
As the herd of cows, and what I thought were bulls, continued to very slowly stroll on by, my husband took a video of them. I thought his commentary on the video should be, "till the cows, and bulls, come home." Instead, he actually said, "Fortunately we got them all following us. I'm not sure why. [And I'm not sure why he said 'fortunately' at that moment.] They're all coming. Following the lead male with the white horns. AND he has NO interest in me. Simply going back to the path. Hi, there! [Yes, my husband was talking to them.] Actually that second one is a cow. They're ALL cows! Wow!" You can hear me in the background sighing with relief.
**********
My husband and I actually traveled across several pastures of cows and bulls during our 12 days of walking in the Cotswolds. The cows were usually calm and lazy, didn't move and all, and didn't seem to mind us at all.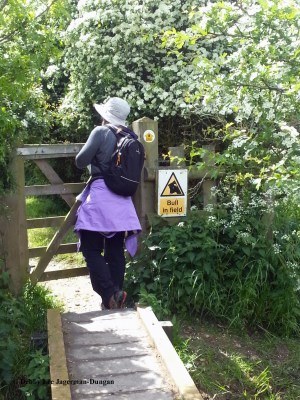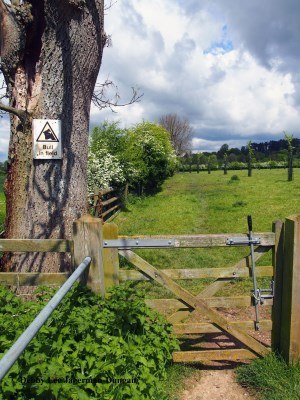 Occasionally, there was a clearly marked sign of warning – "Bull in Field." Fortunately, in this instance, the bulls were waaaayyy off in the distance. We just needed to watch where we stepped below our feet…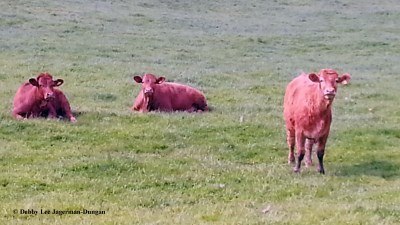 Sweet Travels!