When my husband and I went to Punxsutawney, PA to celebrate our birthdays on Groundhog's Day weekend earlier this month, we had no idea how much fun we would have during our three days there. Yes, we knew we would be waking up at the wee hours of the morning to see the World's Most Famous Weatherman tell us if we needed to keep our rain jackets and snow boots out, or if we could bring our spring clothes out of the closet. Sure we also had some idea of what other activities we might do because I printed lists from the Groundhog Club's webpage before we left. But I must say, that after spending three 'phun-philled' days in Punxs'y, it was the funnest travels I have ever had, and the best birthday celebration as well. And while many of the activities were geared towards kids, we are all kids at heart, aren't we?
(Please note that this list of lots of things to do on Groundhog's Day weekend in Punxsutawney is not in any particular order of funness, and is not inclusive of everything to do either.)
Punxsutawney Groundhog's Club Headquarters and Museum. This was our first encounter with all-things-groundhog, and here we learned about the history of Groundhog's Day, Punxsutawney Phil, the Inner Circle, and more, through memorabilia, artwork, and photographs, some of which are rare. You can get your frequently asked questions answered, and read about fun facts about the groundhog. There is a collection of Groundhog Beanie Babies, and you can see displays of music, songs, and carols written about Phil and Groundhog's Day, as well as the movie itself, "Groundhog Day." There is even a display called the Worldwide Adventures of Phil, where people take a picture of a Punxsutawney Phil photo at some location during their travels, and send them in for this collection. I think I will need to start doing that! We even got to meet a few members of the Inner Circle.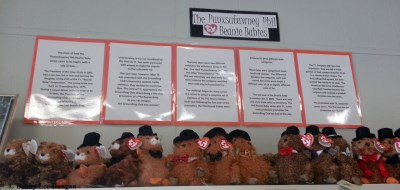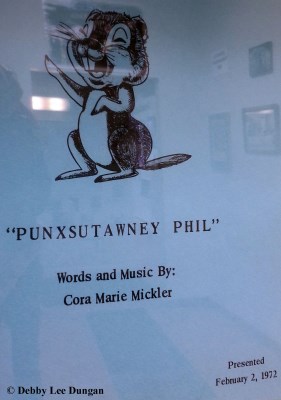 Punxsutawney Weather Discovery Center. Here you can learn about the science and folklore of weather prediction. You can learn how a tornado is formed, and even climb up to feel a simulated small tornado. Learn about the seasons, thermometers, interesting weather-related records (the sign below), and even have a chance to be a weather reporter using the AccuWeather Green Screen and TV. For you local Seattle folks, did you know that the most snow that has ever fallen in one year, a total of 102 feet during the 1971-1972 season, was at Paradise, Mt. Rainier?
Punxsutawney Area Historical and Genealogical Society Museums. Two historical homes, across the street from each other, display historical memorabilia, including Native American and early Punxsutawney life, streetscapes of Mahoning Street in Punxs'y from the 1940's, 50's, and 60's, and lots more. There are activities for the children, including several books to read written about groundhogs. There is also genealogical help for anyone wanting to research family history in the area.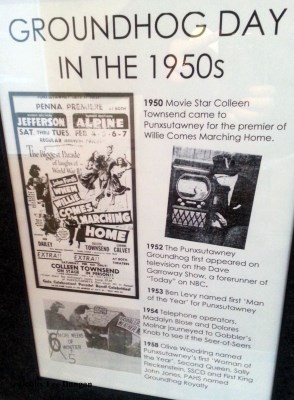 S'mores Making. What can I say about this, except YUM! Located outdoors at Barclay Square, they supply the ingredients, a stick, and a fire in a barrel. Great mid-day snack to warm you up in the cold.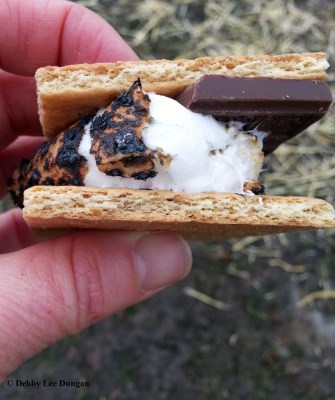 Hayride Town Tour. Now you would think this one is only for the kids, but I really found this extremely fascinating, as it was an historical tour of Punxsutawney, as well as lots of fun. Did you know that many of the homes still standing in Punxs'y were built as early as 1862? Mansions were built by lumber and coal barons, doctors, and lawyers. From our great tour guide, we learned about the history of Punxs'y, including the booming coal and railroad industries of over a century ago. We saw historical government buildings, post offices, outdoor parks and squares, and churches. We learned about the Native American history of the area as well. Basically I discovered that Punxsutawney is not just about the groundhog.
The "Phantastic Phils" and related Walking Tour. Go on a quest to see as many of the 32 plump, six-foot-tall, larger-than-life, friendly, colorful, creative, whimsical, artistic statues of the groundhog, Punxsutawney Phil, the World's Most Famous Weatherman. Please refer to my blog, Phun with the "Phantastic Phils," for more information. The Walking Tour is held several times a day for all three days.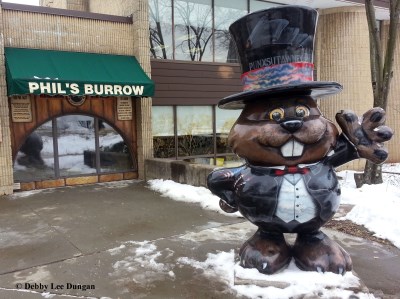 Groundhog Eve Banquet. Going to this event was a last-minute decision for us, but well worth it. In a room of 550, the Inner Circle's President gave a welcome speech, and the Groundhog King and Queen were presented. Two meteorologists from The Weather Channel talked, and the community honored a Man and Woman-of-the-Year, people who serve their community in tremendous ways. Even singing occurred by members of the Inner Circle in a barbershop-quartet style, and lots of food was served. But I thought the funnest part was this room of 550 singing Happy Birthday to me and two others, the only ones in the entire room who actually were celebrating a birthday on Groundhog's Day itself.
Gobbler's Knob. Of course waking up (or maybe not sleeping much at all) to get to Gobbler's Knob at 3am on Groundhog's Day is a must. We actually got there at 5am, and had a great time being entertained by singing and dancing for hours. A fireworks display transitioned the entertainment to the Inner Circle bringing Punxsutawney Phil on stage for the weather prediction – the highlight of the weekend – even though this year he predicted that we needed to keep our rain jackets and snow boots out. However, I also suggest going to Gobbler's Knob during the day, when it is quiet, there are no crowds, and you can see the area in the light. You can even walk to Gobbler's Knob, as there are two directions up the main road to get there, each about a mile and a half.
Punxsutawney Phil and Groundhog 101 Class, and Autographs of the Inner Circle. Phil's handlers who care for him everyday talked about fun facts about the groundhog, and answered questions. Did you know that a groundhog sleeps 22 to 23 hours a day, they only have four teeth, two on top and two on the bottom, and have four toes on their front paws and five toes on their back paws? They can swim, and they have two layers of fur to keep them warm and dry. Groundhogs are herbivores, weigh an average of 8 to 10 pounds, and are also called whistle pigs, woodchucks, and marmots. It was also fun to meet many members of the distinguished men of the Inner Circle as I got their autographs.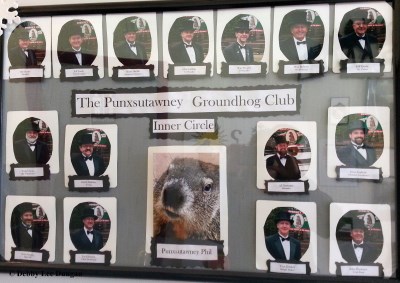 Arts and Crafts Shows, Displays, and Exhibits. During all three days in Punxs'y, there are a variety of arts and crafts, mostly groundhog-related, including handcrafted items from local artists, live chain saw woodcarving, paintings, and metal arts.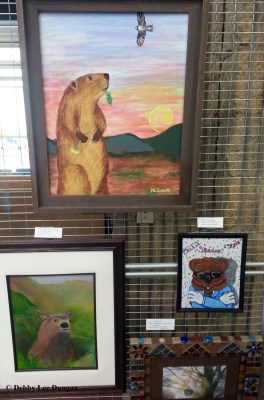 Shopping and Eating. Shopping includes souvenir shops, antique stores, art studios, and a place of 40 stores of artisans, craftsmen, and antique traders all housed in an old vintage warehouse. Eating includes food vendors, a food court, a winter food fest, concession stands, all-you-can-eat breakfasts, breakfast buffets, and restaurants. A chili and hot wing cook-off, groundhog cookie decorating, teams competing to produce groundhog-themed cupcakes, an Oreo cookie snack contest, and s'mores making (oh, I already mentioned that). We also happened to find a restaurant selling these cute chocolate groundhog cupcakes, and it happened to be on my birthday!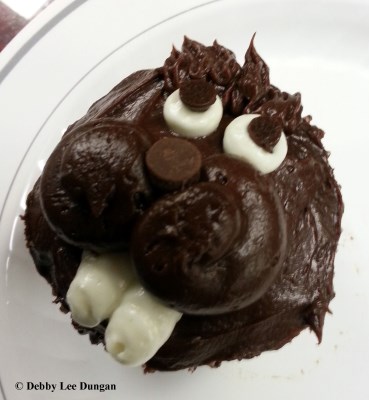 And then there is so much more. See Phyllis, Phil's significant other, at Phil's Burrow next to the library, attend the Inner Circle's Groundhog Ball, watch the movie "Groundhog Day," watch the movie "Groundhog Day," dance to the live music of a couple of classic rock bands, listen to dueling pianos, see the crowning of Little Mr. and Miss Groundhog, and play groundhog bingo. There is a magician, a scavenger hunt, story time, and crafts for the kids. You can even get married, or renew your vows, on Groundhog's Day in Punxsutawney.
So whether you are a kid or an adult-kid at heart, and even if it is not your birthday on Groundhog's Day itself like me, I would suggest adding Punxs'y to your bucket list, and go have some phun!
Oh, and a great place to stay is the Pines Bed & Breakfast in Indiana, about a 35 minute drive from Punxsutawney. The home of the extremely hospitable hosts feels like a museum itself, with antiques and collections decorating every room. The Jimmy Stewart Museum is also in Indiana, and was a wonderful thing to do on our last day before heading back to the airport in Pittsburgh.
Sweet Travels!
For more information on visiting Punxsutawney, and all the things to do, please visit Groundhog.org and Punxsutawney.com.