In the middle of the mighty St. Lawrence River, but within sight of Québec City, sits Île d'Orléans, an entire island that is a designated historical district. The traditional Québec countryside is preserved here in this, the cradle of New France. Visitors can delight in the island's plentiful (and flavourful) agricultural heritage nestled amid gorgeous scenery. – Official Tourism Site for Île d'Orléans
I am honored to be one of the few people to walk the 42-mile Chemin Royal (Royal Road) that encircles Île d'Orléans, an amazing island near Québec City, Canada. This experience combined my love of the island based on a previous trip there, and my love of walking based on other walking travels that I have done.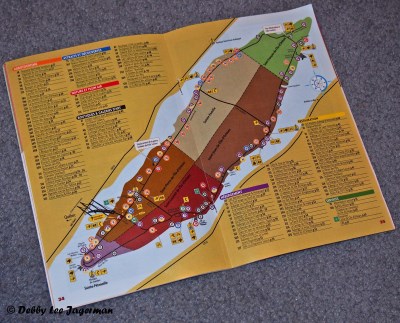 Île d'Orléans is a small island of only 76 square miles, but offers a lot for the visitor. Known as the "Garden of Québec," it is rich in its 300 year-old history, and its agritourism as a major industry. There are shops and roadside stands that specialize in agricultural products, and sell fresh fruits and vegetables grown on the island. The island is home to over 80 artists and craftspeople, with a complete range of art forms exhibited in their galleries and boutiques. There are historical, cultural, and religious places to visit, including centuries-old churches, a maritime park, and a genealogy center. The farm and river scenery is endless. Indulge in a wide range of food – from chocolate shops, cheese shops, and sugar shacks, to restaurants, bistros, cafés, and pubs. Enjoy drinks in several wineries and breweries. Perhaps visit a theater, a museum, and do some fishing or play a round of golf. To end each day, there are many comfortable places to sleep. And the list goes on. In fact I came up with 42 reasons to visit Île d'Orléans during my walk.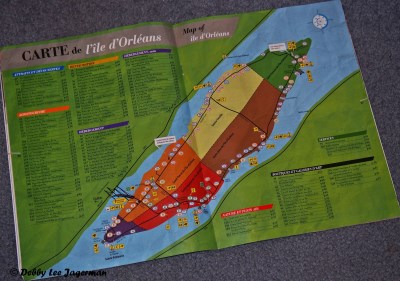 While most people drive around the island, and others tour the island by bicycle, I thought I would provide some tips for walking Île d'Orléans based on my amazing experience.
1. Take your time, by taking at least five days to walk Île d'Orléans. I walked the island in four days, at an average of 10 miles per day. While I enjoy walking long distances, I found that due to the timing of when some businesses opened in the morning, or closed in the afternoon, I was not able to visit some of them due fitting in the 10 miles of walking, plus spending quality time visiting each business. I believe that if one takes at least five days to walk the island, then there would be more opportunities to visit more businesses, and spend quality time in each one.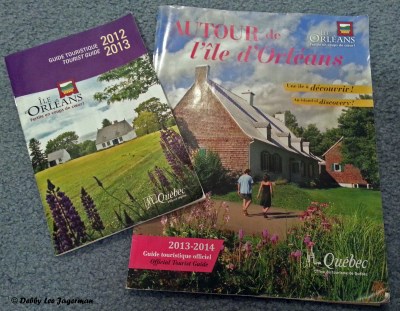 2. Book accommodations ahead of time, and make sure food is available near the accommodations. While I had my accommodations booked for me, I would suggest doing the same, especially in the busy summer, and especially with walking. It would be better to know your walking distance for each day based on where your accommodations are, and to be rest assured (pun intended) that at the end of each day, there will be a comfortable place to sleep. Also, be sure that either the accommodations has a restaurant for dinner, provides food or has a restaurant for breakfast, or there is a restaurant near by for your meals. You will then be rest assured that you will eat well, too.
3. Start in Québec City. Well don't start walking in Québec City, but spend the beginning of your trip here. You will most likely fly, drive, or take the train to Québec City anyway as it is the gateway to get to Île d'Orléans. Spend a few days in Québec City enjoying what they have to offer. Then take a taxi or use a limousine service for the approximate 15-minute drive from Québec City across the Pont de L'Île bridge over the Saint Lawrence River to Île d'Orléans.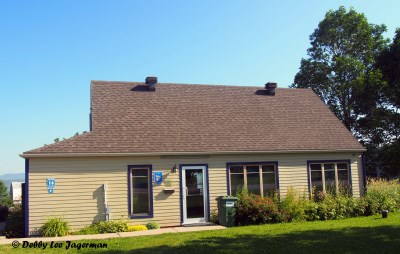 4. Make the Visitor's Center your first stop. They have booklets, brochures, maps and lots of helpful information about the island. Any questions you might have can be answered there. Also, it is very easy to find any business on the island, as each shop, restaurant, accommodation, or activity is numbered with a sign, which corresponds to the numbers on the maps. By the way, I traveled counter-clockwise around the island, but I suppose one could go in either direction.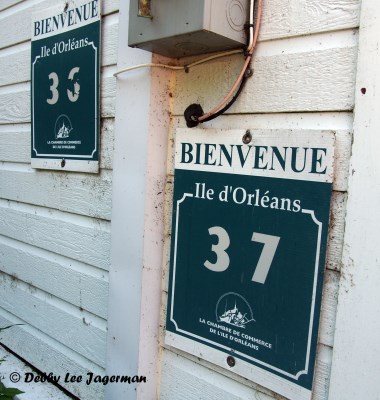 5. Pack light. Since you will be walking, and thus taking all your belongings with you without the use of a car, or panniers on your bike, I suggest bringing as little as possible. I had a small backpack on my back for items like my extra clothes (I only took two pairs of pants and 3 tops), rain gear, toiletries, etc. I also used a hip pack on my front for items like my camera, cell phone, map, etc. Don't worry about wearing some of the same clothes more than once. And don't forget your journal and pen if you want to take notes, and your Passport.
6. Pack for all types of weather, including sun and rain. It was hot when I went in July. And I mean hot. A hat and sunscreen were essential. But, one afternoon, I also experienced a very heavy down pour of rain, along with thunder and lightening. So also pack rain gear, not only for yourself, but for your important belongings, like protecting that camera and cell phone. Because of the down pour, I actually had to stop walking for a while, and take shelter in an open barn, and under the roof of someone's porch.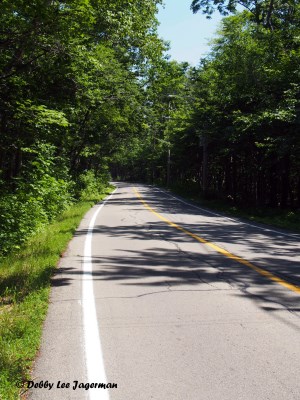 7. Wear comfortable shoes. Since we are on the subject of what to pack, comfortable walking shoes is important. You will be walking mostly on pavement, even though there is also some gravel and grass. Hiking boots might be too much, as Île d'Orléans is a relatively flat island with no hills, but some comfortable waterproof walking shoes are necessary. I had some trail running shoes that worked well. With walking about 10 miles a day, believe me, my feet thanked me for the comfort. Oh, and bring extra socks. That is always helpful, too, when walking longer distances. I did have a pair of flip-flops for the evening to rest my feet as well.
8. Please be wary of the potential for blisters. Since we are the subject of feet, when walking long distances, blisters are always a possibility. Do what you can to prevent yourself from forming any blisters, such as proper socks and shoes, and stop if you start to feel a hot spot. Be sure to carry blister treatment in case you develop a blister. There are lots of options and information about this on the internet. I actually started to develop a blister, and took care of it right away, so that my trip would continue.
9. Plan ahead for food and water. While there is definitely an abundance of food and water sources on the island, whether it be a full restaurant, or a roadside fruit stand, there are a few places as you walk where there actually is no food or water for a couple of miles. Carry a water bottle with you (this will help with the potential hot weather, too), and put a snack in your pack just in case. But also don't worry. Within a few miles, there will be something.
10. Most people who work on the island are bilingual. While French is the dominant language on the island, I found that the majority of people in the businesses, with a few exceptions, also spoke English.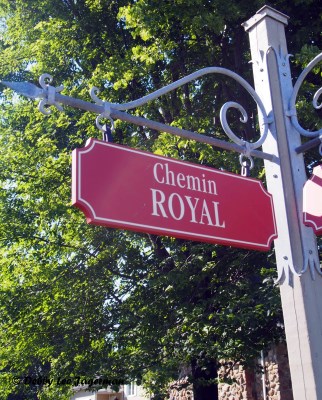 11. You probably won't get lost. The maps you obtained at the Visitor's Center are more for knowing where all the businesses are located, rather than for finding your way. There is one main road that encircles the entire island, Chemin Royal, so if you follow that road the entire way, you won't get lost. There are a few roads that cross through the middle of the island as well, which I didn't take, but if you decide to venture down those roads, they will eventually connect with Chemin Royal. Although, now that I think about it, there were a few smaller roads in some of the villages for homes, which again I did not venture down, but if you do, remember that this is an island, and you will eventually come across water.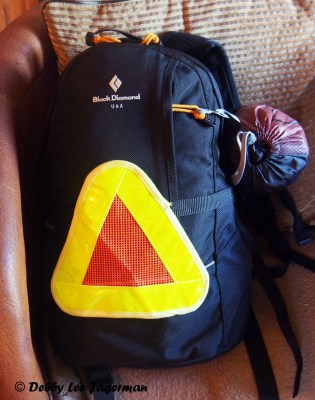 12. Please be careful. I put this near the end of all the tips, not to discourage you from walking Île d'Orléans, but to caution you to please be careful when walking. Île d'Orléans is not really established for walkers. Not many people walk the island, and there are only some sidewalks in the villages. You are mostly walking on shoulder of the road, along with cars and bicycles. There are no pedestrian only areas, or designated hiking or walking trails. In fact, there are places where the shoulder of the road was narrow, or even non-existent. Be aware of this. Look. Listen. Perhaps walk facing oncoming traffic. Use extra caution as drivers may not be used to seeing walkers along the road. Even bicyclists may not be aware much of walkers, so watch for them as well. I yielded to both cars and bicyclists. Follow basic rules and regulations just like you would when walking in a big city. Stay as clearly to the sides of the road as you can. I stopped and waited for drivers when there was no shoulder. I walked on someone's lawn a few times in order to give extra distance between myself and the cars. And, I actually wore a triangular-shaped orange and yellow reflecting safety sign on my backpack, even though I walked during the day.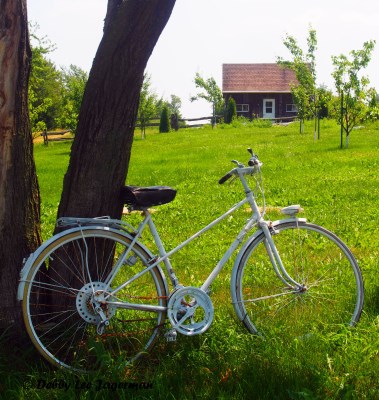 13. You could also drive or bike Île d'Orléans. If walking is not your thing, I suggest please go to Île d'Orléans anyway, and travel around via car or bicycle. There is an audio guide for your CD player in your car which is over two hours long to listen to as you travel around. You can plan your trip into themes as an option, such as arts and crafts, historical and cultural sites, religious heritage, and food, food, food. Île d'Orléans is worth the trip, whether for a day, or for several days, no matter what your transportation method is. (Note that you probably would want a good, reliable road or touring bike, rather than a bike like the one in this decorative picture.)
14. Contact information. If you need help with planning your trip, or have any questions about the island, the Île d'Orléans tourism office will be more than happy to provide assistance. This website has an abundance of information. You may call them toll free at 1-866-941-9411, local phone at 418-828-9411, fax at 418-828-2335, or email them at [email protected] You can also write them via their website on their Useful Information/Contact Us page.
15. GO and HAVE FUN. Île d'Orléans is an amazing place to visit. I want to go back yet again someday, take my husband, and take at least five days to walk the island. If not six or seven days.
Sweet Travels!
Here is a list of my 42 reasons to visit Île d'Orléans:
#1. The Quiet.
#2 through #4. The Chocolate Shops.
#5 through #10. The Wineries, Cidreries, and Vinaigreries.
#11 through #16. The Churches.
#17. The Aroma of Lavender.
#18 and #19. Recycled Folk Art and Textile Weaving.
#20. Strawberry Season.
#21 and #22. Strawberries, Raspberries, and Blackcurrants. Oh my!
#23. The Mailboxes.
#24 and #25. The Art in the Garden and The Garden of Arts.
#26 and #27. Procession Chapels and Roadside Crosses.
#28 and #29. Maple Syrup and Cheese.
#30. Parc Maritime/Maritime History.
#31 and #32. Woodworking and Blacksmithing.
#33 and #34. The Farmland and The River Scenery.
#35 and #36. Fine Dining.
#37 through #40. Accommodations.
#41 and #42. The Porches and My "Final" Reason.
My walking tour of Île d'Orléans was sponsored by Tourisme Québec (Québec Original) and Québec City Tourism (Québec Region). For more information, please visit:
Tourisme Île d'Orléans
Quebéc Region
Quebéc Region-Québec City and Area-Île d'Orléans
Quebéc Original