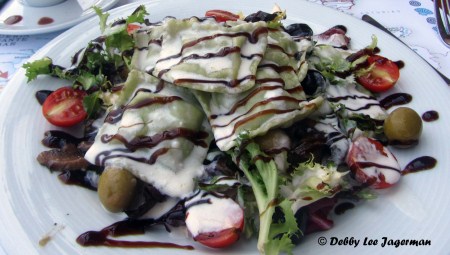 How does a salad of lettuce, tomato, and olives, topped with spinach ravioli, and drizzled with balsamic vinaigrette dressing sound?
Or how about shell-shaped pasta flavored with tomato sauce, ricotta cheese, and arugula, and sprinkled with freshly grated parmesan cheese?
Or a thick piece of grilled bread smothered with a warm tomato and onion mixture, covered with thick slices of grilled fresh vegetables of red and green pepper, zucchini, and eggplant, also drizzled with a balsamic vinaigrette dressing?
Then there is a tomato-cheese-walnut salad accompanied by a tortilla patata, a thick egg and potato tortilla.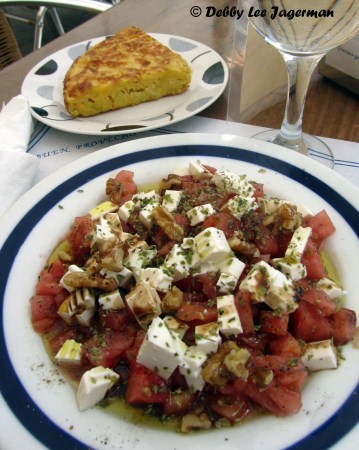 How does seasoned asparagus topped with melted brie cheese sound?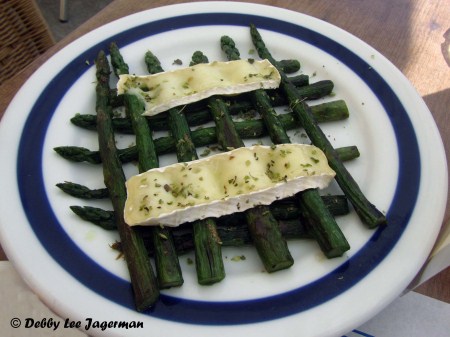 Don't they all look just delicioso? Well they all were, and they are some of the vegetarian dishes I ate in Spain as I walked along the Camino de Santiago pilgrimage route.
When I travel, I eat mostly vegetarian. (At home I tend to eat some meat, although lately, I have been trying to eat more vegetarian.) I won't go into the reasons why, and perhaps I am missing out on some great non-vegetarian dishes while traveling to other countries, but suffice it to say that I was a pretty much a vegetarian in Spain. (I did eat eggs occasionally.)
I will admit though that this actually posed a challenge in this country. Even the most common bocadillo (a simple large sandwich on a baguette) usually came with some sort of meat, like ham, pork, bacon, squid, or tuna. Instead, I would choose the bocadillo de queso, which was the only non-meat choice. At first I actually began to dread each time I had to eat a cheese sandwich. But after a while, especially when I was extremely hungry, and I didn't have any other choices, I began to appreciate my bread and cheese.
Please don't let this challenge discourage you from walking the Camino though if you are a vegetarian pilgrim. I was able to survive, and found many, many places along the way that served vegetarian dishes. All in all, I ate well. Really well! Furthermore, once I learned the word vegetariana, my options opened up.
Most meals along the Camino, especially the cenas (dinners), are served in what is called a Menú de Peregrino, a Pilgrim's Menu. An inexpensive three-course meal, where you get choices for each course. The first course is usually some sort of appetizer, salad, soup, or pasta. The second course is the main dish, and the third course, well, postres (dessert). Some places also offered wine and/or water with the meal. The three courses and the choices within each course varied from restaurant to restaurant, and for somewhere around $10-$12, you get a great filling meal.
However, for vegetarians, most of those second-course choices were, well, some sort of meat, perhaps beef, lamb, chicken, or an assortment of seafood. Therefore what I did was I asked to pick two items from the first course, and the restaurants allowed my changes.
Here are some examples of what I ate from a Menú de Peregrino, this first trio in the village of Acebo, served at an albergue called La Posada del Peregrino (The Inn of the Pilgrim).
First course…Salad with prosciutto (yes, I ate that), cheese, asparagus, tomato, and egg.

Second course…A simple, yet tasty pasta.

Third course…Pastel de Chocolate Triple (Triple Chocolate Cake).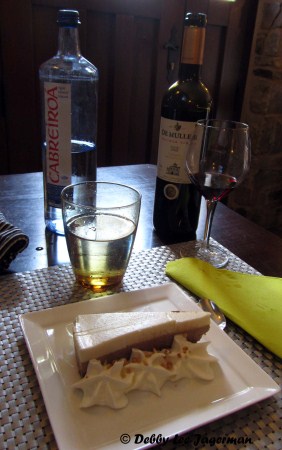 All accompanied with vino y agua (wine and water), a basket of bread, and a side dish of Spanish olives.
Here is another example, which includes some local specialties from the village of Barbadelo, served at the Casa de Carmen albergue.
First course…A huge bowl of soup, mostly potatoes, with some beans and cabbage, and a nicely flavored broth, which normally could have served two or three, but I was so famished that day that I ate the entire bowl. Plus…

Second course…A salad.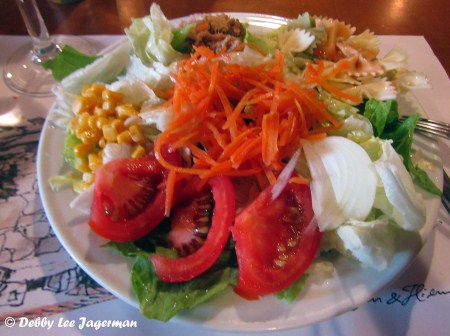 Third course…Chocolate cake for dessert, which had the consistency of a thick, rich chocolate mousse, with a thin layer of liquor-soaked sponge cake on the bottom. Again, with wine and water, and a basket of bread.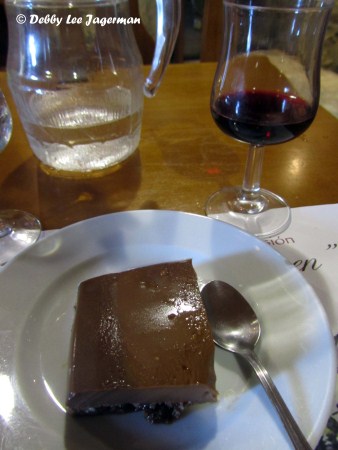 While in Finisterre, a town along the west coast of Spain, I enjoyed just about this entire thin-crust cheese pizza topped with tomato sauce, spinach, and pine nuts by myself.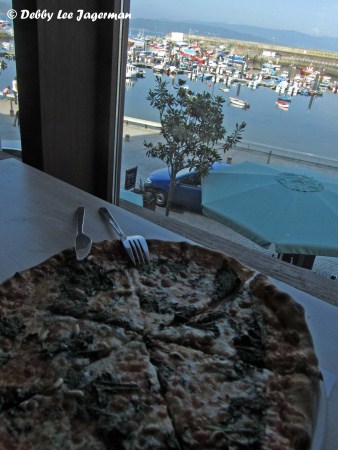 I ate this orange-pistachio-chocolate cake for dessert during a different meal in Finisterre, at the same restaurant. All while enjoying a grand view. (I actually found the most vegetarian options in several restaurants in Finisterre.)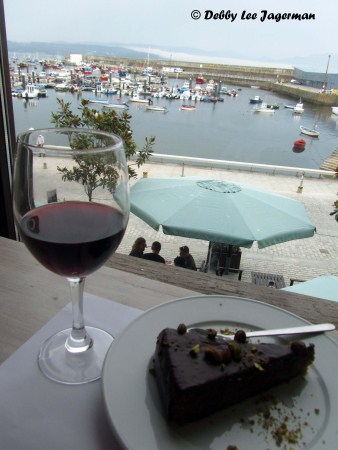 In a very tiny village called Pieros, I stayed in the El Serbal y La Luna albergue which served cocina casera vegetariana, homemade vegetarian cuisine. Here I enjoyed a wonderful meal of roasted red peppers with hard boiled eggs, and a couscous topped with a perfectly cooked and lightly spiced vegetable medley. Accompanied with bread, wine, and water, I sat around a table enjoying this meal with people from Spain, New Zealand, Australia, Germany, Holland, and Luxembourg.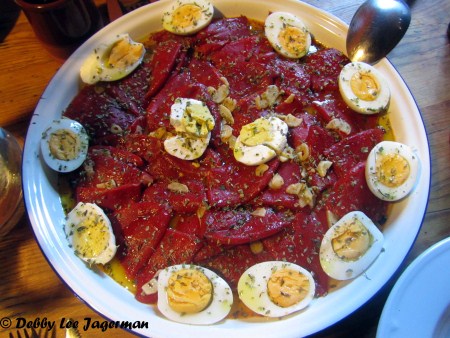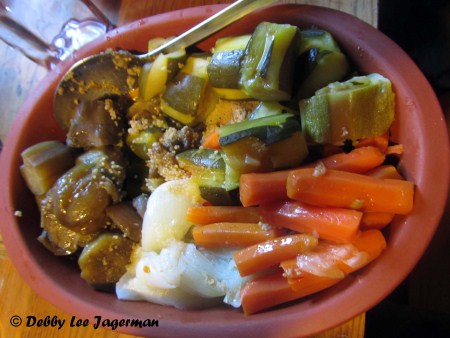 When you walk through the town of Trabadelo, you must stop in this place, El Puente Peregrino (The Pilgrim Bridge).
They are one of the only real vegetarian restaurants I found along the way. Yes, they served a trout dish with salad and rice, but everything else is vegetarian. Including these two great pasta dishes…spaghetti with garlic, olive oil, parsley, and cheese…
and spaghetti with tomato sauce.
Some other meals El Puente Peregrino had included a cold gazpacho soup, a hot tomato and paprika soup, a cheese and spinach lasagna, a crepe with honey for dessert, and yogurt and muesli for breakfast.
(Are you hungry yet?)
My favorite vegetarian-food story though was in the town of Santiago de Compostela itself. I walked into a quiet, quaint restaurant, and told them I was vegetariana, no carne por favor. In Spanish, the gentleman was trying to tell me what vegetables they had and what they could make me, as there were no items on the menu without meat. With my limited Spanish however, I did not understand the specific words for the vegetables he was trying to describe, so he literally took me into the kitchen and showed me this big bucket full of thick slices of fresh pimiento rojo y verde (red and green pepper), zapallito (zucchini), and berenjena (eggplant). I ended up with the grilled sandwich in the third picture of this blog, which they made especially for me.
Some other vegetarian food that I ate during my journey, not pictured in this blog, included a lentil and vegetable soup, a pesto gnocchi, and a four-cheese spaghetti. And much more.
Occasionally, I would buy myself a jar of peanut butter and a fresh loaf of bread in a small grocery store, which was great for making my own picnics along my walk. And I even I went into specialty bread shops, la panadería, and purchased my own freshly baked baguette, along with some sliced cheese, and made my own delicious bocadillos de queso.
Sweet (and delicioso) Travels!
Thoughts, Tips, & Translations for Today's Blog:
Contemplative Thought from the Camino: Sometimes challenges occur while walking along the Camino de Santiago, like finding vegetarian food, or even foot problems due to the 500 miles of walking. However, if you go on the Camino with the thought of expecting that there might be some challenges, then perhaps the challenges won't seem so challenging.
Packing Tip for the Pilgrimage: No need to bring any food with you from home when walking the Camino. There are plenty of food options, and plenty of restaurants, bars, cafés, and stores along the way, vegetarian or not.
Spanish Translation of the Santiago: Many are scattered throughout the blog.
For more blogs delicioso, please click here for WanderFood Wednesday.