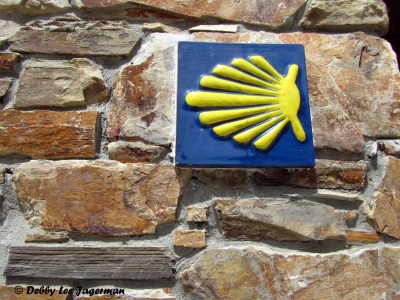 Some get up very early and start walking in the dark before the sun even rises…I didn't want to miss seeing any of the Spanish countryside. Some walk up to 30 kilometers a day…I wanted to enjoy my walking at a more leisurely pace, 20 kilometers a day. Some didn't have cameras…I took lots of photos (nearly 2700). Some may have not stopped much…I stopped a lot. To eat. To rest my feet. To go into churches. To enjoy the scenery.
My typical day along the Camino de Santiago would start with waking up about 6:15am, while it was still dark out, but the sun was beginning to wake up itself. I would get into the bathroom to do some usual morning routine stuff that I do at home…brush teeth, change clothes, etc. No shower though, as that was done the previous afternoon (which I will get back to later in this blog).
I would pack up my backpack, quietly and with the aid of a headlamp so as not to disturb others who might still be sleeping, putting away my sleeping bag and any other items that I had out. With a camera in one hand, my hiking pole in the other hand, and my digital voice recorder in the pocket of my pants, everything else was in the pack, and by about 7:00am, I was on the road, walking. Just when the sun was rising. Light out enough to see the landscape around me, backlit by the morning sun.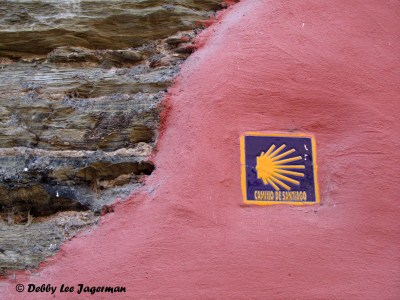 I would walk for about an hour until I found the very first restaurant that came along in order to grab some breakfast. Perhaps an egg and potato Spanish tortilla. Or perhaps a very nutritious and delicious chocolate croissant. Freshly squeezed orange juice went well with either choice. Chatting with fellow pilgrims as I ate, or just enjoying the fresh morning air, I wondered what new experiences I might have on this new day.
Then I would walk. And walk. And walk. And walk. But I would stop, too – a lot. At least every hour or so. Many times these breaks were to eat. I ended up eating a lot of smaller meals as I walked, rather than one large breakfast, and one large lunch. I would also stop when I wanted to rest my feet. My camera made me stop briefly many, many times. Although, with the digital voice recorder to record my thoughts, I could actually walk and talk at the same time. (But I never did figure out how to chew gum at the same time, too…)
If a church was open, I would go in. And sit there for a while. Sometimes a little store caught my eye, and I did some window shopping. Sometimes a park bench, or anywhere along the side of the road really, would make a nice place for a rest. Occasionally I bought some food at a small market, and would have my own little picnic somewhere along the way.
As I walked, and as I stopped, I would enjoy the scenery that varied not only from day to day, but within each day as well…fields of sunflowers (not quite yet in bloom), wheat, and corn; farmland with various crops and animals; forests of oak, eucalyptus, and other trees; vineyards producing grapes for Spanish wine; pear and cherry trees; small villages, with abandoned stone homes, that one can walk through in less than 5 minutes; larger towns and a few cities. All the while, following scallop shells and yellow arrows leading me along the way, such as those in this blog that are featured in tiles and mosaics.
Most of the time, the walking was flat. But occasionally there were some hills to ascend and descend. The ground I walked on varied from dirt trails, to gravel paths, to paved roads.
My pace was about 4 kilometers an hour. About 2.5 miles. Normally at home, when I was doing my training walks before I left, without a pack, and without many stops, I would have walked a 5 kilometer an hour pace (about 3 miles). Thus at home, 20 kilometers (about 12 miles) would have taken me about 4 hours. With my more leisurely pace however on the Camino, and with all my various stops, 20 kilometers took more like 7 or 8 hours. What a great way to walk – slowly!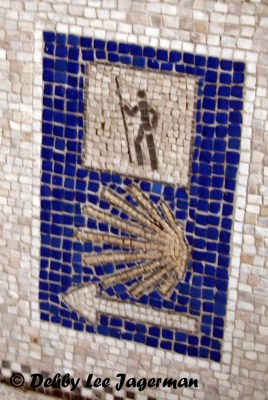 I would arrive at my destination (some village or town that I had previously picked by looking at my guidebook the day before) around 2 or 3 in the afternoon. Just in time to relax with the hottest part of the day – siesta time in Spain – although I did not usually nap. Instead, I would first find myself a place to sleep for the night (an albergue – see translation below), then take that well-deserved shower that I already mentioned. And then I would find some more food. Even though I ate a lot during the day, my body must have burned many calories, and kept me constantly hungry.
I usually didn't go to sleep till 9 or 10pm, so you might ask what I did with all the hours left in the rest of the afternoon and evening. Well, there are lots of things to do. Sometimes just sitting and doing nothing was a great choice!
Other times, it would be laundry (I would typically use a washing machine, and hang up the clothes to dry). Internet, emailing my family back home, and Facebooking took up some time as well. I might casually wander around and explore the village or town that I was in – taking more photos of course. Refilling my water bladder, and doing other preparations for the next day, would need to be done. Talking to fellow pilgrims. Eating dinner around 7pm. Perhaps attending a Pilgrim's Mass at a church. Transcribing what I had recorded in the digital voice recorder into my journal. Once I even got a very nice foot and leg massage. A few times I would shop for something, like when I would run out of soap or shampoo. And by then it was time to go to sleep.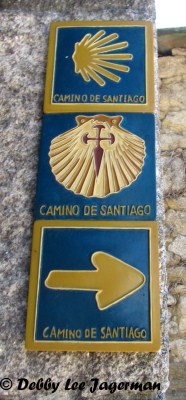 And once again, I would awaken the next day around 6:15am and do this all over again, wondering what new experiences I might have on this new day.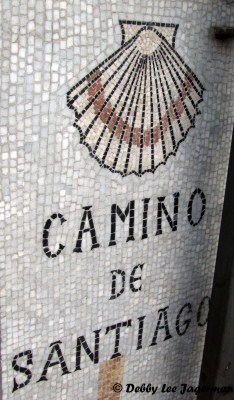 Thoughts, Tips, and Translations for Today's Blog:
Contemplative Thought from the Camino: Wouldn't it be nice to just take your time and walk through life slowly everyday?
Packing Tip for the Pilgrimage: My digital voice recorder was perfect. I have never used one before while traveling, but will from now on. It allowed me to record my thoughts anytime as I had them, especially while walking, without having to get a pen and my journal out and stop each time I had a thought. And I had a lot of thoughts.
Spanish Translation of the Santiago: Siesta…a midday or afternoon rest or nap, especially as taken in Spain or Latin America. Albergue…a shelter, a refuge, a hostel. On the Camino de Santiago, an albergue (also known as a Refugio) is a hostel for pilgrims only.
Sweet (and leisurely) Travels!