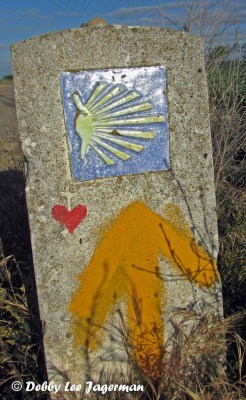 Sing to the tune of a famous movie…
Follow the yellow arrow, follow the yellow arrow
Follow, follow, follow, follow, follow the yellow arrow…
Or…
Follow the scallop shell symbol, follow the scallop shell symbol
Follow, follow, follow, follow, follow the scallop shell symbol…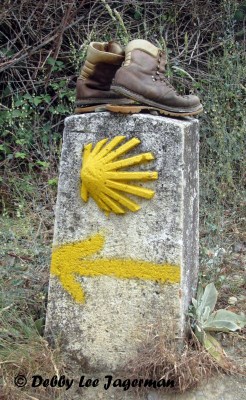 We're off to see Santiago, The wonderful Santiago of the Camino…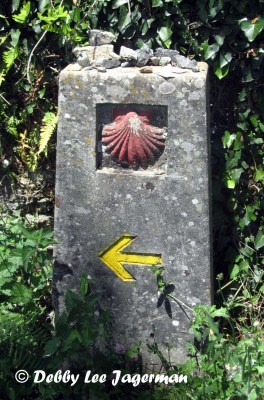 Well, ok, I guess this is what your mind comes up with when you walk kilometer after kilometer, day after day, week after week. Your mind changes from thinking about life, its meanings, its lessons, and revelations, to wandering off and creating songs you never thought you would think. Or sing.
A few weeks ago, I published a blog about the yellow arrow, and last week, I published a blog about the scallop shell, two directional signs, and two important symbols, of the Camino de Santiago pilgrimage walk. And…the answer of how to find your way on the Camino de Santiago…follow the yellow arrow, and follow the scallop shell symbol. And you won't get lost…unless of course, your mind wanders way too far, and you don't pay attention to look for these symbols.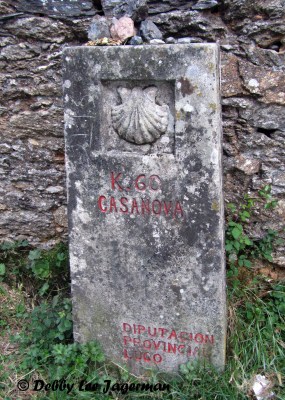 To go along with the scallop shell verse of my song, the photos in this blog are close-up photos of cement markers, which are one of the many ways scallop shells are displayed along the Camino. They lead the pilgrim the right direction to Santiago de Compostela.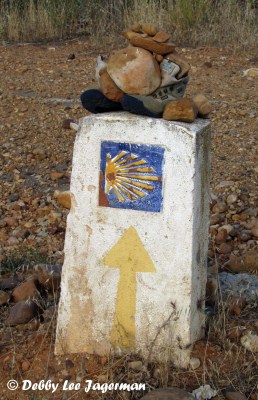 Notice the various colors, shapes, and styles of the shells on these cement markers. Notice the yellow arrows that sometimes accompany the shells. Notice the other items written on the markers, like the names of towns and provinces, including when crossing from one province to another.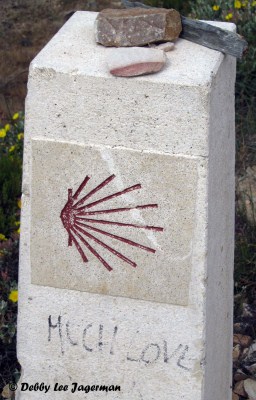 How many kilometers, and even fractions thereof, one has left to go in order to reach Santiago de Compostela are written on some markers. People place items on top, like rocks, and well-worn shoes. People create art on the markers such as rainbows, and hearts, or write other words, such as "Buen Camino," and my favorite, "Much Love…"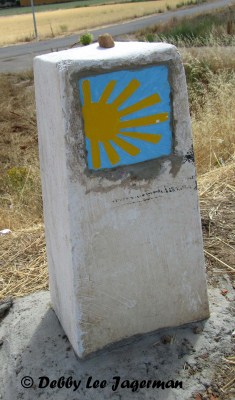 Thoughts, Tips, and Translations for Today's Blog:
Contemplative Thought from the Camino: Make up your own lyrics to songs as you sing through life.
Packing Tip for the Pilgrimage: Walking kilometer after kilometer, day after day, week after week, using a foot massage ball end the end of each day was wonderful – pun intended, based on the lyrics from the famous movie. I used a slightly different foot massage ball than the one in the link, but in either case, it is small, lightweight, and easy to pack.
Spanish Translation of the Santiago: Camino = Road, avenue, trail, path, lane, journey, track, or way. Santiago = Saint James. Camino de Santiago = Way of Saint James. Siga el Camino de Ladrillo Amarillo =Follow the Yellow Brick Road.
So do you have the song "Follow the Yellow Brick Road" stuck in your head?…And now you'll be singing it all day long.
Sweet (and wonderful) Travels!