"Archery in Bhutan is more than a sport, it is a living example and a dynamic manifestation of the unique traditions and culture of the Bhutanese people, it is a celebration of the Bhutanese way of life. No festival and no celebration is complete without a game of archery and the game itself is a combination of physical talents and spiritual influences where the deities and spirits are called upon to help a player or a team to perform better and win the contest."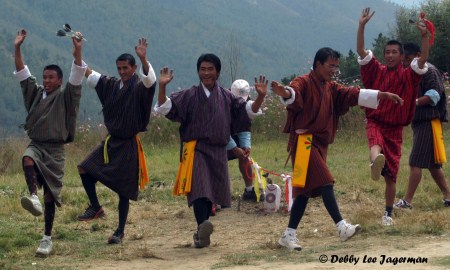 Archery and darts are also a song, and a dance, and a whole lot of celebrating each and every time a bull's-eye is made during a game of either the national sport of Bhutan, archery (Dha), or the similar sport of darts. Facing the target, team-members do a kick-step-tap-step dance, while singing a song in Dzongkha, the national language of Bhutan. Then the team-members turn around to face the opposing team, and shout out WaHaa WaHaa WaHaaaaaaaa, followed by some cheering of yeah's and woohoooo's, while enthusiastically raising their arms in the air and dancing a bit more. The Bhutanese love their national sport!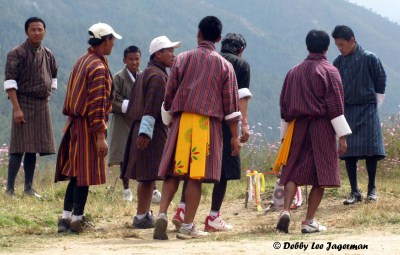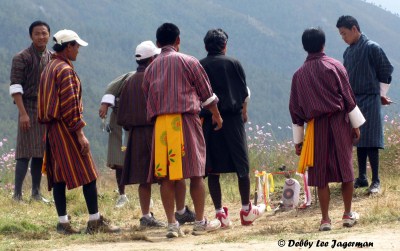 If you have never watched an archery or dart game because you feel like it is not athletic like other sports, or because you might think it boring, think again. I watched some of both of these sports when I was in Bhutan, and I was fascinated. I felt myself cheering for any person on any team when a bull's-eye was made, and I wanted to get up and sing and dance, too.
You see, the precision, the accuracy, the concentration, and the hand-eye coordination that must be involved to make a bull's-eye is something pretty amazing. From a distance of 459 feet (140 meters), the arrow is shot and flies so fast through the air from one end of the archery field to the other, that my eye could not follow it, until it landed on the other side of the field, amazingly many times right in the small bull's-eye of the target. Compared to the Olympic standard for archery with a field distance of 164 feet (50 meters), the Bhutanese archery field is almost three times the distance – and definitely longer than a 360-foot football field.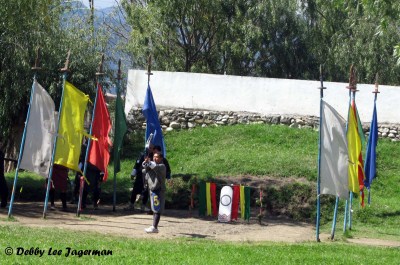 The Bhutanese are very passionate about their sport, and will play all day. Nearly all villages in the country have an archery range, and many, many tournaments are held throughout the country.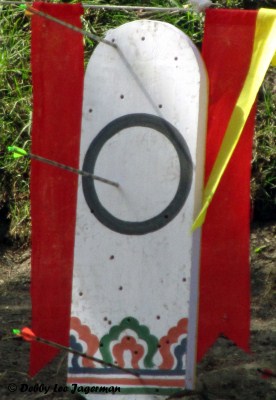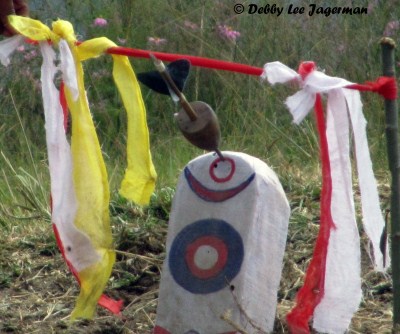 The traditional bow used in archery is a long bamboo bow (which children still tend to use), but now-a-days a more modern bow is used, a "state-of-the-art carbonite Hoyt brand bow with a complicated-looking pulley system that releases the arrows with tremendous speed." Bhutan has established The Bhutan Archery Federation which is "mandated to promote both forms of archery – the traditional archery played in national tournaments and the Olympic style of modern archery in which Bhutan has been participating in regional as well as major international competitions such as the Olympics since 1984."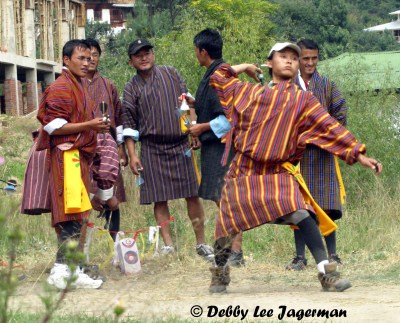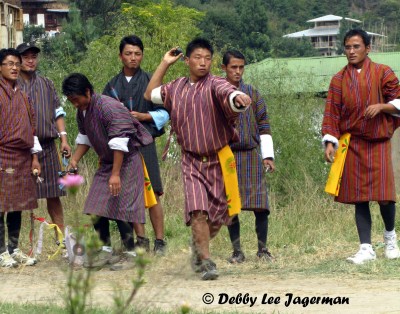 Since 1984, Bhutan has sent both male and female archers to seven Summer Olympic Games. While the Bhutanese have yet to win in the Olympics, perhaps their eighth time, this year, will be their year! To be held from July 27 to August 3 in London, I think I will cheer for the Bhutanese, and do my own song and dance and cheers of WaHaaaaa's for each bull's-eye they make.
Sweet (and precise) Travels!
Quotes and some information about archery from:
WindHorse Tours, National Game of Bhutan, Archery
Bhutan Olympic Committee, Bhutan Archery