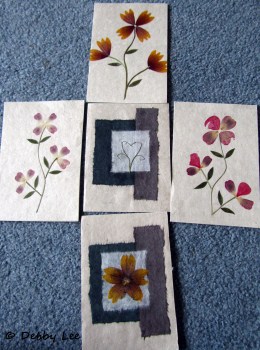 About 1500 times a day, one by one, and all by hand, a wooden frame with a bamboo screen filter is dipped into a vat of pulp and starch mixture, is swished around to allow a thin layer of the mixture to spread out evenly over the screen, and is transferred to a table where the screen is carefully removed to result in a single sheet of Bhutanese paper.
A very important part of Bhutanese culture and tradition is handmade paper making. Historically paper has been made to provide Buddhist monasteries with paper for woodblock and manuscript books, and for writing prayers and mantras. Today handmade paper making continues to preserve and promote this age-old tradition, as well as to create many other products, such as stationery and greeting cards.
I watched the paper making process at the Jungshi Handmade Paper Factory in the capital city of Thimphu. This factory was originally established by the Bhutanese government, and later was privatized under the sole proprietorship of Mr. Norbu Tenzin, who was trained in Japan "for high quality and designing of Bhutanese traditional handmade paper." Throughout Bhutan there are a few other family-operated paper factories as well.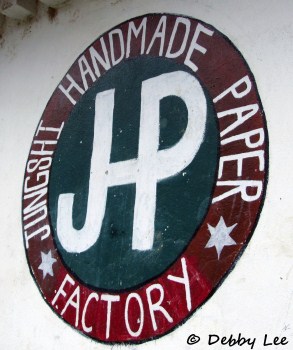 The word Jungshi means "natural." Raw materials, supplied from bark from two trees, are used to make the paper. The Daphne Papyri grown at an attitude of 1500 feet and below produces a strong, dark paper. The Edgeworthia Papyri found at higher altitudes of 3000 feet and above, produces a whiter, more fragile paper. Nature provides other flora as ingredients, like flowers, leaves, and fern leaves, which make decorations on the paper. Paper making is done without any environmental harm to the land, and without the use of chemicals.
The entire process to produce one sheet of paper actually takes three days. The dipping and swishing is just part of it. The process begins with pulling bark off the trees, and soaking strips of bark in water for 24 hours.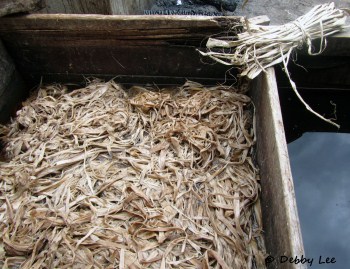 The bark is then boiled and washed, and further cleaned, separating good, fine fibers from bad fibers. The fibers are crushed and pounded by a machine into a wood pulp, and then mixed by hand in a vat, with water and a vegetable starch made from the Hibiscus plant root.
A wooden frame with a bamboo screen filter, approximately two feet by three feet in size, is dipped into the vat of the pulp and starch mixture, and is swished around to allow a thin layer of the mixture to spread out evenly over the screen.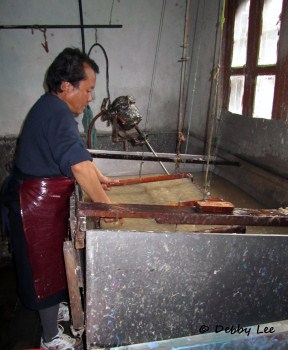 Carefully the screen, now covered with a thin layer of the mixture, is removed from the wooden frame.
The screen is carried from the vat…
…to a table where a stack of paper has already been started.
The screen is laid on top of the stack, and then carefully removed, leaving a new sheet of paper on top of previously made sheets of paper.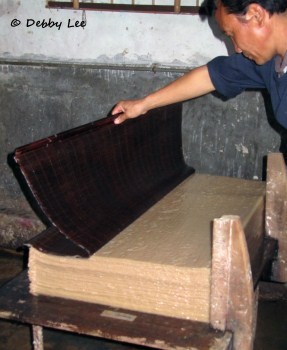 This process is repeated over and over again, as many as 1500 times a day, by hand, creating a stack of paper, one sheet at a time.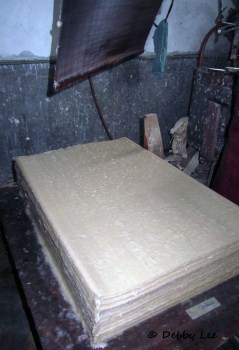 A whole stack of paper is then compressed to squeeze out any extra water. Each sheet of paper is taken off the stack, one by one, and is hung to dry on smooth vertical easel-type boards. Other paper factories in Bhutan dry the screens out in the sun.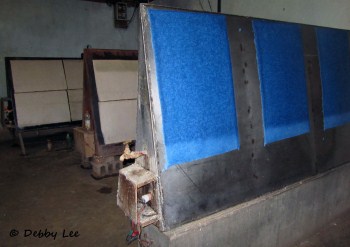 Once dry, which I think takes another 24 hours, each piece of paper is brushed clean.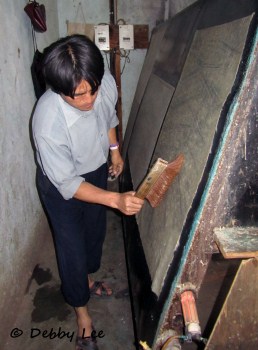 Finally, there is a sorting process of taking the best handmade paper and using that for products, and recycling the rejected paper.
Paper and paper products include writing paper of different sizes and colors, photo albums, stationary, journals, greeting cards, envelopes, calendars, scrolls, wrapping paper, paper bags, and much more. Greeting cards and scrolls may be decorated with flowers, hearts, and important Bhutanese symbols and places, such as the fable of the Four Friends, the Tiger's Nest Monastery, black-necked cranes, and Buddhist representations.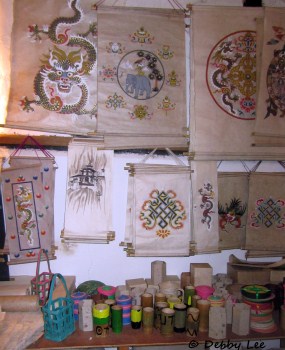 Paper products can be purchased at the Jungshi Handmade Paper Factory itself, or in many shops in Thimphu and other areas of Bhutan, and make great gifts.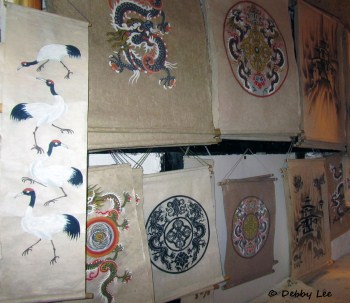 The quality of the paper isn't what we are used to using for printing and copying at all. The Bhutanese paper has a very natural (jungshi), smooth feel to it, much like the bark, fibers, and pulp that it is made from.
Sweet (and handmade) Travels!
Information provided from the Jungshi Handmade Paper Factory's brochure, by one of my Bhutanese guides, Pema Wangchuk, and from a few websites, Fao Forestry Department, National Women's Association of Bhutan, and Indian Gifts & Handicrafts.