I trekked for several days at a time in the Mai Chau and Sa Pa regions of Northwest and Northern Vietnam, trekking from village to village to village. I walked on gravel tracks and small paths; local roads and trails. I meandered through or near rice paddies and rice terraces; corn fields and tea plantations. I was surrounded by forest, bushes, grasses, shrubs, fruit and other trees, and tropical plants. I was fascinated at how everything was so green; and how the greenery was so varied and vibrant.
As a child, I don't know why, but my Dad used to comment on how green things were where we grew up in California. He would literally say "very verdant," as he pointed to something around us, and for some reason, I remember this phrase to this day.
So much so, that I kept saying those words over and over again in my head as I experienced Vietnam. And maybe because I was now an adult, Vietnam seemed even more verdant than my childhood memories of California.
I used to think that verdant only meant green, and that was what I thought my Dad implied each time he used the word. But, I have come to find out that it describes more than just the color. Verdant expands green to mean leafy, grassy, lush, luxuriant, fertile, flourishing. And that describes what I saw as I trekked in Vietnam.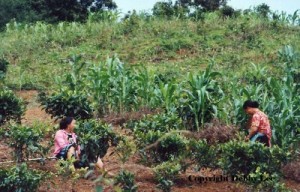 I noticed people working in these verdant fields and plantations and terraces. Men and women. Using water buffalo to plow; using their own hands and bodies to plant the seeds, cut the vegetation, load the baskets.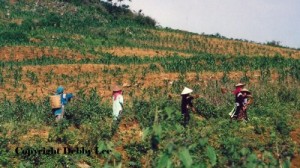 The women especially amazed me. They looked like they were working hard, but effortlessly and successfully, with smiles on their faces, and wearing their specific style of clothing …women working in such a verdant land.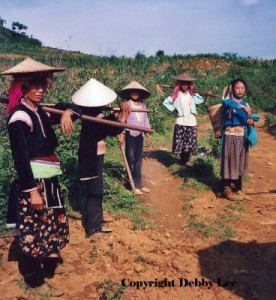 Sweet (and verdant) Travels!
Some of my previous blogs on women in Vietnam:
Women, their Smiling Faces, and their Clothing