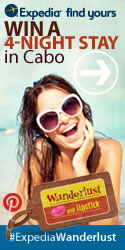 Have you found what you are looking for when you travel? Not yet? Then make sure you enter the Wanderlust and Lipstick & Expedia Find Yours Pinterest Contest before end of day on July 30th. This is your chance to win a luxury holiday package for two in Los Cabos, Mexico!
The fantastic prize includes 4 Free Nights at the All-inclusive Dreams Los Cabos Suites Golf Resort & Spa with a Los Cabos Deluxe City Tour by Grayline Tours. It's an incredible opportunity to experience the beauty, history and culture of this rustic Mexican getaway! (Check out the full description here.)
The contest closes at 11:59 pm PST on July 30, 2012 so join in the fun and follow these steps to qualify. (Yes, there are a lot, but it is SO worth it!)
1. Follow Beth Whitman on Pinterest.
2. Create a new Pinterest board called Expedia & Wanderlust Find Yours and categorize it under "Travel & Places."
3. Repin the Expedia-Wanderlust banner image on your Expedia & Wanderlust Find Yours Pinterest board (so that we can follow your participation).
4. Consider a theme for your board and choose images that fit that theme. You may choose a destination (such as Europe, Patagonia, Anchorage or island) or an emotion (bliss, family, love, purpose).
5. Pin no less than 10 TRAVEL images to this board that fit the theme you've chosen. Place the Find Yours theme name in the description field for each of these photos. Here's an example.
6. Tag each of the pins with #ExpediaWanderlust Ultimately, your description will look something like this: Outer Beauty — Peruvian Woman #ExpediaWanderlust.
7. Share your board on Pinterest, and encourage people to Like and Repin your Pin(s)
8. Send an email to [email protected] to let us know you're entering and kindly include: Name City, State, Country
We'll be evaluating the entries and choosing a winner in early August based on the number of repins, number of likes and relevance to your chosen theme.
Buena suerte!
Beth
Related links:
Full prize description
Full contest rules