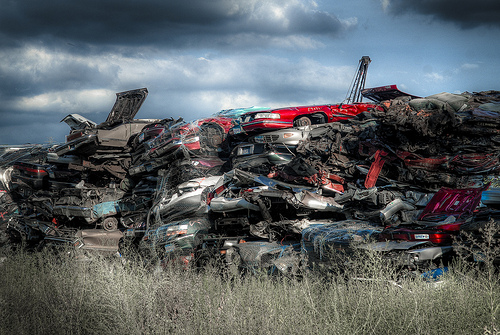 I was almost sucked into the excitement of the Cash for Clunkers program. I test drove a Smart Car and briefly considered trading in my '99 Jeep Wrangler for one. Turns out I didn't like the way the Smart Car shifts gears and abandoned the whole idea. (Go test drive one if you don't know what I'm talking about.)
Despite my desire to upgrade, there was something that really bothered me about the whole Cash for Clunkers program. This niggling in the back of my mind arose from what I've seen over the last 22 years during my travels to developing countries. Specifically, I have seen just how ingenious a person can be when it comes to repairs (of cars, electronics, phones, bicycles, motorcycles, you name it) when they don't have the money to buy (or have access to) new parts.
I've seen barrels filled with water, hoses connected to the engine, sitting atop buses in Vietnam, a sort of cooling system when the original one fails. I've seen bicycles held together with wires. I've had my own motorcycle dismantled and fixed in Mexico in a remote area without the use of a lift or proper tools. And in Kolkata, I had my broken camera repaired at the "camera hospital", a tiny room filled with unsophisticated equipment. It was returned in perfect condition.
For about $20 U.S., I had my camera repaired in Kolkata. This same repair would have been prohibitively expensive in Seattle. I would have tossed the camera and purchased a new one.
I understand the relationship between cheap labor in a developing country and affordable repairs, but in the U.S., we think nothing of buying a new item and tossing the old into the junk heap. This forces us into our disposable mindset. And hence the frenzy to trade in a car that runs perfectly well for a car that gets a bit better gas mileage. Not a bad idea, really, until you consider what happened to all those cars.
Described by the U.S. government as "wildly successful", more than 700,000 "clunkers" were taken off the road. Liberated. Replaced by a car that's more environmentally friendly.
Liquid glass was added to the engines so as to render them useless. Then these now undriveable cars were crushed or dismantled for their parts.
In a 2005 story from the Cambodia Daily, cars considered scrap in the U.S. are shipped to Cambodia and other developing countries en masse. They're sold at affordable prices to these countries and give the cars a new life. What happens now? In a recent article on Vox, the Cash for Clunkers program "is likely to displace international trade in used vehicles".
We've just buried nearly 3/4 million cars. Cars that could have been shipped to other countries. To people whose governments will not provide them with a rebate to purchase a car – new or used. People who cannot afford anything but what we might consider a clunker. These people will now have to go without or continue to maintain older vehicles that could very well add even more carbon emissions into the environment than if they had traded up to one of our clunkers.
If we're truly a global society, who's thinking about the rest of the world?
Travel Well,
Beth
Photo cars: Kodiax2
Related links:
The American Travel Ethos
Flight Booking Engines – What Works?
What Makes a Travel Hotspot?
Unplugging While Traveling
Airport Safety = Security Theater?
Pretty Young Thang
How Not to be a Trashy Tourist