I asked in my April newsletter for you to tell me what you're doing to Be Bold. Here's a sampling of answers I received from our community:
*****
Christine has a lot of summer travel planned. First, she was off to Palm Springs for her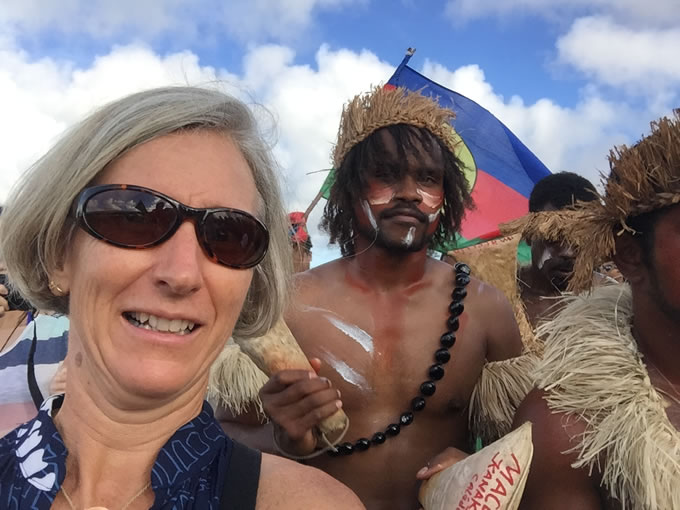 annual four-day long adult pool party she calls Tiki Caliente.
She then went to Guam for the 12th Festival of Pacific Arts. This is Christine with the delegation from New Caledonia >> They invited the audience to join their dance circle and she was all in. Also this summer, she will stay for five days on the Micronesian Island of Phonpei to check out the mysterious archeological site of Nan Madol. Most fun of all? Christine is coming with me to Papua New Guinea in August!
******
Mary Kay is striking out as a travel writer!
In short, after 30 years of teaching at a university, she is following the call to write about her lifelong passion of traveling and exploring. May Kay says it's bold because she has to put her writing out there for the world to see. Here's a link to her website.
*****
Meg is traveling for most of this month and starting by joining a college friend for a cruise. They'll start near Rome and do the Riviera of Italy, France, Monaco and part of Spain, returning to the Amalfi Coast. She's sharing a stateroom with someone she's never met who is a friend of friends of a friend! She's then going to take the fast train to Naples with a friend to travel some more.
*****
Though Karen's Be Bold trip was in the past, I couldn't resist adding it. She BOLDLY traveled cross-country on her motorcycle, from Seattle to Florida! Solo. Here's her blog documenting the trip.
*****
Lynsey is headed to Alaska in July! She says she's having a lot of fun planning this adventure.
*****
Bettye has an adventure of a different sort. She's working with an architect who prepared drawings as she plans to build a family room and laundry room off the dining area of her house. Most fun of all, she just returned from Austin where she visited two friends she met on a WanderTours Vietnam trip.
*****
Renee's BOLD act for May is that she is meeting her daughter in India where she is volunteering. They are then going to travel through India for two weeks. Renee plans to meet her daughter's Indian host family and the children she is teaching, and perhaps learn a few of the Hindi phrases!
What are you doing this month that's Bold? Leave a comment below or contact me to let me know.
Be Bold,
Beth
Want to stay up-to-date on all things Wanderlust? Follow me on Facebook, Instagram or RSS/email.