The last time I went whale watching was more than 15 years ago in Alaska. We spent four hours following several pods of orca (killer) whales as they breached and taunted us to follow them. It was one of the most thrilling experiences of my life but was a memory I had tucked away and had nearly forgotten.
Until I went whale watching in Cabo San Lucas, that is.
Being out on the water with Cabo Expeditions brought back that same exhilarating feeling I had so many years ago.
We arrived at Cabo Expeditions' offices at the marina mid-morning. After checking in, we boarded a small zodiac boat. There were probably eight or 10 people on our boat plus our captain and a naturalist.
Jon and I sat up front. Initially I was concerned we had set ourselves up for getting wet but it turns out we didn't and that we had prime seats for "the show."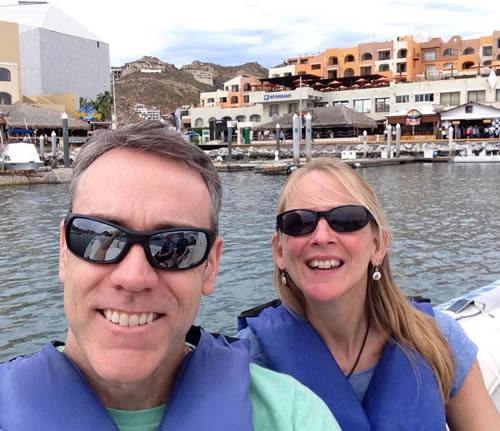 Donning life jackets, we were ready and so excited to set off!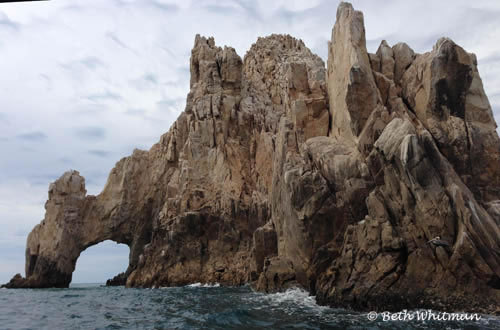 Our first stop was the Arch at Cabo San Lucas. Sea lions were perched on the rocks barking a mating call. We thought this was cool but it so paled in comparison to what was to come.
We slowly made our way out to more open waters. Soon we started seeing breaching whales way off in the distance. Our zodiac sped up and after a short ride and expert navigating by the captain, we started seeing whales traveling in threes and fours. Moving together, they broke the surface of the water, returned down under and then would come up for a big show with their tails flipping up and then back into the water. What beauty!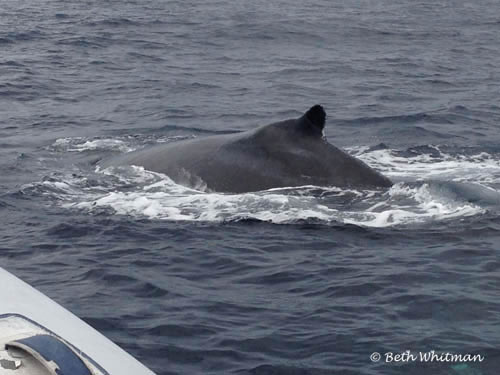 Probably most thrilling was getting up close to these huge beasts. Really it seemed as though they might come up and knock us over.
Look how close this whale breached next to the Cabo Expeditions boat that was next to us! Wow! As our captain said, "I think they might need some diapers up there." 🙂
Need to Know
We rented a car from Alamo at the airport in Los Cabos and drove to Cabo San Lucas where we stayed for five nights. From our hotel, the Casa Dorada, it was an easy walk over to the marina to the Cabo Expedition offices.
We met at the Cabo Expedition offices at 10:30 a.m. and got back around 1:00-ish. This was perfect timing as there are a ton of places around the marina for lunch.
Would I do it again? You betcha.
Would I change anything? Hmmm…if I had all the money in the world, I might hire out a private boat, carry a camera with a long lens and image stabilizer, and then spend the day out on the water until I got my fill of whales. It was truly that spectacular.
Be Bold,
Beth
Want to stay up-to-date on all things Wanderlust? Follow me on Facebook, Twitter or RSS/email.