While visiting Norway in December, I had the chance to tour (unfortunately not stay in) the Treetop Hut – the first tree house in Norway to be approved as an accommodation.
This beautiful cabin is perched high up in the trees with a breathtaking view of its natural surroundings.
In the winter, people stay here and go cross-country skiing through the woods. In the summer, they enjoy the wildlife (including lots of birds).
The cabin is well-insulated and has a wood burning stove that keeps it quite warm.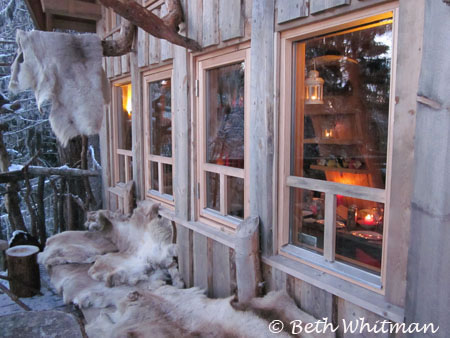 The cabin sleeps up to 8 people (though you'd have to know each other pretty well – it's very cozy inside) and rents out for about 1,000 krone/night during the week and 2,000/night on the weekends. That's about $167/$335 U.S. This is a deal considering how lovely this is AND how expensive Norway is in general.
The Treetop Hut is located between Hamar and Lillehammer and opened up less than a year ago. Most weekends are already sold out through the summer so book well in advance if you're planning a stay!
Travel Well!
Beth
Related Links:
Norwegian Name-dropping
Snow-covered Norway
A Christmas Concert from Norway
Nobel Peace Prize Events
Packing for the Peace Prize