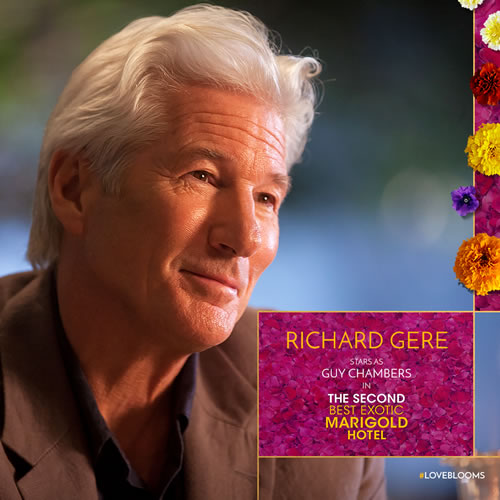 As someone who has traveled to India a number of times, I adored The Best Exotic Marigold Hotel. And I couldn't resist the chance to be among the first to see its sequel, The Second Best Exotic Marigold Hotel.
Last night, I got a sneak preview!
The same characters are back (with a bonus appearance by Richard Gere) in this sequel which centers around Sonny's goal to open a second hotel. There are several love stories that appeal to young and old but it was the overall theme–it's never too late–that made the audience leave feeling quite upbeat and what was my main takeaway from the movie.
While I don't fall into the age bracket as the main characters, the theme resonated with me on many levels.
First, I do constantly challenge myself to try new things, to educate myself on new topics and, perhaps most importantly, push the limits of my body–like for the Honolulu Marathon I'm doing in December. I'm all about believing it's never too late to try anything. After all, I didn't start running until I was 46 and will do my first marathon at 50. How cool is that???
But really, believing it's never too late isn't always an easy place to get to. Not only do we have to give ourselves pep talks but we have to filter out the negative comments and feedback from well-meaning family, friends and colleagues. Whether it's adventurous travel plans, quitting (or starting) a job, or navigating a relationship, sometimes we just really need to follow our gut instinct and ignore fear-based responses from those we love and usually trust the most.
Really, we ALL have so much potential but for so many reasons we don't allow our dreams to blossom. We stuff them down and talk ourselves out of pursuing our passions and what truly motivates us before we allow those dreams to come to fruition.
Many of the women who join me on our WanderTours tell me that their friends and family think they are crazy for taking some of the trips they take. Some of these women are of retirement age–I've had someone as old as 85 on a tour–but man, they just keep going. And I am so inspired by their fortitude. Nothing stops them from pursuing their travel dreams. And while many of them have been traveling for a long time, still, they think it's never too late to tick another country off their wish list.
These women, like the characters in the movie, from the 20-something Sonny (Dev Patel) to 79 year-old Evelyn (Judi Dench), don't let obstacles (including age) stop them from living to their potential. It takes some time for them to both realize they're the only ones holding themselves back, but they do sort it out in the end. We should all be so brave!

Side note: It's been awhile since I've seen a comedy in a movie theater and this theater was packed. It was almost as much fun hearing all the laughter from the audience as it was laughing at the movie itself. See it in a theater, if you can. It opens in the U.S. on Friday, March 6.
Be Bold,
Beth
Want to stay up-to-date on all things Wanderlust? Follow me on Facebook, Twitter or RSS/email.