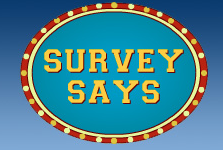 The Wanderlust and Lipstick newsletter has more 8,500 subscribers. Are you one? If so, we'd love to hear what you think about it. Please take a moment to fill out this very brief questionnaire so that we can best provide you with the information you're looking for in a newsletter.
To, uh, bribe you into spending a few minutes to provide your input, we're giving away a $50 Amazon Gift Card to one random winner who fills out the survey.
If you're not already a subscriber, why not? You can join us here and receive our monthly travel tips and information.
Travel Well,
Beth