I got a new camera! Well, not really.
I leave in about a week and half for Papua New Guinea. When I showed Jon this gallery of images from the tourism board's website, he said, "You have to take my camera." Having given up my big clunky SLR many years ago (and many rolls of film), I knew he was right. But I need some quick lessons before leaving.
So, last weekend we went out to Vashon Island to visit friends and I took the opportunity to snap some photos to get used to the camera.
To get to Vashon, we take a short ferry ride from our neighborhood in West Seattle. And although we're 90 miles away, Mt. Rainier – when "out" – stands tall and can be seen throughout Seattle when you're facing south.
We were fortunate to have a lovely warm evening and clear skies for both the ferry ride there and back.
I wasn't expecting it but it was nearly a full moon that night, too.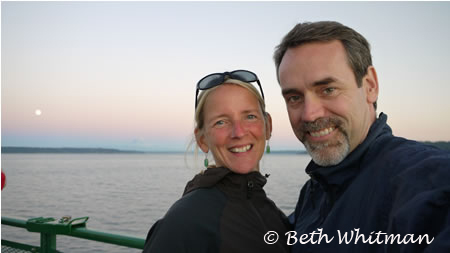 And even though we didn't have our xShot Monopod, Jon managed to extend his arm long enough for this self-portrait.
Oh, and the camera is a Panasonic Lumix DMC-GF1. It comes with a 14-45 lens but I'm seriously considering getting a 45-200mm lens prior to my trip.
See more lovely photos at DeliciousBaby's Photo Friday!
Travel Well!
Beth
Related Links
Pacific Northwest Summer
Seattle: Or Why I'd Rather Be in Hawaii
Summer Solstice