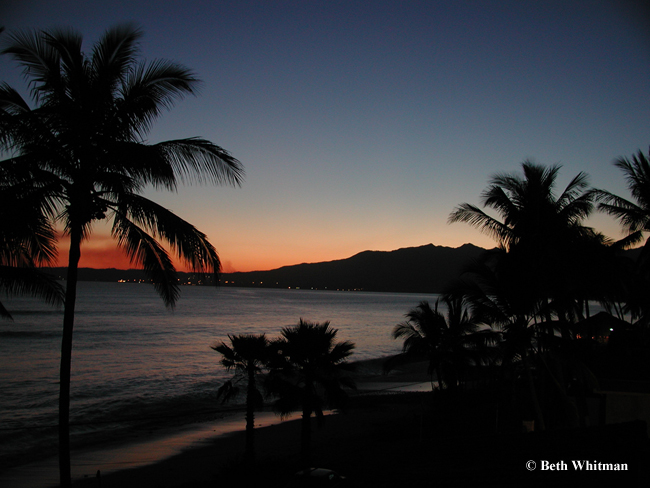 I have a favorite little place down in Mexico where I love to go. It's the village of Bucerias, just north of Puerto Vallarta.
When I was last there, it was with Jon and my Mom. We rented two side by side villas. We would get up early in the morning and look for an open shop selling fresh tortillas. We'd then make coffee, scramble some eggs and eat our homemade breakfast burritos on our balcony. We had a view of the ocean and the humming birds suckling on the bougainvillea.
At night, we watched the sun set on the Bay of Banderas.
My Mom came home boasting to her friends that it was one of the best times of her life. Shockingly to us all, she died less than a year later. I am blessed to have those memories of one of the best times of my life, too.
Travel Well!
Beth
Related links:
Photo of the Day: Himalayan High
Photo of the Day: Approaching SLC
Photo of the Day: Calving Glacier
Photo of the Day: Oaxacan Window
Photo of the Day: Bangkok Flowers
Photo of the Day: Reclining Buddha

Join other Wanderlusters and help make this the most popular women's travel blog by subscribing via email or RSS feed.