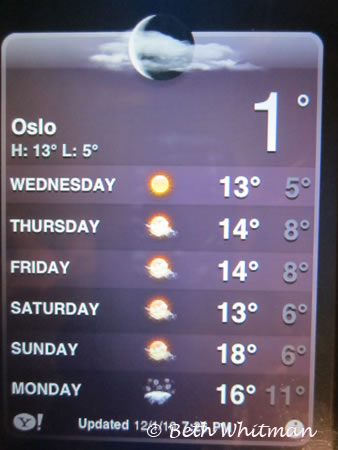 It was a quick trip but so well worth it.
I attended the Nobel Peace Prize ceremony last week in Oslo. It's not quite as glamorous as it sounds. I went as a member of the press, which means I wasn't sitting near the King and Queen of Norway, Nancy Pelosi, Denzel Washington, Anne Hathaway or any of the other stars, musicians and dignitaries that were in attendance. But I did SEE them.
And truth be told, I really wasn't invited to Norway to cover the Peace Prize ceremony – that was an added bonus that made a good one-liner when I told people what I was doing in December.
I was actually invited to provide some coverage for A Christmas Concert from Norway in Hamar, about 1.5 hours north of Oslo (I'll devote an entire post to the concert next week as it will be broadcast in the U.S. on PBS for Christmas).
Hamar might sound familiar to you as it is near Lillehammer and hosted some events for the winter Olympics in 1994. In recent years, businesses, artists and musicians have been banding together to help develop Hamar as a tourist destination, both to Norwegians and foreigners. Given that my DK Eyewitness guide devotes just 4 paragraphs to this beautiful area, I can see why locals are motivated to promote this on their own.
Here are highlights from my very cold week in Norway:
Nobel Peace Prize Ceremony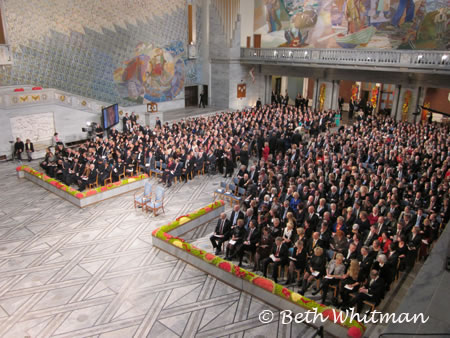 I've never watched this (or any other Nobel Prize) ceremony on television so I had no idea what to expect. And because this year's Laureate, Chinese dissident Liu Xiaobo, was not in attendance (he's currently serving an 11-year prison sentence in China), I was dubious about how interesting this event might be.
Much to my surprise, it was very emotional. And while some journalists were talking on their cell phones and others literally elbowing me to squeeze into position, I held back tears listening to "I Have No Enemies: My Final Statement", a manifesto written by Liu just after he entered jail. It was read by Liv Ullman.
Outside, protesters chanted, urging the Chinese government to free Liu Xiaobo. And in China, the government denounced the award to this prisoner. They banned any mention of it on state-run media and successfully pressured countries from sending delegates to the ceremony, including Afghanistan, Iraq, Saudi Arabia, Columbia and the Philippines. Tsk tsk.
The Nobel Peace Prize Concert
Each year, in conjunction with the awarding of the Nobel Peace Prize, there is a concert in which contemporary musicians perform in tribute to the laureate. It tends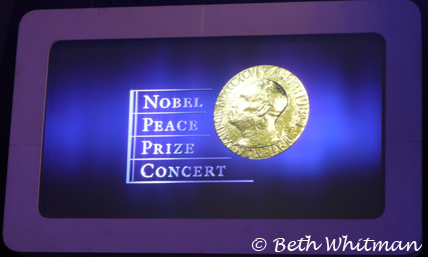 to be a mix of internationally-renowned talent and hosted by Hollywood stars.
This year's program was hosted by Denzel Washington and Anne Hathaway and the musical lineup included: India.Arie, Herbie Hancock, Colbie Caillat, A.R. Rahman, Swedish pop star Robyn, British sensation Jamiroquai, Norwegian Sivert Hoyam and, as a finale, Barry Manilow (who was a last-minute stand-in for Elvis Costello).
From a purely musical standpoint, I thoroughly enjoyed the performances. But it often seemed a stretch when the hosts or musicians tried to tie in their involvement or songs with the Nobel Peace Prize. I appreciate what this concert is trying to do by raising awareness of this most important of honors, but a little more prep, research and interest should have gone into it to make this a truly meaningful event.
I can't move on without mentioning Barry Manilow. Barry, love ya… but this was a really poor choice as a grand finale. The poor guy looks like a cross between Liza Minnelli and Liberace. And he was losing his voice after the third song. Yes, I (and 6,000 others) did get up and dance to Copacabana. But I'm hoping the committee next year might find a more appropriate performer to spotlight.
A Christmas Concert from Norway
This intimate concert was performed at the Vang Church in Hamar and featured world-renowned musicians including Grammy-nominated soprano Measha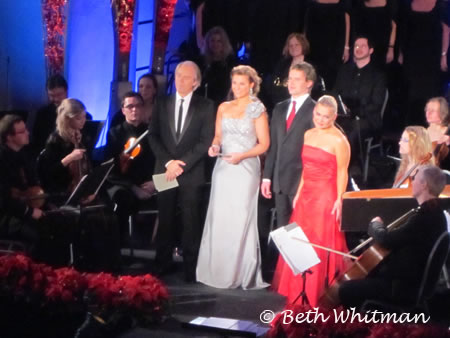 Brueggergosman, Grammy-nominated Trondheim Symphony Orchestra, tenor Didrik Solli-Tangen and the producers of the program, Mari and Hakon Samuelson.
Hosting the event was Princess Martha Louise and Hollywood director Harald Zwart.
This event was far more meaningful to me than the Peace Prize Concert due to its intimate nature. It will air on PBS stations throughout the U.S. from December 22 – 26. I'll post a more in-depth feature about this just before Christmas.
Norway
I've been asked numerous times what the highlight of the trip was for me. In 5 days' time, there were many. But I have to say that what took my breath away was the sheer beauty of the countryside. I hadn't expected to be dropped into what is truly a winter wonderland, where skies are deep blue (albeit for a short period of time that far north) and trees sparkle with snow and ice.
I look forward to a return trip soon!
Travel Well!
Beth
Related Links:
Snow-covered Norway
Packing for the Peace Prize