You gals are doing amazing things…
Between my request on Facebook for what you're doing to Be Bold as well as emails I've received, I'm blown away by how active and interesting you all are. 🙂
I was so moved by all the responses that I created a Be Bold Facebook group as a place where we can continue an ongoing conversation about how you can Be Bold, share your stories and adventures AND get support when you need a little nudge.
Here are the most recent responses to the question, what are you doing to Be Bold?
*****
Suzanne E. from North Carolina has just left for Ethiopia! She'll be traveling there for a month with a tour company before heading off to Oman and the UAE on her own. She'll be gone for 11 weeks total. (Wow!)
*****
Lynn S. is headed to Tropical Northern Queensland for 14 nights, staying in a rain forest and diving the Great Barrier Reef off of Port Douglas. She's then heading to the Osa Peninsula and cloud forests of Costa Rica where she'll have a week of kick-ass rain orest hiking, waterfall rappelling, bird watching and wildlife encounters galore. THEN she'll have a week aboard a private sailing yacht cruising and free-diving the San Blas islands, off the Caribbean coast of Panama.
*****
Meg Noble Peterson is a long time friend of mine. In addition to being the author of Madam, Ha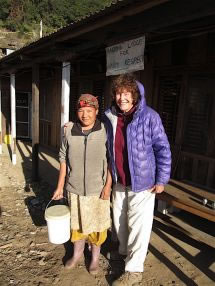 ve You Ever Really Been Happy, she has been traveling for, well, let's say quite a long time.
This fall she is is returning, once again, to India and Nepal and working with Tibetan students she has sponsored in Dharamsala and Bir, where the Tibetan Children's Village (TCV) school for refugee children is located. Even though she considers this to Be Bold, she's thinking that returning to Nepal and trekking in the  Helambu Yolmo is bolder. Last year she was there helping with rebuilding efforts in schools and villages.
She and her daughter have plans to return to these same areas, concentrating on the Khumba region near Mt. Everest and reporting on the continued efforts to rebuild small villages after the devastating 2015 earthquake and the disastrous Indian blockade. (Meg–you continue to inspire me!)
*****
Liz R. traveled to Peru last month! She hiked the Inca Trail to Machu Picchu.
*****
Robin is going to Iceland!
Zee W. is excited to just have found a trip to Sicily that she's been looking for. It's five days on Sicily and six days in the boot of Italy. Hopefully she'll be booking this soon 🙂
*****
Cheryl M. is heading to the Camino in April. It has been on her bucket list for a few years and she had hoped to do it for my 50th.. Instead she will turn 51 on the Camino!
Betsy G. finally made the move and quit her job! Though she was there for 12 years, it was no longer stimulating and she felt like her brain was turning to mush. Now she's free to search for more soul-satisfying endeavors. To offset having less income, she sold her car and will be walking to most of her errands and appointments around town. At this moment, she's in Cuba with a tour group!
*****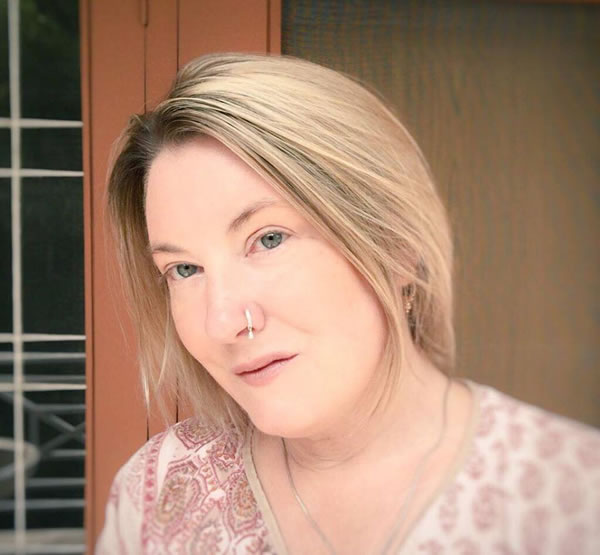 Mariellen W. had a very powerful experience connecting to someone she just met. It opened her heart and made her feel vulnerable. Being bold to her now means allowing her heart to be open, to stay open, to be able to be vulnerable, to love unconditionally…. (This is her with her new nose ring she got shortly after this heart-opening experience.)
*****
Chelsea A. is training for her first half marathon! She'll be doing the Big Sur Half. As a newly minted marathoner myself, I'm super stoked for Chelsea!
*****
Bonnie R. has had a long-time goal to visit 50 countries by the time she turned 60, and countries #49 and #50 are slated for this winter! She'll be traveling to the Amazon and then the Galapagos this winter, partly solo and partly with a group. Her next goal? 75 by age 75.
*****
Kumiko is ending her 25th year by going to South America and crossing off her last inhabited continent (until she can afford Antarctica, that is!).
*****
Tara B. is moving to Germany, both for a great new role and for the adventure opportunities presented by living in Europe.
*****
Kerri D. is continuing to improve at surfing. She learned how at age 50!
*****
Debi L. put all her belonging in storage and took off for Europe for six months.
*****
Maria C. is taking care of her mom who is 100. She's also starting a business in her 60's and is going all day without a nap. 🙂
*****
Jennifer B. is going back to school to get her Masters in Screenwriting at 52!
*****
Kim R. is spending a week on Marco Island, FL with friends!
*****
Marian W. turned 60 this year and finally, FINALLY has decided that the book she has in her will be written.
*****
Lauren V. is starting to train in millinery. She's scheduled specific steps to get there into her
calendar (first step is learning how to sew – she said she's really starting from the bottom up). She's going to finally graduate from hat collector to hat creator.
*****
Angie H. is spending election week in a cabin in the woods, with <gulp> NO LINK TO THE OUTSIDE (no cell service, no TV, no internet). She and her Dearest will not know the outcome of the election until they emerge.
*****
Donna M. returned to school and received her MSN in Nursing Education. She's 65!
*****
Irene W. is eating more fish! She has a weird phobia for all sea creatures and never really ate fish her entire life until her recent trip to South India where she got hooked on their Malabar Fish Curry. She's still working on being able look at other sea creatures like shrimp and crabs without throwing up.
*****
Audrey G. has, at 50, taken up golf and booked multiple solo vacations and also has solo season tickets to theater and symphony. She's 100% financially independent! She would LOVE to share it all with someone, but hey, she's living life until she does find someone!
*****
Eve T. bought and now rides a dressage horse and learned to ride when she turned 52!
*****
After separating from her hubby last year, Jane W. bought and is renovating her own little house in Bath, UK. She has a wonderful part time job teaching children and babies to swim at the amazing University of Bath (where some of their Olympians train). Plus, she has lots of travel to look forward to, which includes Tanzania and North India in 2017 with this awesome company she knows called WanderTours aka Wanderlust and Lipstick! (I heart you already, Jane!)
*****
Zananai has been bold by launching her own tour website. Over the past few weeks she has done what she's wanted to do for a very long time. That is to work in the tourism industry (which is her passion) and to have her own business. She got down to work and launched her own website at Zanur Tours. She is super proud of her achievement thus far and her entrepreneurial journey!
*****
Laurel R. is volunteering with primates in an animal welfare sanctuary on a weekly basis to enrich their lives, and coming up with creative ideas to challenge them both physically and mentally. It's bold
because it's a unique collaboration between the amazing keepers and Laurel and it's what she loves doing most in the world. And, she found a way to do it in a less than obvious place–Munich.
******
Jane K. just got evicted. So she's throwing stuff in storage and getting a one-way ticket to France. She plans to vagabond for six months!
*****
Cyan S. is building a tiny house (though it's still in the design stage) on the back of a big old military truck 🙂
*****
Mara G. is quitting her (part-time) job to write a novel!
*****
What are you doing this month that's Bold? Leave a comment below or contact me to let me know. Also, don't forget to join our new Be Bold Facebook group where you can share your stories and get tips and advice on travel from other Wanderlusters!
Be Bold,
Beth
Want to stay up-to-date on all things Wanderlust? Follow me on Facebook, Instagram or RSS/email.