I've been absent from my Wanderlust and Lipstick blog while I was on Kauai for the past week on a culinary press trip, hosted by the Kauai Visitors Bureau. Besides eating what is arguably some of the best food on the entire island, our small group (including writers from Seattle, Toronto and LA) had a chance to get a bit of exercise and partake in some sightseeing throughout the week.
Some of the island's best restaurants were part of the tour including:
The Beach House Restaurant
Josselin's Tapas Bar & Grill
Oasis on the Beach at the Outrigger
Kauai Grill at St. Regis Princeville Resort
Nanea Restaurant at the Westin Princeville
Shell's Restaurant at the Sheraton
Gaylord's Restaurant at Kilohana
In addition to these spectacular restaurants, we also sampled some of the more traditional fare which was just as tasty if not just a bit more low key. This included:
Hamura's Saimin (noodles)
Shave ice from several (OK a half dozen) shops
Ishihara Market for poke (raw fish)
Aunt Lilikoi's pie and other goodies
Chocolate Opihis from Kauai Chocolate
Sweet Marie's gluten free baked goods
To work off the enormous amount of food we consumed, we:
Snorkeled and boated on a Captain Andy catamaran trip
Hiked the Napali Coast and Waipo'o Falls with Kayak Kauai
Biked along the waterfront near Kapa'a with Coconut Coasters
Kayaked at Hanalei Blue Lagoon with Kayak Kaua'i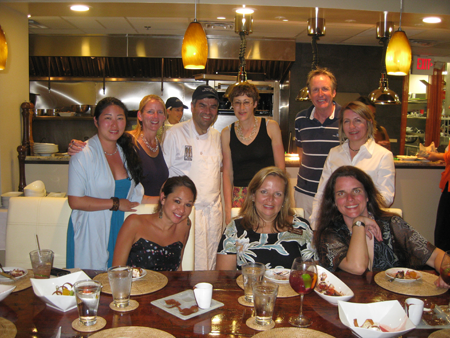 It's safe to say that I've never eaten so much for every meal for so many days straight — ever. Though I did stick to the seafood and vegetables while others ate beef, chicken and pork (including pigs' ears!), I couldn't stop myself from wanting to try everything I could and didn't pass up any of the experiences.
Throughout the week we moved around to different parts of the island in order to experience the diversity in environment, coastline and cuisine. Our group was hosted by:
Sheraton Kauai Resort on the South Shore
The Westin Princeville on the North Shore
Outrigger Waipouli Beach Resort on the East Shore
I won't be getting on a scale anytime soon myself and have vowed to adhere to a macrobiotic diet for the rest of the week – living on brown rice, miso soup and vegetables – until I'm relatively sure I won't faint when I do step on the scale again.
Jon joined us for part of the trip as it was his birthday and our 10-year anniversary (there probably wouldn't have been another 10 years if I had left him behind!). While the rest of the group departed, Jon and I stayed on. The week
culminated with our last two nights at the Grand Hyatt. We were sent a bottle of champagne to our room for our anniversary which arrived during the final episode of Lost. With no nightlife to speak of on the island, what better way to spend our final evening than to be consumed by 4.5 hours of Lost (including the 2-hour preview), with a bottle of bubbly along with cheese and crackers? Romantic? Maybe not. But I wouldn't have passed up the chance to watch Lost while staying so close to where the show was filmed.
I nearly cried when we arrived at the airport to return home. The truth is that I felt privileged and humbled to be there but I also felt full-on post-trip depression: That sinking feeling of returning home — in my case, back to rainy and cold Seattle. I love what I do and I love where I live, but why couldn't I just stay on Kauai for, I don't know, another six months? Is that so much to ask?
Was I that attached to the island? To the food? To the shave ice? I'm not so sure. I think it was a combination of being treated so well, not only by the KVB, but by all the locals who genuinely showed us the Aloha spirit by sharing their stories and, in return, being interested in what we were doing there.
Mahalo, Kauai. I'll be back soon!
Beth