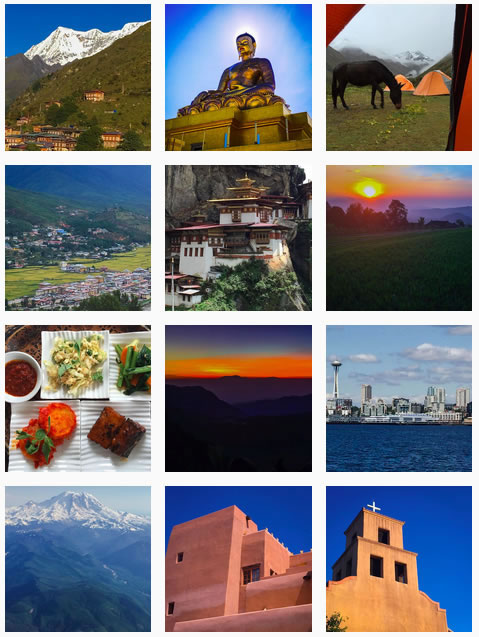 Based on feedback I hear from most everyone I know (in real life and online), 2016 was a bummer of a year.
There were deaths in the family, illnesses, injuries and an election that left half the country disappointed and distraught. (No matter the election outcome, one half of the country would have felt the pain.)
Rather than getting caught up in all the negativity, name-calling and anger that infected the news and social media, I chose to stand back and let it all pass by. Not until the election did I pop my head up for a bit before retreating again when I saw that chiming in did nothing but encourage people from both sides to begin shouting even louder.
I believe all the negativity had a deleterious effect on people that manifested itself in ways no one could have imagined. People got cranky, angry, physically ill and just plain sad.
But for me (don't hate me!), my year wasn't so bad. As a matter of fact, it was pretty awesome. Above is a snapshot of my Instagram account (please follow me!), to give you an idea of how I spent my 2016.
I generally don't let things that are happening around me affect me personally. As a result, I draw a direct correlation to this approach to life and how happy I feel. I may have lived inside a bubble this year but I don't think I did any damage by doing so. As a matter of fact, I think it made me a happier person, ultimately making other people happier (and if not happier, than at least not more miserable by hearing me complain).
Not to sound smug but rather to (hopefully) spread a little cheer and show that it IS possible to make your own happiness, here's how my 2016 shook out:
I Got Married!
After 16 years and five months together, Jon and I had a spur-of-the-moment wedding ceremony in Bhutan
. Though we had talked about a Bhutan ceremony for a couple of years, it was the last thing on my mind after we finished the Snowman Trek.
I won't write too much about it here because all the great photos and our story are in the link above. But suffice it to say it was an experience and memory that I would not trade for anything.
Completed the Snowman Trek
In September and October, I led the Snowman Trek in Bhutan (for the second time). We had a fantastic group of trekkers (nine of us in all) and we all made it! That's no small feat considering that reportedly half the people who attempt the trek don't make it–usually due to high altitude sickness.
Though the trek was muddier and rainier than when I did it in 2014, it was still beautiful. And it was still Bhutan (my 11th trip to the Kingdom). Plus, I got married there!!! 🙂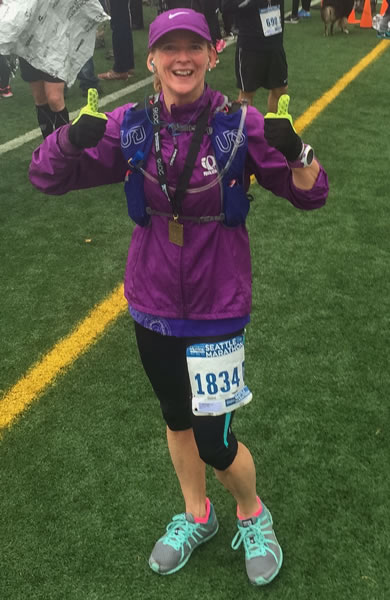 Four Marathons
HA! Four marathons might be the single reason why 2016 was good for me. I was able to run off my stress while focusing on healthy goals!
To recap… I ran my first ever marathon in Honolulu in December of 2015. I then went on to run Tokyo in February, one near Portland on July 4th and then two back-to-back marathons (actually one ultra–31 miles–and one 26.2-miler) over Thanksgiving weekend in Seattle.
Throughout the year, I spent a lot of time training, eating healthy and focusing my mental energy on each one of those marathons.
There wasn't much time for keeping up with political bickering as a result!
Three New Countries
In 2016, I visited three countries for the first time: Japan, Ireland and Scotland. I was in Japan to run the Tokyo Marathon but picked that destination because Jon had always wanted to visit the country. It was NOT a disappointment.
We then went to Ireland and Scotland and took Jon's mom, Ethel, with us. The idea was that I could do research for an Ireland tour (deets coming soon!) and Ethel could research genealogy in Scotland. It was a win-win and a great time for all three of us.
Be Bold Book and Community

I spent a lot of my time this year working on Be Bold: Discovering Your Best Self Through Travel and Adventure. I'm working my way through the second draft but I know there's a third draft so I'm looking at a publication date later this year. As with all good things, it's taking longer than I expected but with every day and every chapter, it gets better and better and I can hardly wait to share it with you all!
In addition to the book, I've really been trying to foster a sense of Being Bold among women. Through blog posts, I've started highlighting the amazing things our Wanderlusters are doing to Be Bold. You can read about these ladies here, here, here and here.
P.S. – If you've got something BOLD planned for 2017, leave a comment or email me so I can include you in the next post. Also, please join our Be Bold Facebook group. You'll find this private group to be inspirational and supportive!
House Remodel
Well, it was supposed to be a house remodel but I've now come to calling it a do-over. Jon and I moved out of our house in March and have been living in a nearby apartment so we can check on progress regularly.
There were numerous reasons for the remodel. Because we both work from home, we each needed private space from which we could make phone calls and have Skype meetings. The way our former house was configured that was not possible without someone moving from one part of the house to another.
The house was technically a legal one bedroom, three full bath which made no sense at all. We kept inviting people to come stay with us but rarely had takers when we said, "Come! We have a great pullout couch!"
Now we will have actual beds and rooms. So, now, "Come! We have amazing views and a comfortable place for you to sleep!"
We also like to entertain. So we now have some wonderful entertainment spots which include a 13 x 40 foot "party deck" with a view of Mt. Rainier (on sunny days, of course).
The remodel do-over has been stressful and, while our apartment is nice, the traffic and drunks outside our window at 1:00 a.m. are loud. BUT, we are heading into the home stretch now and will be moving back into the house in March. No. Matter. What.
*****
I've got some super exciting things lined up for 2017 and will write about those shortly.
I can't promise a wedding, three new countries or four marathons (actually, that I might be able to promise), but I can say there will be lots of Bold moves in my future.
How about you???
Be Bold,
Beth
Want to stay up-to-date on all things Wanderlust? Follow me on Facebook, Instagram or RSS/email.