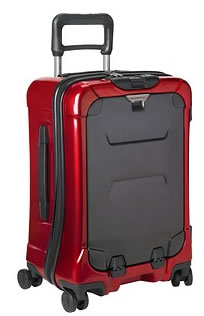 Wouldn't you love the ability to roll your bag next to you through the airport and hotel lobbies? This four-wheeled carry-on with spinning ability is great for your short trips.
 
Its lightweight polycarbonate siding is similar to a hardshell case but it provides elasticity and resiliency, plus flexibility in packing. It also has separate compartments that open flat so you can divide your clothes in one section and accessories in the other. Also, it's molded compression panel keeps clothing flat, minimizing wrinkling, and prevents contents from shifting in transit.
 
And, get this – it carries a lifetime warranty, as is true for all Briggs & Riley bags! What more could you ask for?
 
Prize value is: $479
For more information about the contest: