Sorry you missed this trip.  See upcoming tours to Bhutan here.
Itinerary dates: April 25th — May 6th, 2009
This 12-day adventure to Bhutan has been specially created for women and will be led by Beth Whitman, author of the Wanderlust and Lipstick travel guides. A female Bhutanese guide, knowledgeable in the culture, history and religion, will accompany us throughout the tour.
This tour combines the best of Bhutan's cultural highlights and light trekking in the pristine Himalayas.
We will meet in Bangkok prior to our departure to Bhutan on April 25th. Welcome dinner in Bangkok on April 24th for those able to attend.
April 25th, 2009
Day 1 – Arrive in Bhutan via Druk Air — Paro
The flight into Paro on Bhutan's national carrier, Druk Air, is a befitting introduction to the spectacular beauty of the country. In clear weather, magnificent views of the world's highest peaks give way to the lush green Paro Valley as you land. The first gift from Bhutan will be the cool, clean fresh air as you step out of the plane. After clearing customs and visa control we are met by our guide and driven to our hotel.
After lunch, we will visit Ta Dzong (a dzong is a fortress which houses an administrative center and a monastery/school for monks,), built in the 17th century as a watchtower for Rinpung Dzong and converted into the National Museum in 1967. See antique thangkas, textiles, weapons, armor, household objects and other historic artifacts. We proceed to Rinpung Dzong, built to defend against Tibetan invaders in the 17th century. The day ends with a walk along Paro's main street and shopping district. Dinner and overnight at hotel in Paro.
April 26th, 2009
Day 2 — Paro — Thimphu
After breakfast, we will drive about 90 minutes to Thimphu, Bhutan's capital (population 86,000; 7,520'): still the world's only capital city without a traffic light! We will have lunch and a special presentation by Francoise Pommeret, Bhutan resident, cultural historian and author of Bhutan: Himalayan Mountain Kingdom.
In the afternoon, we will then tour Thimphu with the possibility of visiting a nunnery, the National Memorial Chorten (built in honor of the late King Jigme Dorji Wangchuk), the National Zoo, the Textile Museum (where the art of traditional weaving is preserved and still kept alive), the handicraft emporium, handmade paper factory and Tashichho Dzong. We will also visit the School of Arts and Crafts, where 13 crafts are taught to young children to preserve and promote the arts and to provide job opportunities, and the Institute of Traditional Medicine (where ancient healing arts such as acupuncture and herbalism are practiced). Dinner and overnight at hotel in Thimphu.
April 27th, 2009
Day 3 — Thimphu — Punakha
After breakfast, we depart for Punakha. Leaving Thimphu, the road climbs steeply through a forest of pine and cedar, festooned with hanging lichen high up near Dochu La Pass (10,000'). On a clear day, this pass offers panoramic views of the Himalayan mountain ranges. After stopping for tea we enjoy an hour's downhill walk through magnolia, hydrangea, vibernam and evergreen oaks, and then through blankets of wild orchids before once again reaching the road, where we board our transport and drive into the Punakha Valley. Lunch is served at the hotel.
In the afternoon, we will drive a short distance to Punakha Dzong, the winter seat of the Je Khenpo (head abbot) and the ancient capital of Bhutan. We will visit the spectacular temple in this complex which houses large Buddhas at the alter and thousands more around the walls. This is located between the rivers of the Mo (female) Chu (river) and Pho (male) Chu. We will have dinner and overnight at Hotel Meri Puensum which is perched high on a ridge overlooking the Punakha valley and river.
April 28th, 2009
Day 4 — Punakha — Trongsa
The drive to Trongsa is about 5 hours. We follow the "Central Road" across the Black Mountains, which was completed only 30 years ago, and virtually opened central Bhutan to the outside world.
The first stop is Wangdue, a major town and the district headquarters of Western Bhutan. The Wangdue Phodrang Dzong is dramatically located on a ridge above the confluence of two raging rivers. The road then climbs through semi-tropical vegetation to Pele La Pass (10,900′) with an alpine environment of towering rhododendron and dwarf bamboo. This pass is traditionally considered the boundary between west and east Bhutan. Yak can often be found grazing here and, if clear, Mt. Jhomulhari (24,140′) is visible to the west. Descending, we pass Chendebji Chorten, built in the 18th century to suppress a demon. We proceed on to Trongsa through a spectacular gorge, visit the impressive Trongsa Dzong (ancestral home of the current king) and the Ta Dzong, an ancient watchtower. We overnight at Yangkil Resort with spectacular views of Trongsa Dzong.
April 29th, 2009
Day 5 — Trongsa — Bumthang Valley
After breakfast, we will continue driving east to Bumthang Valley. We will have ample opportunity to sightsee in the Bumthang Valley including visits to: the Tamshing Gompa (monastery), built in 1501 by Pema Lingpa, Bhutan's most important tertons (treasure revealer) and one of the five great tertons of Tibetan Buddhism; Kurjey Lhakhang, where the Guru Rinpoche subdued a local demon, leaving his body imprint on a rock; Jambay (or Jampa, Buddha of the Future) Lhakhang, dating back to the 7th century and much restored in the 19th century; the Jakar Dzong; and the Swiss Farm (for cheese, honey, beer and local fruit spirits).
In the afternoon, we will have a cooking class at the hotel to learn how to cook some of the more traditional dishes including chili and cheese and sautéed fiddlehead ferns.
April 30th, 2009
Day 6 — Bumthang — Ura – Bumthang
Following breakfast, we will take an excursion to the Ura Valley. About 25 miles from Bumthang, the road reaches the Ura Shelthangla, where, in clear whether, there is a magnificent view of Bhutan's highest peak, Gangkar Puensum (24,600'). The road then descends into the Ura Valley by long loops across fields and pastures. Here we will have an opportunity to hike down through a lush forest and through the village of traditional homes to meet our bus.
Ura's main occupation is raising sheep and yaks, and the introduction of potato farming has brought a certain degree of prosperity to the people. We visit Ura Lhakhang and then return to Bumthang. In the late afternoon and early evening there is a chance for all to receive a massage. Dinner and overnight at hotel.
May 1st, 2009
Day 7 — Bumthang — Hike to Tang Valley
In the morning we depart for Tang Valley along 15 miles of dirt road which gives access to this valley. En-route, we visit the Mebartsho (Flaming Lake), where Pema Lingpa discovered the religious treasure from this lake and view the Kunzangdra monastery, built by Terton Pema Lingpa, and continue through several villages, visiting Tang Primary school and Rimochen Monastery. We will stop for a picnic lunch at a convenient spot. Then, after a short drive, we will reach Kizom, where we will hike about an hour to Ugyen Choling and check in at our guesthouse where our bags will be waiting for us.
May 2nd, 2009
Day 8 — Bumthang — Gangtey
We begin driving in the morning for about 1 hour to the little village of Domkhar for the Domkhar Tsechu festival. Here you will see elaborately costumed monks twirling wildly in bizarre mask dances against a backdrop of classical Bhutanese architecture and unspoiled mountain ranges. To simply watch these dances brings good karma to and provides a cleansing ritual for the audience.
After a picnic lunch, we continue west to Yotong La Pass, through Trongsa, to Pele La Pass, and then turn south to the Phoblika Valley (10'000 feet), considered the most beautiful valley in the Himalayas. The Black Mountains are home to much endangered wildlife including golden langurs, barking deer, tigers, panthers, bear and wolves. We will overnight in the valley, which is the winter home to the endangered black-necked cranes that migrate from the high Tibetan Plateau. Dinner and overnight at hotel.
May 3rd, 2009
Day 9 — Gangtey — Wangdue
In the morning, we will walk up through a steep forest path to visit the Gangtey Gompa, which dates back to the 17th century. The path then continues through a level path through forest and along the valley floor back to the hotel, where we will lunch.
We will then drive about 2 hours to the spectacular Kichu (riverside) Resort near Wangdue (4,000 feet). Dinner and overnight at Kichu Resort.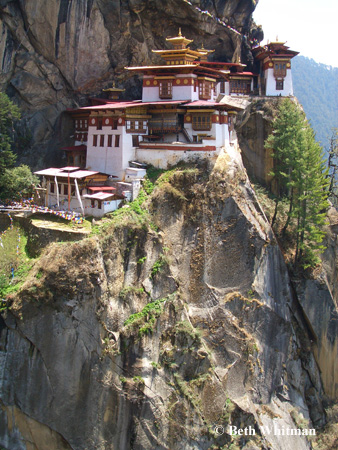 May 4th, 2009
Day 10 — Wangdue — Thimpu — Paro
From Wangdue, we will drive to Thimpu for lunch and a last chance for shopping in Bhutan's capital city. We then proceed to Paro. Dinner and overnight at hotel.
May 5th, 2009
Day 11 — Paro
We will get an early start to hike 2 hours up to Taktsang (Tiger's Nest), Bhutan's most photographed and iconic monastery rebuilt in 2005 after a fire. We will spend a short time enjoying the views and visiting the temples here. We then hike down and enjoy a picnic lunch near a river. We will return to Paro and there will be time for resting or visiting the town for last-minute shopping. Final overnight and dinner at hotel.
May 6th, 2009
Day 12 — Paro — Bangkok
After an early breakfast, we transfer to the airport for a sweet farewell to the Kingdom of Bhutan and fly back to Bangkok. Though it's possible to connect with your flight home on the same day, consider overnighting in Bangkok in case flights out of Paro are delayed.
________________________________________________________________
Price includes: roundtrip flights from Bangkok to Paro, transportation in Bhutan, all meals, hotels, bottled water, visa, airport tax and tourist development fund charge. In addition, this special tour includes cost of cooking class and one massage.
Price does not include flights to and hotel in Bangkok, evacuation insurance (highly recommended), souvenirs, personal purchases (such as books and snacks), beverages other than water, and tips.
This trip is limited to 15 people and requires an $800 deposit (to cover airfare from Bangkok to Paro) on a first come, first served basis.
Please make payable and send check to:
Beth Whitman
PO Box 16102
Seattle, WA 98116
Final payment is due March 15th, 2009.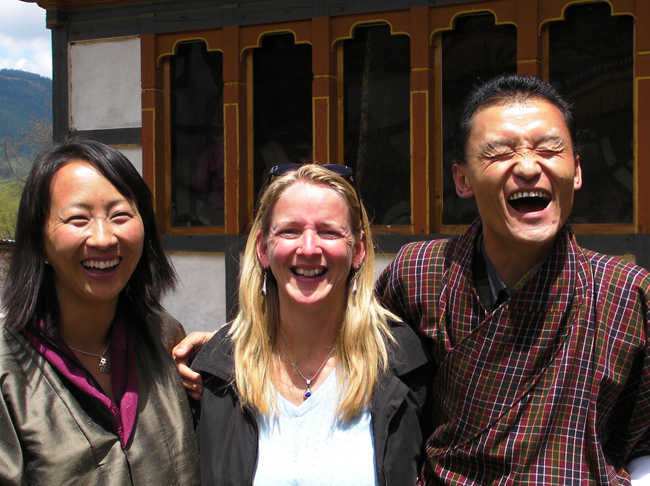 About Beth
Your tour leader, Beth Whitman, has been traveling the world for more than twenty years and has a deep respect for cultures and the environment. She is the author of the Wanderlust and Lipstick series of guides, the publisher of www.WanderlustAndLipstick.com and the travel blogger for the Seattle Post Intelligencer.
About Bhutan
Few tourists visit Bhutan due to the country's lack of infrastructure. While hotel accommodations are generally quite comfortable, they are basic. Meals are usually served buffet-style at the hotel and consist of lots of cooked vegetables, rice and some meat. Vegetarians will have no problem finding plenty to eat.
Bhutan is located in the Himalayas. The altitude should not be an issue for most but occasionally some people react to it with slight headaches or stomach upsets. Participants should be reasonably fit and should expect to do light trekking and hiking throughout the journey.
Related links:
Beth's Bhutan Photo Gallery
Bhutan Co-ed Buddhism Tour Fall 2009
Bhutan Photography Tour Fall 2009
India Women's Tour Fall 2009