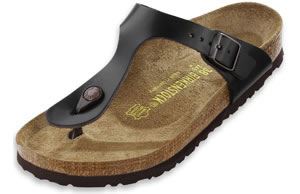 I've always described Seattle as a Birkenstock and granola kind of town. At least that's how we prided ourselves years ago. The image has changed quite a bit since I moved here nearly 20 years ago. We're definitely more techy and we did have that grunge phase, remember, but there are still plenty of vegetarian/organic/health nuts to keep the myth alive.
The truth is, however, that I had never owned a pair of Birkies myself – until I stopped by the Birkenstock booth at the Outdoor Retailer show this year and the folks there offered me a sample pair of Gizehs (above) to review AND a pair to give away to you fabulous readers!
To make this fun, I thought I'd have you gals write up a short limerick with the word "Birkenstock" in it. This is for girls-only and it's for a pair of Gizehs. There are no restrictions other than making it friendly enough that your mom wouldn't blush reading it and that the folks at Birkenstock USA are only able to ship to North American (though ALL are encouraged to submit their limerick.)
So… on with it. Leave your comments below with your limerick of any length (now don't go wild – you'll win points for brevity and creativity). Entrants must post their limerick by 11:59 pm PST on September 23rd. Winner will be announced on September 24th. Consider subscribing to my RSS feed so you don't miss the announcement.
Winner will be chosen at my discretion 🙂
Added bonus – the winner will be featured on the Birkenstock Blog!
Oh, and in case you're wondering… the Gizehs, which I tested out, are perfect for wearing after a long day of sightseeing. The cork footbed is formed to fit a healthy foot and provide support and proper weight distribution. Though they are stiffer than other sandals that I own, this actually provides support that I've never had in a sandal before (who knew what I was missing!). Once I had the strap adjusted tightly enough, I found that these were surprisingly comfortable.
Now where did I put my granola???
Travel Well!
Beth
Related links:
WanderGear: Zeal Sunglasses
WanderGear: Blu Bandoo
WanderGear: Lole Convertible Dress
WanderGear: SummerWear
WanderGear: Tops from Moving Comfort
WanderGear: Summer Accessories

Join other Wanderlusters and stay updated on travel-related items by subscribing via email or RSS feed.